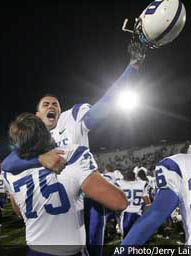 After looking great in a convincing win in Seattle last weekend, Buckeye fans are sporting some swagger that even Johnny Drama would find envious. What looked like a trendy upset pick quickly turned into Ohio State establishing itself as front-runners in the Big Ten conference and a possible player for all of the marbles.
What better way to keep the momentum going than a visit from Northwestern in Ohio Stadium's 500th Buckeye game. This is not the normally hapless Wildcats of years past, mind you, but an even more miserable version that's fresh off of letting Duke end a national-best 22 game losing streak on their turf. Granted, the Wildcats were missing a huge weapon in Sutton, but losing to Duke? At home?
It's worth noting that as great as Tressel is, he holds the distinction of being the only Buckeye coach in the past 36 years to lose to the Wildcats. Not Earl. Not even the JHC - although he did have a 17-15 scare in 1994. Still, you can imagine the Vest has drilled the importance of conference play to the team and will have the Buckeyes prepared. After all, they can't possibly be caught looking ahead to the Gophers next week.
---
Opponent: Buckeye fans are very familiar with Tyrell Sutton (#19). The Akron Hoban product left high school after setting the state record for career rushing yards with a staggering 9,426. Sutton holds several other state records including most rushing touchdowns in a single game with 8 (twice). Ultimately, questions about his size (5-9/190) lead him to Evanston.
An ankle injury suffered in the Wildcats' win over Nevada caused Sutton to have to sit out the Duke game, but luckily for Northwestern fans, all 38 of them, it appears as if he'll play against the Buckeyes. Sutton, the former Big Ten Freshman of the Year after breaking onto the scene with over 1,500 rushing yards and 16 touchdowns in 2005 is not only an excellent runner, but is also a very capable receiver out of the backfield. He definitely has the attention of the Ohio State defense.
Quarterback C.J. Bachér (#18), has been good at times over the last two seasons, but he's no Brett Basanez. He is, however, a huge Boyz II Men fan. Whether that has any impact on his performance in the Shoe is yet to be seen. What we do know is that he got on the board early against Ohio State last season by completing a 46 yard score in the first quarter -- right to the Buckeyes' Brandon Mitchell. Bachér threw another pick before being replaced in the 3rd quarter of the blowout loss.
Last week against the Blue Devils, Bachér completed 30 of 50 for 368 yards, much of that in the 2nd half as the Wildcats attempted to come back from a 20-7 halftime defecit. The yardage is gaudy, but he threw two costly interceptions without any touchdowns on the day. The beneficiary of his big day was 6-3 junior wide receiver Ross Lane (#9) as he hauled in 9 catches for 128 yards. All this coming after Lane only put up 2 catches for 19 yards a week earlier in the comeback victory over Nevada. The return of Sutton should limit Lane's looks, but the big game last week will keep balls coming his way.
On the defensive side of the ball, the Cats are lead by 6-3/240 linebacker Adam Kadela, the team's top tackler and former Dublin Coffman standout. So we know that there will be at least a few folks in Ohio rooting for a Northwestern upset. We also know that the Wildcat defense didn't record a sack against a relatively weak Duke offensive line and allowed Duke quarterback Thaddeus Lewis to look more like JaMarcus Russell than, well, a Dukie quarterback. That secondary should be ripe for the picking this weekend.
Pat Fitzgerald has done a decent job since taking over the head coach position under tragic circumstances prior to last season. There were questions about some of his coaching moves last weekend and the 13 penalties for 125 yards the Cats logged last weekend is pretty damn amazing when you think about it, but by all accounts, he's a guy that most fans of college football are pulling for to do well. He'll be overmatched this weekend, but his future could be bright. All things considered.
---
Notes: In Northwestern's last 14 games decided by 7 points or less, the Wildcats are 11-3... Ohio State has scored 102 points against Northwestern in their last two meetings... 2007 marks the first time in school history that all of Northwestern's football games will be televised... Duke's last victory over a major college team was in 2004 against Clemson - Master of karma Tommy Bowden's Clemson.
---
Buckeye Breakdown: The Buckeyes will look to come out and continue the solid play they displayed in the 2nd half in Seattle last weekend. This is a game that could get frustrating to watch at times because Tressel will want to work the fundamentals, even if they aren't working so well at first, but the return of the students should add an extra charge to the atmosphere in the stadium.
Both the passing and rushing game will have distinct advantages going against the Northwestern defense, but look for Beanie Wells to add to the 278 rushing yards he's put up the last two weeks. There are rumblings about a back injury, but Tressel indicated the tweak was nothing more than the dings a major college running back will take from time to time. Although I've grown to look forward to the awesome stiff-arm or two that Beanie unleashes each game, it's nearing the point where I'm equally excited when Saine is in. Is this the week that Saine passes Mo Wells on the depth chart?
Boeckman should have a chance to continue to grow and work on not forcing balls into coverage, but if the game gets out of hand early - which it may - will Henton hit the field first as his replacement? Schoenhoft's rather disastrous showing at Washington would seem to indicate that he may be the 3rd option on Saturday, although he's still listed as Boeckman's backup on the depth chart.
Against Washington, the Buckeye offensive line looked nothing like the unit we saw the first two games of the season. Sometimes all it takes is a good performance and a little confidence to get rolling and the unit should have the following goals this weekend: 125+ for Beanie and 0 quarterback sacks. That shouldn't be a problem because the Wildcat defensive front failed to even get to Duke's quarterback last weekend.
James Laurinaitis and the rest of the defense will appreciate the fact that they won't have to face the multi-dimensional beast that is Jake Locker this week. Sutton will prevent some challenges, but an early lead of any size will effectively take him out of the Cats' attack - at least from the rushing perspective. I think you'll see better tackling out of the unit this weekend and for the remainder of the season. Locker is that dynamic. Even though he needs to work on the passing game, it's doubtful that the Buckeyes will face anything like him in the near future. Unless the Bucks get another crack at Tebow in their bowl game.
Baby Ironhead continues to blossom in front of our own eyes. His hit on Locker last weekend almost earned him the team's "Jack Tatum Hit of the Week" award, but it went to Trevor Robinson instead for a play on kick coverage. Tressel had this to say:
"We needed to call for like three or four extra votes and it ended up being an executive decision by Darrell Hazell, and he picked Trev Robinson. And Cameron won't speak to him at this point, but Trev did a good job and made the big hit there."
The Northwestern game presents a unique opportunity each season. Because the result is not usually in doubt, fans have an opportunity to take care of things that require a Saturday, but would be impossible every other week leading up to Thanksgiving. Like getting married. Save the wedding for another weekend if you can. You don't want to miss a scary-young team continue its march to greatness.
---
Notes: Punter A.J. Trapasso has been added to the Ray Guy watch list... Larry Grant, who blocked a field goal attempt at Washington last weekend also blocked a punt last season against Northwestern... Todd Boeckman ranks 20th nationally in pass efficiency with a rating of 153.54... Ohio State is outrushing its opponents by an average of 4.7 to 2.6 yards per carry... Jack Arute will be doing the sideline work again this weekend and will no doubt point out the fact that the last time the Wildcats won in Columbus, Nixon was still considered an honest President.
---
Jason: OSU 45, Northwestern 3
Chris: OSU 38, Nortwestern 6

UPDATE: Saine is out of the Northwestern game due to an injury he suffered last weekend at Washington. Nevermind that he scored a touchdown on the final play of the game, but evidently he won't be able to go this weekend. Ken Gordon thinks the specific injury news is is too much for the public to handle. Thanks Ken.