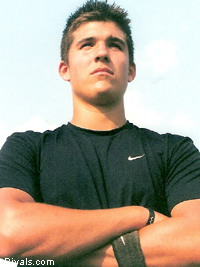 While the current incarnation of the Buckeye football team continues to steamroll opponents, future Buckeyes are doing their best to impress in high school. Tackle Mike Adams and wide receiver Jake Stoneburner have Dublin Coffman off to a 6-0 record. In Friday's win against Grove City, Stoneburner caught 5 passes for 163 yards and 3 touchdowns (25, 61, 57). Baby Orlando helped protect his quaterback, Zack Stoudt en route to a 20 of 25 game for 361 yards, with all 3 touchdowns (all going to Stoneburner).
Kicker Ben Buchanan's Westerville Central finally got off the snide Friday with a 41-34 victory. Buchanan made all 5 of his PAT's and connected on field goals of 43 and 45 yards in the second half. Last week, Buchanan made 5 field goals in a 25-22 loss, setting a school record by hitting from 57 yards. He also connected from 29, 41, 44 and 46. Forgive him for not being perfect -- he did miss from 60. For the season, Buchanan leads the Central Ohio area in kick scoring.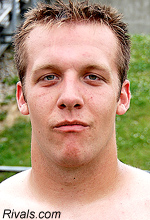 Two other recruits had outstanding performances over the last two weeks. Devoe Torrence, younger brother of Devon, ran 36 times for 283 yards and 4 touchdowns in a 56-52 loss to Mentor. On the defensive side, top 10 prep linebacker, Andrew Sweat of Washington (PA.) Trinity had 17 tackles Sept. 20th in a 44-17 loss. Sweat also ran for 63 yards and a 15 yard touchdown.
In the coming months, Tressel hopes to push his list to around 18 commitments for 2008. Remember, the current 2 deep lists only 5 seniors -- 3 of which are fullbacks. Besides that position, Ohio State doesn't seem to have any pressing needs. It will be interesting to see where the scholarships are given. Has anyone seen a future Buckeye play this year? I would love to hear your reactions.