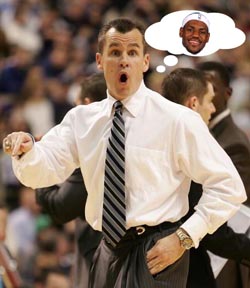 The WWL's Andy Katz is reporting that Billy Donovan has informed both the Orlando Magic and the University of Florida that he is having second thoughts about accepting the job with the Magic. Donovan signed a five-year, $27.5 million contract with Orlando just this past Friday, and the decision to let him out of the contract is in the hands of Magic management. Meanwhile, former Donovan assistant and current Virginia Commonwealth coach Anthony Grant sits in limbo.
I'm sure Gator nation is saying their nightly prayers to Crocodile Dundee or whoever their deity of choice may be, but you have to wonder if Donovan came to the same conclusion the rest of the sports world did over the weekend -- the Eastern conference is owned by LBJ for the foreseeable future.
Donovan returning to the Gators would add a little more juice to the regular season rematch between Ohio State and Florida in Columbus next season, with the Gators bringing the season's number #1 recruiting class into the matchup this time.