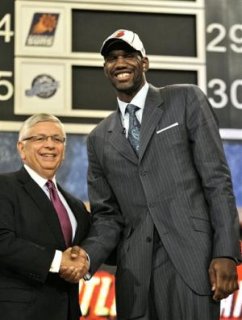 As expected, the Blazers selected Greg Oden as the #1 overall pick in this year's NBA Draft. The big fella smiled wide and applied some hand sanitizer in prep for his handshake with David Stern because he didn't want to give his cold to the Commish. Shortly after the pick, Portland shipped Zach Randolph, Dan Dickau and Fred Jones to the Knicks for Steve Francis and Channing Frye. I don't know about bringing in Francis but getting rid of Randolph clears the way to build the team around Oden, LaMarcus Aldridge and Brandon Roy. So how many of you are shopping for a #52 Blazers T?
After Kevin Durant went #2 to Seattle, the Hawks selected Al Horford allowing
Memphis to grab Mike Conley
to run their offense. What can you say? Jerry West knows talent when he sees it. Conley will compete with Kyle Lowry at the PG spot.
As I'm typing the Sixers just selected Daequan Cook at #21 and promptly moved him to the Heat for #20 pick Jason Smith and a bag of cash. I guess the DDN was on to something when they spoke of Shaq courting Daequan prior to his workout in Miami. This could be a great situation with Pat Riley, Shaq and D-Wade there to keep him on the straight and narrow. You know the Holiday Inn in Dayton is blowin' up right about now.
The icing on the cake would be for Ron Lewis to go late in the 2nd round. Considering his flair for the dramatic, I wouldn't rule it out.