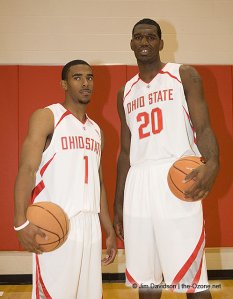 Greg Oden was named as a finalist for the John R. Wooden Award joining Kevin Durant, Alando Tucker, Acie Law IV and Tyler Hansbrough. The award is presented annually to college hoops' most outstanding player.
1460 The Fan reported early Wednesday that Chad Ford of ESPN said a reliable source told him both Oden and Mike Conley would turn pro after this season. A few hours later, Mike Conley's dad refuted that claim insisting Jr. "is not thinking about going pro". Look, I know Conley is the MVP of this squad, but I think he needs at least one more year to work on a consistent perimeter jumper before he makes the leap. Hopefully, Mike agrees.
To get you primed for the weekend, The Morning After has compiled 10 years worth of CBS' "One Shining Moment" tournament finale montages. The Buckeyes didn't get much love in the 1999 version - maybe the NCAA already had a feeling O'Brien was dirty.