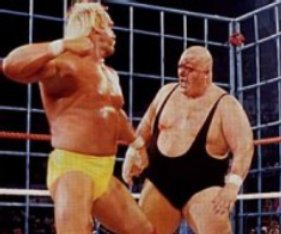 Where: United Center – Chicago, IL
When: 3:30pm EDT
Records: OSU 29-3 (15-1); Badgers 29-4 (13-3)
Fighting out of the blue corner…Seriously, there's no need for a lengthy breakdown today. My guess is the first one to 50 is the winner. I would assume the post players are duct taping magazines to their thighs and around their rib cages as we speak in preparation for another old fashioned Big Ten street fight.
It will be interesting to see how much gas Greg Oden has in the tank after dominating two games in two days because I can guarantee Bo Ryan's strategy to stop him contains a few WWE moves. If Oden can avoid foul trouble, figure-four-leg-locks and Himalayan Toe-Holds, then OSU will complete the regular season and conference tournament title sweep.
Some experts seem to think this game will decide a #1 seed but I think OSU has already assured themselves of a top spot. The late tip-off might also play a factor but the bottom line is an OSU loss should still be enough to supplant overrated UCLA as a #1 seed. OSU is favored by about 2 points. Jump on it.