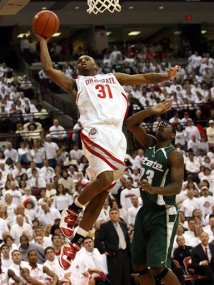 Talk about a tale of two halves. OSU raced out to a 43-23 halftime lead on the strength of 63% FG shooting but shot just 24% in the second half to allow MSU to climb back in it. Drew Neitzel put on a show with 24 second half points, including 16 of MSU's 18 points during the second half surge as OSU settled for jumpers early in the shot clock. Luckily, the bar where I watched the game switched over to music at halftime so I was spared hearing Dickie V cream himself over Neitzel's hot shooting. Unluckily, like you, I was forced to watch Neitzel mean-mugging after every bucket and Izzo's countless half-laugh-half-whine expressions. I can't help but hate on him, but I will reluctantly admit that Neitzel played one hell of a game scoring 29 points on 9-20 shooting in 40 minutes of action.
Greg Oden did not hit a field goal after the 13 minute mark of the first half, but he still led OSU with 19 points, 6 rebounds and 3 blocks including 8-10 on some huge second half free throws. OSU struggled to run an efficient offense in the second half as Mike Conley was saddled with foul trouble. Conley played just 22 minutes which marked the first time he's played less than 31 in conference play. Jamar Butler tallied 12 points and 6 assists and went 4-4 on free throws, all with under four minutes to go. The last two gave OSU a 65-60 lead with 3:33 left. MSU responded with a Travis Walton jumper and Neitzel hit 2 of 3 free throws after getting fouled on a missed three to cut the lead to 65-64 with 1:41 left. From there, Ron Lewis missed a jumper followed by two missed three point tries by Neitzel before Oden was fouled in a scrum for a loose ball with 16 seconds left. Oden made 1 of 2 free throws to make it 66-64 before MSU ran a play generating a wide open three that Maurice Joseph missed with 2 seconds left. Whew.
The victory snapped MSU's four game winning streak in Columbus and moved OSU to 6-1 in the conference. The Bucks are a half-game behind Wisconsin. The Badgers play at Iowa today at 1pm.