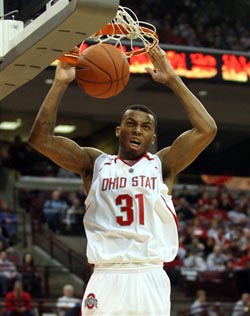 Where: The Schott – Columbus, OH
When: 8:00pm EST
Records: OSU 11-2; IU 9-3
Opponent: Indiana comes in riding a four game winning streak against lesser competition since their loss at Kentucky back on December 9th. The game kicks off the Big11Ten slate for both schools and is the inaugural league contest for Kelvin "Smile & Dial" Sampson who took over the IU program after fleeing scandal at Oklahoma. While I agree that some NCAA rules are ridiculous, Sampson and his coaching staff spit in the face of the rules by making 577 extra phone calls to recruits including 233 by Sampson. Classy. The Hoosiers beat Ball State 71-57 on Saturday behind DJ White's 16 points. Similar to OSU, the Hoosiers are a balanced team as they get at least 8 points a game from six players. The problem for IU is they are a small team without a lot of size and depth in the frontcourt.
Players: There's some experience on this squad led by DJ White, a 6'9" junior who leads the team in points (13.3), rebounds (7.6) and blocks (2.5). Senior Roderick Wilmont contributes 10.8 points and 6.3 rebounds per contest from a guard spot and senior Earl Calloway averages 10.3 points and 3.5 dimes per contest. It seems like AJ Ratliff has been at IU longer than Bobby Knight, but he's only a junior. Ratliff chips in 9 points per game.
Notes: Deep in experience, IU is likely to hang with Ohio State for the first 30 minutes but the lack of size could prove their undoing, especially if White gets in foul trouble trying to defend Greg Oden. Besides White, IU features only one player taller than 6'9", Ben Allen at 6'11" but the numbers say Allen only plays 13 minutes per game, doesn't look to score often (1.7pts), and is no stud on the boards (2.7 reb).
Buckeye Breakdown: Ohio State begins conference play on a high after delivering a blowout victory against overmatched Coppin State Saturday night. Daequan Cook led Ohio State with 23 and Greg Oden had a double-double with 18 points and 16 rebounds in 26 minutes. From my vantage point, the most important Buckeye in that game was Jamar Butler, who scored 15 points on 5 threes, putting together back to back games in which he reached double figures. As noted, we will need his consistent scoring punch now that league play is upon us. That said, while OSU had a big game from behind the arc by hitting 10 threes against Coppin State, I look for Thad Matta to instruct the perimeter players to look down low to Oden and Othello Hunter early in an effort to get IU in some foul trouble. If White gets a couple early fouls, Oden is likely to have a huge game in the paint.
Key Players: We already talked a bit about Oden and Hunter so I want to rant about Cook. He is still coming off the bench and leading this team in scoring (15.9) while averaging just 22 minutes per game. That's not enough. The guy is too good. I've said it before and I'll say it again - he should be starting in place of Ron Lewis. Cook is even grabbing 5.4 rebounds per game and anybody watching knows that we can use rebounders in the Big11Ten. Oh, and he's shooting an amazing 56% from the field and 50% on threes. I'm not hating on Lewis just because he's had a few down games, I just think Cook is a star in the making and should see more court time. Matta has often stated he likes having that scoring punch off the bench with Cook and Ivan Harris so I wouldn't expect a change in the starting five anytime soon.
Notes: On the season, OSU is shooting 50% from the field including 40% from downtown…Next up: @ Illinois Saturday at 2pm.