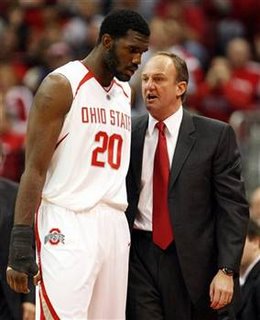 Buckeye fans received an early Christmas present today as Greg Oden made his Buckeye debut in impressive fashion following wrist surgery that sidelined the big man since June 16th. Oden finished with 14 points, 10 rebounds, and 5 blocks in just 23 minutes of action as the Bucks cruised to a 78-58 victory. He was somewhat hampered by the brace on his right wrist, forcing him to shoot free throws left-handed, but he appeared healthy and in decent 'game-shape'.
The Bucks started slowly and found themselves in an 18-18 tie with 9 minutes left in the half but closed with a 15-4 run to take a 33-22 lead at intermission. As usual, Daequan Cook fueled the offense and finished the half with 13 points in 12 minutes on 4 of 6 shooting including 2 of 3 from downtown. Oden had 6 rebounds and Mike Conley 5 assists in the half while the defense smothered the Crusaders, forcing 9 turnovers holding them to 4 points in the final 9 minutes of the half.
OSU opened the 2nd half with a 15-0 run holding Valpo scoreless for the first 5 ½ minutes equating to a 26-4 run over the 14 minute span from which the game was tied at 18. It was clear Matta instructed the team to keep feeding the post and Valpo had no answer for Oden as he made of 8 of 15 lefty free throws.
For the game, Cook led the Buckeyes with 20 points on 6-9 shooting from the field (4-5 on three's) and also contributed 4 rebounds and 2 steals. Ron Lewis finished with 10 and Mike Conley had another steady game running the point with 7 points, 6 assists, and 4 steals. OSU went 10-22 from downtown (45%) but only 22-37 (59%) from the line. The 'D' held Valpo to 37% shooting, including just 4-16 on three's, blocked 9 shots, had 8 steals and forced 17 turnovers.
Notes: For the season, Cook has 141 points in about 190 minutes…Nice!...The game was not a sellout with attendance announced at 17,311…I'm getting sick of seeing empty seats in the Schott but you can guarantee the bandwagon will be overflowing soon…Oden's first career point at OSU came on a lefty free throw…The Bucks are off until next Saturday when Cleveland State comes to town followed by the first matchup with Cincinnati since before fire was invented…That game will be played in Oden and Conley's hometown of Indianapolis on 12/16. It will be sweet to dominate UC, but I have to admit it would be even sweeter if that drunk Bob Huggins was still on the sidelines.