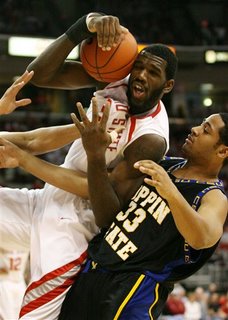 Daequan Cook put on a show with a career high 23 points on 8-11 shooting, including 4-6 from downtown, in a 91-54 laugher against overmatched Coppin State. This one was never close as OSU raced to a 29-10 lead with just over 10 minutes left in the first half and took a 46-30 lead into intermission on the strength of some hot shooting from Cook and Jamar Butler. The duo shot 7-9 from behind the arc while Greg Oden pulled down 8 first half rebounds leading the Bucks to a 20-10 rebounding advantage.
The second half saw Oden get loose for 14 points and 8 rebounds for a final stat line of 18 and 16. The big fella even attempted a right-handed free throw in the second half. Othello Hunter also had a solid game against the small Eagle front-line with 16 points and 9 rebounds and David Lighty chipped in 10 points to give the Buckeyes five players in double figures.
For the game, OSU shot an impressive 57% from the field and bagged 10 threes on 40% shooting. As noted in the preview, this blowout was certainly expected but still beneficial as Butler built on his 11 point game at Florida with 15 more tonight. Also, Daequan Cook eclipsed the 20 point barrier for the 6th time already this year and played some spirited on-the-ball defense. I think it's time for Matta to seriously consider inserting Cook into the starting lineup and let Ron Lewis come off the bench, especially with Cook's ability to rebound and Butler starting to heat up. It's nice to have a guy come off the bench that can light it up, but Cook should be on the floor from the opening tip.
Notes: Tywain led Coppin State with 24 points...Rebounding edge for OSU: 40-23...Next up: Dirty Kelvin and the Indiana Hoosiers.