Bowls make fools of us all, and after 15 games, your picks are probably hurting a little bit, and this Christmas evening you're probably looking for a little reassurance that you're still in it to win it, and that because there's still a few dozen bowls to go, you have every chance in the world to make up for your likely atrocious start in our little competition.
And you do! A few upsets here, a couple of smart bet-hedging picks there, and by the end of the week you could be in it to win it. But Teddy Roosevelt once said that success comes only to those who lead the life of endeavor, and that means picking against Oklahoma State in the Camping World Bowl (or fighting against the Spanish in Cuba or something, I don't know). The six leaders of the Eleven Warriors Bowl Challenge got to where they are today through a combination of moxie, daring, and blind stupid luck. To wit: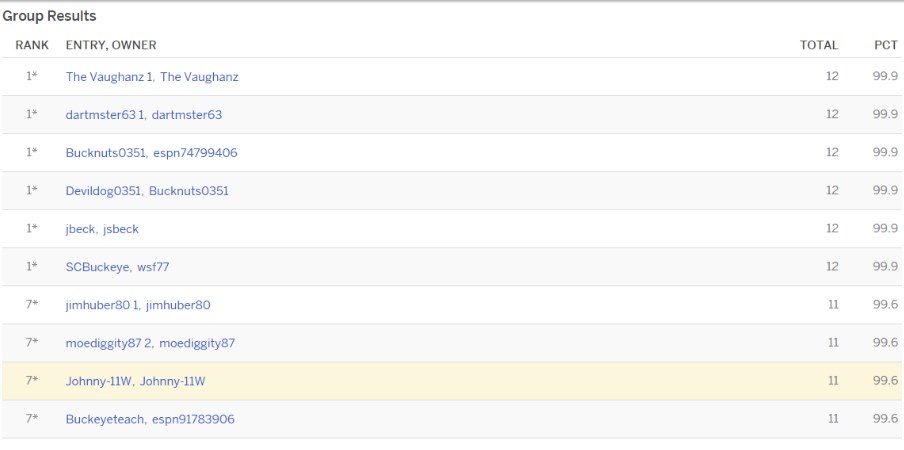 Wait.

Waaaaaiiiittt...

Oh no! Here comes the heat, suckers! Maybe some of you nerds should've bet on Black, given that Army surprised everyone but me by taking out San Diego State in the Armed Forces Bowl. But you couldn't, and you didn't, so here I am, ready to bounce up to the top of the standings and solidify my position as your intellectual and moral superior.
If in the next week I should fall in the rankings, the above is entirely tongue in cheek satire that should in no way be taken seriously. If I don't, then it's not.
FLY IN THE OINTMENT OF THE WEEK
The Army win was a fun one, but by ESPN.com's estimation, the real biggest upset of the last week was Appalachian State's shutout of the Toledo Rockets in the Dollar General Bowl (another upset that I predicted). The Worldwide Leader only gave the Mountaineers a 13% chance of winning, but that probably didn't factor in four Toledo turnovers and the fact that they'd have less than 150 yards of offense.
DUMBEST UPCOMING PICK
I picked Army to beat SDSU mostly because they were playing in the Armed Forces Bowl and yet... I have also called for Virginia to upset Navy in the Military Bowl on the 28th. I am a bad American. Also I picked Iowa over Boston College in the Pinstripe Bowl entirely because of What Happened in early November. This will probably backfire.
This week is a big one! Shooters shoot, and hopefully I can continue riding my lucky streak to victory.