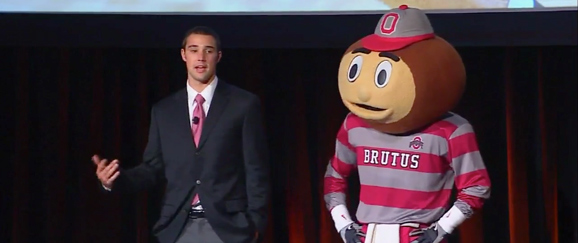 Six minutes into Tuesday night's game with Iowa, Aaron Craft victimized Aaron White to collect his 205th career steal and in the process, passed Jay Burson for the top spot on Ohio State's career steals leaderboard.
Aaron Craft the Burglar

| Season | Year | steals | steals/40 min |
| --- | --- | --- | --- |
| 2010-11 | FR | 73 | 2.66 |
| 2011-12 | SO | 98 | 3.12 |
| 2012-13 | JR | 37 | 2.58 |
That Craft was able to break a 24-year-old record in just two and a half seasons is both remarkable – and not, if you've watched Aaron Craft play basketball.
As a freshman in 2011, Craft finished with 73 steals, good enough for the third-best in OSU history. Last year, he crushed Mike Conley's single-season record, finishing with 98 and just missing the Big Ten record of 101. Craft owns five of the 10 best single-game performances at Ohio State and... you get the story.
Craft finished with four steals Tuesday night to push the career haul to 208. With a year and a half of eligibility remaining, there's a good chance that he could put the record out of reach.
Even with conservative estimates of 60 steals this season and 55 more as a senior, Craft would finish 286 career steals, 82 more than Burson and 95 more than David Lighty, who had nine seasons (slight exaggeration) to accumulate steals.
Although 286 swipes would put the Ohio State career mark out of reach for a while, but it would be good enough for just 3rd in Big Ten history. Evidently, the mid-80s must have been the league at its most lawless as Illinois' Bruce Douglas left school in 1986 with 324 career steals and Michigan's Gary Grant followed him two years later with 300.