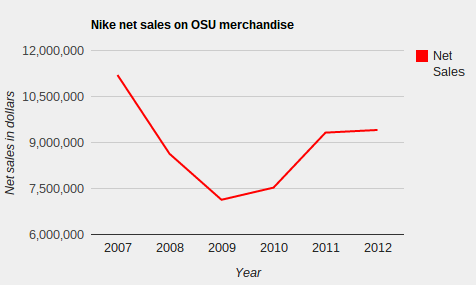 From Ohio State's student voice, The Lantern:
OSU holds a three-part agreement with Nike, based in Beaverton, Ore., set to gross the university almost $46 million over 11 years. Despite what the university gains, some say there are drawbacks to the agreement, which makes Nike the exclusive supplier of any athletic equipment used by OSU varsity athletes and gives the company licensing rights on OSU retail apparel

OSU and Nike signed three separate seven-year contracts that went into effect Aug. 1, 2007. Recently, Nike exercised a contract option to extend all three until July 31, 2018, OSU spokesman Gary Lewis said in an email.

A representative from Nike declined to comment on the contracts.
If you're interested in things on the business side of the college football, The Lantern's article can definitely scratch that itch. Well played, student journos.
(Graph via.)