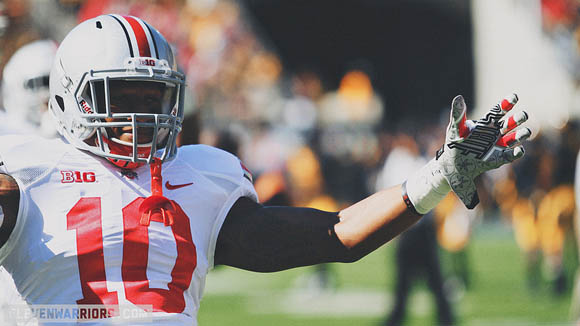 From NFL.com on Ohio State's All-American Linebacker:
The junior is a disruptive, run-and-chase weakside linebacker who can take on blocks and knows how to slip them well. He might get engulfed vs. the run from time to time, but I don't see a steady diet of it where every time an offense wants 10 yards they target him. An offense that takes that tact vs. Shazier probably isn't going to have much success.

Shazier can do anything that's asked of him. He can drop, he can cover and he can rush. He's a good tackler in the open field. He's tough, too.

He made a mistake in the Big Ten Championship Game vs. Michigan State, when he was flagged for pass interference on third-and-19 early in the first quarter. It was costly -- it helped put the Spartans in field-goal range -- but it's one of the few real errors I've seen him make this season. Like most teams will say, if you're not getting any penalties, you're not playing on the edge.
While many expect Shazier to turn pro, he has yet to make an official announcement. He may lack ideal NFL size for a linebacker, but the kid has heart and can play. You can't teach all the things Ryan Damn Shazier brings to the table.