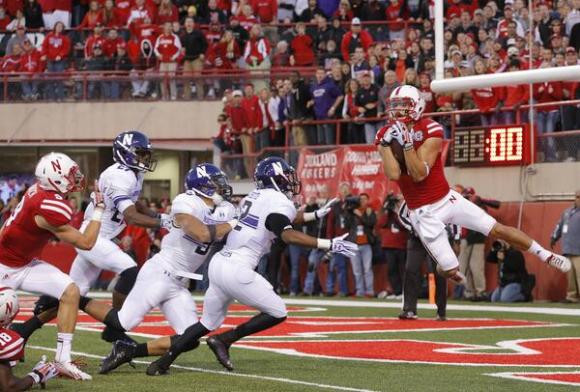 On a day where every Big Ten school except Maryland competed, the conference had arguably its most compelling week of the year. Week Ten saw Hail Mary passes, upsets, overtime, rushing records, dashed comebacks, games of interest, and Iowa-Wisconsin too. Three games were decided in the final 30 seconds, none of them the marquee Michigan-Michigan State matchup, and the best two games of the day were the two least expected.
Nebraska (6-2, 3-1) 27, Northwestern (4-5, 0-5) 24
Jordan Westerkamp caught a Hail Mary pass as time expired to give Nebraska a thrilling win and crush the souls of Northwestern fans everywhere.
Both teams came into this game needing a win badly, and for a while it appeared that Northwestern would get that win. The Wildcats struck out to a 21-7 lead, thanks to three Trayvon Green touchdown runs. Tommy Armstrong Jr. kept Nebraska in the game with a passing touchdown and a rushing touchdown before disintegrating in the second half and being benched for Ron Kellogg III. Northwestern's starting quarterback fared no better, as Nebraska tied the game on Avery Moss's 25-yard interception return of Trevor Siemian. The score remained steady until the three minute mark of the fourth quarter, when Northwestern's Tyler Scott intercepted Kellogg III and gave the Wildcats a first-and-goal at the Nebraska 7. Jeff Budzien hit a field goal to put Northwestern up 24-21 with 1:20 remaining and safeguard Northwestern's all-important fifth win.
Ameer Abdullah made a fantastic play to lead Nebraska to the Northwestern 49 with four seconds remaining, and then Kellogg III, a fifth year senior walk-on, did this:
Northwestern deflected a game-deciding Hail Mary pass to a wide receiver, the same way the Wildcats went to overtime and eventually lost to Michigan in 2012. If it weren't obvious before, the goddamn plane has crashed into the mountain. Only a month ago, Pat Fitzgerald was rumored to be Southern California's next head coach. Now, only a near-decade of goodwill keeps Northwestern fans from flipping out over his contract, which runs through 2020. After Stephen Buckley's injury during the game, Northwestern is down to one healthy scholarship running back and all appears hopeless. To make a bowl, Northwestern has to get it turned around during this bye week before facing No. 21 Michigan on Nov. 16. Lose there, and 5-7 is the bitterest, most likely outcome.
After coming a hair's breadth from firing Bo Pelini for losing to Minnesota the week before, Nebraska came through in incredible circumstances. Neither Kellogg III nor Armstrong Jr. will ever be mistaken for the ever-efficient Taylor Martinez, but bowl eligibility is a nice way to regain one's bearings before greater challenges. The Cornhuskers play at No. 21 Michigan next week, wherein the winner probably has dibs on the Outback Bowl.
#22 Michigan State (8-1, 5-0) 29, #21 Michigan (6-2, 2-2) 6
Michigan State and Michigan clashed in a high-scoring shootout that set new Big Ten records for pfffhahahaha, naw, I'm just messing with you. Michigan State's defense embarrassed Michigan's offense to give Michigan State firm control of the Legends Division.
The game started as a stalemate, with Michigan and Michigan State matching field goals to knot the game at 3-3. In the second quarter, the Spartans used their smothering defense to pin Michigan deep and start drives with great field position. Michigan's second lengthy drive made the game 6-6, and though Connor Cook and Michigan State's offense squandered most of their opportunities, the field position eventually paid off with a 14-yard Bennie Fowler touchdown catch to lead 13-6 at halftime. In the third quarter, Michigan State's defense continued to stifle Gardner and Toussaint but its offense could only add another field goal. Michigan received its best break of the game when Raymon Taylor intercepted Cook and took the ball into Michigan State territory, but the Wolverines lost 21 yards, punted, and never threatened the lead. Cook scored again to the delight of offensive linemen, Darqueze Dennard intercepted Gardner on Michigan's final sustained drive, and Jeremy Langford shredded the Michigan defense with a 40 yard touchdown run to ice the game.
A number of stats make the loss look even worse. With six points scored in this game, Michigan continues the trend of scoring fewer points against Michigan State every year since 2004. Michigan sustained drives on its first, sixth, and twelfth possessions, and as the grisly drive chart shows, it lost seven yards on its other ten possessions. The -48 rushing yards are an all-time school low; even removing sacks and a bad snap that lost 20 yards from the rushing totals, Michigan only managed 1.3 yards per carry. Al Borges made Jim Bollman look like an effective offensive line coordinator, and I watched the game sober. Going against the number one defense in the country or not, that lack of production is inexcusable. Also inexcusable: Taylor Lewan, who was called for an unsportsmanlike penalty, would have been ejected had referees seen him throwing a punch, and carried on like a petulant freshman rather than an All-American team captain. The Wolverines host Nebraska in Week Eleven.
This is just the game Michigan State needed to get back into the national spotlight. With the Big Ten's only flawless in-conference record besides Ohio State, the Spartans are one of two teams to control its fate in the Legends Division, the other being Nebraska. There were significant issues with the offense – seriously, who calls a three yard crossing route from a five wide receiver set on 2nd and 19? – but it was good enough to complement the defense. Pat Narduzzi is the brains behind Michigan State's brawn, and with a better offensive coordinator the Spartans would be fearsome. My compliments on several trolling moments: playing "Let it Be" during an official review, and second, calling a timeout to let Andrew Maxwell take the final snap. The Spartans have a week off before traveling to Lincoln on Nov. 16 for the opportunity to clinch the division.
#24 Wisconsin (6-2, 4-1) 28, Iowa (5-4, 2-3) 9
Iowa had this one. Wisconsin was struggling, the field position was fantastic, and the offense was moving the ball, but Kirk Ferentz's maddening conservatism cost the Hawkeyes a golden opportunity to pull off the upset at home before Wisconsin woke up and ground Iowa to paste.
On several early Iowa possessions, Iowa had the ball in Wisconsin territory – including a 4th and 3 from Wisconsin's 35 with the wind – and on all of those possessions Ferentz punted or kicked a field goal. The early momentum lasted the Hawkeyes through most of the first half until Wisconsin took the lead with a 44 yard pass to Jacob Pedersen. In the third quarter, Jake Rudock's interception deep in Iowa territory was followed by a Jared Abbrederis touchdown catch on the next play. Shortly thereafter Rudock was injured, prompting C.J. Beathard to come in and struggle in his stead. Beathard doinked an interception off his center's helmet, leading to the the first of two James White touchdown runs to seal the game.
For Wisconsin, the close call is concerning. Melvin Gordon didn't get many carries and wasn't very productive; he finished with 17 carries for 62 yards. Abbrederis was injured again, this time in his chest, but at least he was able to to score the clinching touchdown before his injury. Nevertheless, any win will help the Badgers in the polls. The same goes for a win against Brigham Young next week in the Big Ten's final nonconference game of the season.
After some encouraging play against Ohio State, Iowa's offense has done nothing but regress. Where are the innovative 3 tight end sets, the vertical passing game, the interesting ways to get Mark Weisman the ball? The Hawkeyes are locked into predictable Weisman runs and predictable short passes, which has led them to no touchdowns in the last 108 minutes of play and Iowa's lowest completion percentage in a game with 40 passes since 2005. They consider this a good play action pass: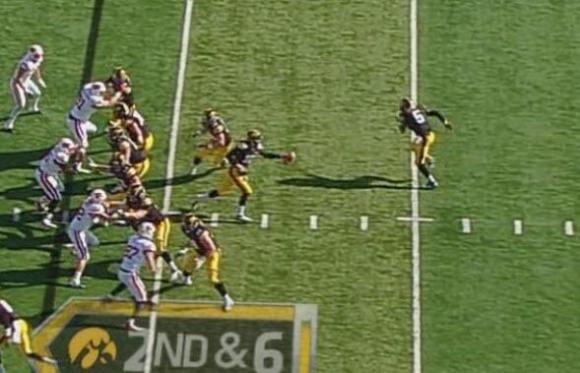 Next week, Iowa tries to figure out what these newfangled "points" are against a fellow conscientious objector to offense, Purdue. If you have a choice between watching Iowa/Purdue and undergoing Ludovico treatment, choose Ludovico.
Penn State (5-3, 2-2) 24, Illinois (3-5, 0-4) 17, OT
Though Illinois threatened to snap its historic 17 game Big Ten losing streak, Penn State overcame the Illini with a late field goal and defensive stand in overtime.
Penn State started off with a 14-0 lead, thanks to two lengthy scoring drives capped by Bill Belton and Christian Hackenberg touchdown runs. Illinois managed a drive into Penn State's red zone at the end of the second quarter, but poor clock management by Nathan Scheelhaase forced Illinois to settle for a field goal to make it 14-3 at the half.
In the second half, Illinois took charge. A strong 13 play, 89 yard drive touchdown drive to cut it to 14-10 in the third quarter, and Illinois overcame a Penn State goal line stand to take a 17-14 lead on a Josh Ferguson touchdown catch with 5:30 remaining. It appeared the Illini would earn a rare victory after Bill Belton fumbled the ball away at the Illinois 1-yard-line with two minutes to go, but the Nittany Lions got the ball back with enough time to set up a 35-yard field goal to send it to overtime, wherein Hackenberg threw a 15-yard touchdown pass to Kyle Carter and Ryan Keiser intercepted Scheelhaase in the endzone to preserve the win.
Neither team will come away from the game feeling much better. On the Illinois sideline, this is as close as it's come to breaking the losing streak, and falling short like this is heartbreaking. Penn State doesn't want to play this close against teams as bad as Illinois. At least some Penn State players set career marks: Allen Robinson became the seventh player on Penn State history with 2,000 career receiving yards, and Bill Belton's 201 yards on 36 carries was the first 200 yard rushing performance for the Nittany Lions since Larry Johnson in 2002. In Week Eleven, Illinois visits Indiana, while Penn State will visit Minnesota.
Minnesota (7-2, 3-2) 42, Indiana (3-5, 1-3) 39
Minnesota used a 50-yard touchdown pass and a strange goal line stand to continue its dream season despite a wild rally by Indiana.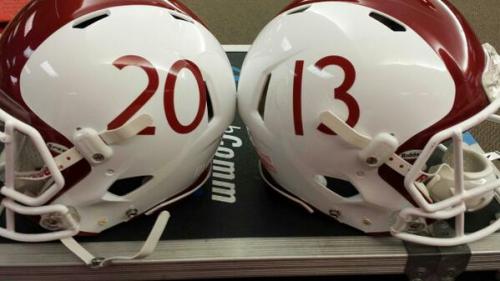 Minnesota and Indiana have some of the Big Ten's best offenses and worst of the worst defenses, so the seesaw nature of the contest was expected; the unexpected part was how balanced each offense was. The Golden Gophers dominated the first two-thirds of the game; on the whole, Minnesota had 573 yards, 325 passing and 248 rushing. After David Cobb's touchdown run put Minnesota up 35-13 with 6:24 left in the third quarter, Indiana went on a tear of its own, thanks to Stephen Houston and Tevin Coleman's 100-yard rushing days.
In a little under a quarter, Indiana scored four touchdowns to go up 39-36 with 5:13 remaining, before Philip Nelson regained the lead with a 50-yard touchdown pass to Maxx Williams. Indiana drove against Minnesota with ease, but the Gophers made an unlikely goal line stand. On second-and-goal at the Minnesota 9 with 25 seconds remaining, Nate Sudfeld threw a lateral to Coleman, who bobbled and dropped the ball. Coleman didn't realize the ball was live, and Aaron Hill recovered the fumble to save the game for the Minnesota.
For weeks, the rap on Indiana has been its defense's inability to get stops, so the offense failing the team is a surprise. Indiana was favored in this game, and with the loss it's hard to imagine Indiana winning out against three of its last four foes (Illinois, No. 24 Wisconsin, No. 4 Ohio State, Purdue) to become bowl eligible. Minnesota might be the worst 7-2 team in Big Ten history, but it deserves grudging respect for being above .500 in Big Ten play for the first time since Alexander Jerrems tromped the sidelines. Minnesota goes for win number eight against Penn State next week.
Rutgers (5-3, 2-2) 23, Temple 20
Gary Nova's 33-yard touchdown pass on 4th-and-10 allowed Rutgers to slip past Temple at home.
The touchdown pass, which completed an eight-play, 72-yard drive, came with 35 seconds left in the game. It capped a fantastic game for Nova, who threw for 371 yards and two other touchdowns. Ruhann Peele secured the victory for Rutgers by recovering a fumble on Temple's final possession.
Rutgers' back-and-forth victory against a terrible Temple team is unnerving, but the win stops a slide that had threatened to derail a decent bowl season. The Scarlet Knights have a bye next week, then grasp at bowl eligibility against Cincinnati on Nov. 16.
It'll be hard for Week Eleven to live up to Week Ten's standards, but Minnesota-Penn State ought to be fascinating, as should Michigan-Nebraska. Finally, your moment of Zen: Sparty the Lumberjack.