To begin today's Skull Session, I'm pleased to report that our friend Chase Brown discovered America's greatest supersized gas station on Monday.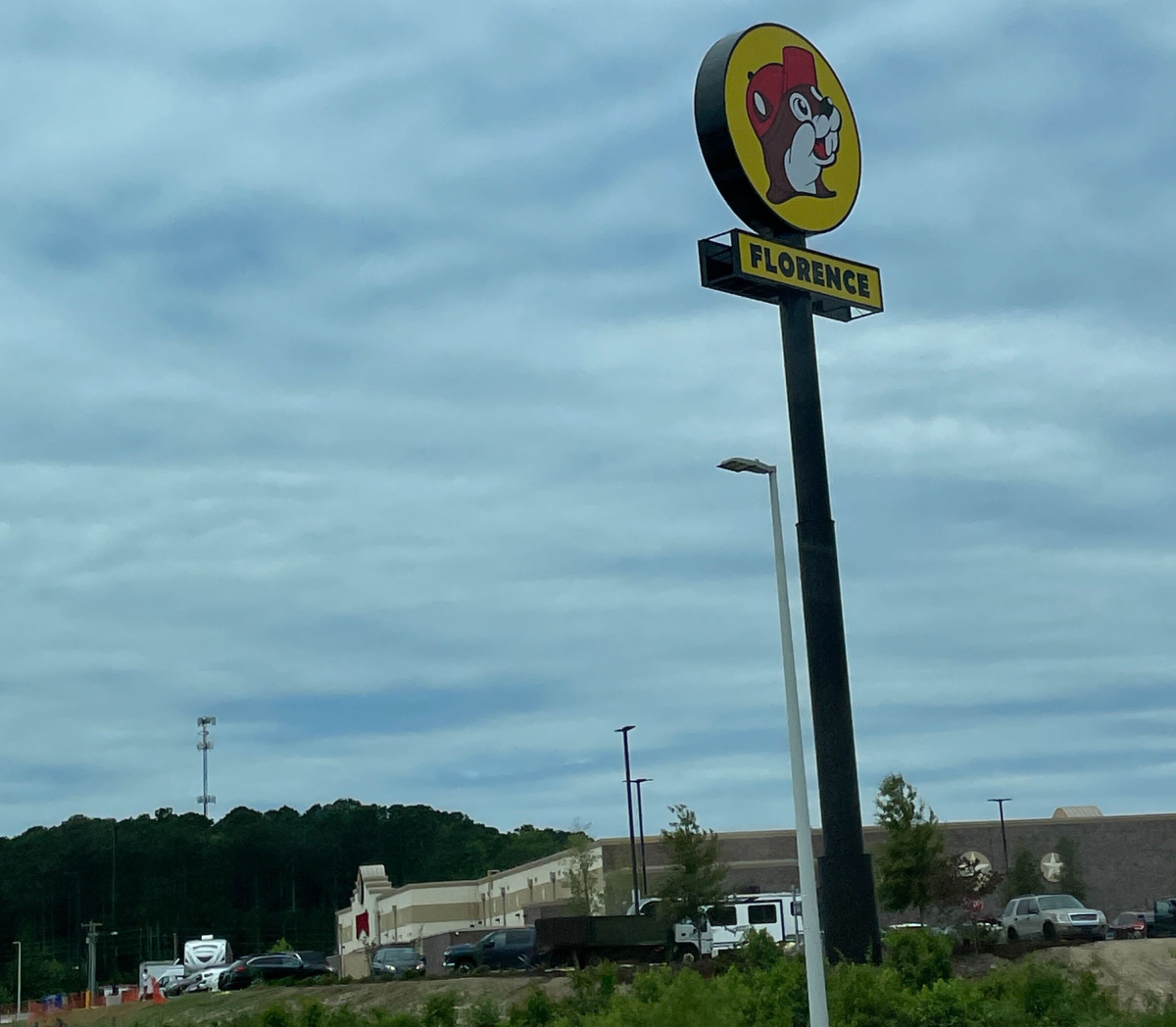 Having made my own trip(s) to the very same Buc-ees during my own vacation a few weeks ago, I fully endorse our fellow Ohio State beat writer Kevin Noon's campaign to bring a Buc-ees to Columbus. We all need more brisket, kolaches and cinnamon pecans in our lives.
Anyway, there's plenty of Ohio State sports talk to get to while Chase is enjoying some well-deserved time off, so today's my turn to humbly attempt to fill his shoes.
Let's have a good Tuesday, shall we?
 FIELDS MAKES STROUD'S TOP FIVE. During a media availability with prospects attending the NFL draft one day before the draft was held in Kansas City, C.J. Stroud was asked by the Caps Off Podcast who he considers to be the top five quarterbacks in the NFL.
His list: Jalen Hurts, Patrick Mahomes, Joe Burrow, Josh Allen and Justin Fields.
Who did C.J. Stroud miss in his Top 5 QBs list? @CapsOffPodcast @TGDTabs pic.twitter.com/mSyNR9V81D

— The Game Day NFL (@TheGameDayNFL) April 26, 2023
That list drew attention from several national media outlets on Monday, in part due to Hurts being the first name he mentioned before Mahomes. Though Stroud did not specifically rank the quarterbacks in order, Hurts being the first quarterback that came to his mind certainly speaks to how much has changed in one year, as a report surfaced last week that the Eagles attempted to trade for Russell Wilson a year ago.
Stroud's list also has some distinct Ohio State flavor with the inclusion of Burrow and his former teammate Fields. While Burrow, who Stroud said he models his game after, has become a clear-cut top-five quarterback with his performance for the Cincinnati Bengals for the past two years, Fields still has a lot to prove after finishing 25th in the NFL in passer rating (85.2) last year. That said, Fields certainly proved how dynamic he could be as a runner last season as he ranked seventh among all NFL players with 1,143 rushing yards, the second-most ever in a single season by a quarterback.
By including Fields on his top-five list over the likes of Lamar Jackson (the single-season quarterback rushing record holder), Justin Herbert and Aaron Rodgers among others, it's clear just how much respect Stroud has for the quarterback he backed up at Ohio State before becoming the Buckeyes' starting signal-caller himself.
 BACK ON THE BALLOT. The College Football Hall of Fame released the ballot of nominees for its 2024 class on Monday, and Ohio State is represented by the same two greats who were on the ballot last year: James Laurinaitis and Chris Ward.
Congrats to @OhioStateFB legends James Laurinaitis and Chris Ward on being named to the 2024 @cfbhall Ballot.#GoBucks

Click to join the NFF and receive a ballot to vote:https://t.co/qSwkgLEyFo pic.twitter.com/azJlLLauTP

— Football Foundation (@NFFNetwork) June 5, 2023
It should be only a matter of time before Laurinaitis gets the call to the Hall, considering he was a three-time All-American linebacker for the scarlet and gray. The current Ohio State graduate assistant is one of just eight Buckeyes to earn All-American honors three times and was also a two-time Big Ten Defensive Player of the Year, cementing his status as one of the best linebackers in recent college football history.
Ward also has a strong case for immortalization in the Hall as he was a two-time consensus All-American and three-time first-team All-Big Ten honoree as Ohio State's starting left tackle from 1975-77. A team captain for the 1977 Buckeyes, Ward went on to play in the NFL for seven years.
Should you want to both cast votes in favor of those Buckeye greats and support the National Football Foundation in the process, you can receive a ballot for the College Football Hall of Fame by joining the NFF as a member.
 ARMOUR MAKES THE OPEN. Ryan Armour has been playing professional golf since 1999 and is a longtime member of the PGA TOUR, but he had never qualified for the U.S. Open until Monday.
Armour finally broke through to qualify for America's national championship by placing third in Monday's final qualifier at Lambton Golf & Country Club in Toronto, where he'll be competing in the RBC Canadian Open later this week. He punched his ticket to the U.S. Open, which will be played at the Los Angeles Country Club from June 15-18, by shooting 7-under over 36 holes to earn the last of three qualifying spots available in Canada.
Ryan Armour says he's been trying for 20 years to qualify for the US Open. He qualified for the first time today. pic.twitter.com/fnOBNzu3kg

— Amy Rogers (@TheAmyRogers) June 5, 2023
Now that Armour has qualified for the U.S. Open, the next milestone he'll be chasing is attempting to make his first cut at a major. Armour previously played in The Open Championship in 2018 and the PGA Championship in 2018 and 2019, but did not make it to the weekend in any of those three tournaments.
Current Ohio State golfer Maxwell Moldovan, who made his U.S. Open debut last year, nearly joined Armour in qualifying for this year's U.S. Open. The Buckeye junior came up short in heartbreaking fashion, however, when he lost a playoff against Alex Schaake for the last of five qualifying spots in Springfield, Ohio, on the eighth playoff hole.
 LINNAE HARPER WINS GOLD. A former Ohio State women's basketball player helped lead the United States to a gold medal over the weekend as Linnae Harper was a part of the four-person team that led the Stars and Stripes to a championship at the FIBA 3x3 World Cup on Sunday.
For the first time since 2014, the Women take home the gold #3x3WC pic.twitter.com/cQCUQBe3zx

— USA Basketball 3x3 (@usab3x3) June 4, 2023
Harper, who has become one of the world's top 3-on-3 basketball players since her Ohio State career ended in 2018, joined current college stars Cameron Brink (Stanford) and Hailey Van Lith (LSU) and former Tennessee standout Cierra Burdick on the gold-medal-winning team, which secured the top prize with a 16-12 win over France in the final.
The former Ohio State guard scored 27 points over the course of seven games in the tournament, which consisted of games ending after 10 minutes or when one team reached 21 points, with baskets inside the arc counting for one point and outside the arc scoring two.
 MITCHELL RECOGNIZED FOR GIVING BACK. Harper wasn't the only alumna of Ohio State women's basketball to achieve something notable at the professional level over the past couple of days. Taylor Mikesell landed a new opportunity to play in the WNBA when she signed with the Atlanta Dream on Monday. And Kelsey Mitchell was honored Monday as the recipient of the WNBA's Dawn Staley Community Leadership Award, recognizing her efforts to give back to the community including the KelzHoop Foundation, which helps provide opportunities for young athletes.
Congratulation to @IndianaFever guard @Kelz_Hoop on earning the @dawnstaley Community Leadership Award

We recognize Mitchell's influence in the Cincinnati community and her focus on accessibility for young athletes

Full Release https://t.co/J11qVLYKeq pic.twitter.com/cGHwzp3tK6

— WNBA (@WNBA) June 5, 2023
"The WNBA is extremely proud to see Kelsey recognized for her volunteer work and community impact," WNBA Commissioner Cathy Engelbert said in a statement. "Kelsey's work with young people and families in her community continues to make an enormous positive influence, and she echoes the example set by Dawn Staley as a role model in sports. Along with her fellow WNBA players, Kelsey is dedicated to making the world a better place for the next generation."
The WNBA will make a $10,000 donation to the KelzHoop Foundation as part of the award.
 OLYMPIC VILLAGE. The final event of Ohio State's 2022-23 year in sports will take place this week as the top performers from Ohio State's track and field teams are headed to Austin, Texas, to compete in the NCAA Outdoor Track and Field Championships.
Ohio State is fielding eight entries across 12 events on the women's side while four Buckeye men will compete in field events. The full list of Buckeyes who will be competing for national titles between Wednesday and Saturday, along with their qualifying seed rankings and marks:
Women's 100-meter dash: Yanique Dayle (6th, 11.05), Nya Bussey (12th, 11.08) and Leah Bertrand (21st, 11.17)
Women's 200-meter dash: Yanique Dayle (8th, 22.58) and Nya Bussey (22nd, 22.90)
Women's 400-meter dash: Alyssa Marsh (18th, 52.54), Bryannia Murphy (22nd, 52.93) and Jaydan Wood (23rd, 52.96)
Women's 4x100-meter relay: Yanique Dayle, Nya Bussey, Alyssa Marsh and Leah Bertrand (4th, 43.17)
Women's 4x400-meter relay: Alyssa Marsh, Yanique Dayle, Chanler Robinson and Jayden Wood (11th, 3:31.73)
Women's triple jump: Jaimie Robinson (7th, 13.48 meters)
Women's discus throw: Faith Bender (21st, 53.87 meters)
Men's high jump: Shaun Miller Jr. (15th, 2.14 meters)
Men's triple jump: Clarence Foote-Talley (12th, 15.9 meters)
Men's shot put: Hayden Tobias (13th, 19.61 meters)
Men's discus throw: Carlos Aviles (18th, 56.94 meters)
Tobias will be the first Buckeye to compete on Wednesday while Miller, Foote-Talley and Aviles will compete Friday. The women's semifinals in the 100, 200, 400, 4x100 and 4x400 will take place Thursday with the finals set for Saturday, which is when Robinson and Bender will also compete in their finals.
The full schedule for the NCAA Championships can be found on the NCAA's website. ESPN2 will televise coverage of all four nights of the NCAA Championship while each individual event will also be streamed on ESPN+ (broadcast schedule/links).
 SONG OF THE DAY. "The Rover" by Led Zeppelin.
 HOPE YOU'RE STILL READING. Big Ten promotes Kerry Kenny to chief operating officer... Viktor Hovland caddies for college teammate just hours after winning Memorial... Former Illinois, St. John's guard Andre Curbelo commits to Southern Miss... Canadian wildfires causing hazy skies in Columbus area and Ohio Valley... Woman walking on California beach finds ancient mastodon tooth... Apple to sell Vision Pro AR headset for triple Meta's top-line price.