Well, Ohio State women's basketball picked a lousy time to have its worst two games of the season.
Thursday's 78-65 loss to Indiana marks the second consecutive defeat for the Buckeyes. But the beauty of basketball is that another game is right around the corner and 19-2 ain't a bad place to be if you ask me. Time for Kevin McGuff's squad to regroup and get healthy because this team could use some rest and some Jacy Sheldon in their lives.
Final at No. 6/6 Indiana#GoBucks pic.twitter.com/t2SA0PaXWp

— Ohio State WBB (@OhioStateWBB) January 27, 2023
Let's have a good Friday, shall we?
 SUPER MARV, EVERYONE. Marvin Harrison Jr. collected 77 catches for 1,263 yards and 14 touchdowns in 13 games this past season – his first as a full-time starter. As he returns to Ohio State for a third year in 2023, Harrison will look to improve upon those already-impressive numbers.
If he can accomplish that feat, ESPN's Alex Scarborough believes Harrison will be viewed as the best player in college football, even better than 2022 Heisman winner Caleb Williams of USC and other talents such as Drake Maye of North Carolina.
Speaking of a player who could be in the NFL right now, I present to you Ohio State receiver Marvin Harrison Jr. Just look at how he torched eventual national champion Georgia during the Chick-fil-A Peach Bowl: five catches, 106 yards and two touchdowns. If he didn't get injured in the second half, the Buckeyes might have hung on to win the game. All told, Harrison had 14 touchdowns as a sophomore. He's a gifted route-runner and catches everything -- just like his father. Whether it's Kyle McCord or Devin Brown who ends up replacing C.J. Stroud at quarterback, he'll have it made with Harrison to throw to.
The Athletic's Scott Dochterman also hopped on board the Super Marv train. In his most recent article, Dochterman claimed NFL scouts he's spoken to since the end of the season convinced him Harrison was the nation's most impressive player in 2022.
Should Harrison put in a similar effort for the Buckeyes in 2023, the 6-foot-4, 205-pound freak of nature could be one of the finalists seated in New York City for the Heisman Trophy ceremony in December.
With a new quarterback in tow, Harrison will need to build upon his success. If he can, he should become a two-time unanimous All-American. If it includes another CFP invite, Harrison might end up in New York for the Heisman ceremony, too.
I'm always cautious about hurling lofty expectations on players before seeing them out on the field, mainly because we never know what can happen with injuries (see: Jaxon Smith-Njigba) and other factors. But what would offseason content look like without making predictions without a care in the world if they come true?
Coming to Ohio State football in 2023: Marvin Harrison Jr., Biletnikoff winner, back-to-back unanimous All-American and Heisman finalist.
 THIS GUY GETS IT. One of the best people Ohio State fans can follow on Twitter is Joe Gemma, a graphic designer and photographer for Ohio State basketball.
Joe is a great follow because he often sends hilarious tweets about the hoops teams. However, that's not all. He also understands the legacy and traditions of Ohio State and its athletic programs, including what I hold near and dear to my heart: Ohio State's colors being scarlet and gray. Not scarlet and black, folks... scarlet and gray.
I love our script unis, but i think they could be potentially improved by removing the black accents and replacing them with gray. Helpful in distinguishing us from Rutgers who wears a very similar uniform in the same conference. Whatever! pic.twitter.com/1RW4koSRAM

— Joe Gemma (@JoeDGemma) January 25, 2023
Trying to eliminate this problem pic.twitter.com/6d8CQRhZ3L

— Joe Gemma (@JoeDGemma) January 25, 2023
I hate to be a Get Off My Lawn Guy at 23 years old, but I think it's quite the issue that the Rutgers Scarlet Knights have similar uniforms to The Ohio State Buckeyes. The situation only exists because the Buckeyes' athletic department or designers at Nike (or both!) shy away from using gray as one of the school's primary colors with their uniforms.
So here I am again – begging and pleading – as I attempt to convince whoever makes uniform and apparel decisions for Ohio State to please add some gray cloth again. The combination of scarlet and gray has had positive reviews for over 100 years. I promise the people will love it!
Also, before this section ends, check out this cool concept where Ohio State basketball would have uniforms that replicate the ones the baseball team currently wears. It's sick.
What if we got real crazy and used the @OhioStateBASE script? Thinking out loud.. https://t.co/YOBTa3i1ET pic.twitter.com/NOmSHzCMhH

— Joe Gemma (@JoeDGemma) January 25, 2023
 DEVELOPED HERE. Ohio State's motto when promoting its arsenal of talent spread throughout the NFL's 32 teams has been "Developed Here" for a long time. And, honestly, there's no need for a rebrand anytime soon, primarily because the Buckeyes have always developed and will develop pro-ready players.
247Sports helped Ohio State add even more depth to the Developed Here claims this week, as the news site collected a list of the top 10 schools with the most NFL draft picks since 2000. The Buckeyes were the No. 1-ranked school with 157 selections – 13 more than second-place Alabama and 14 more than third-place LSU.
MOST NFL DRAFT PICKS SINCE 2000

| SCHOOL | DRAFT PICKS | FIRST-ROUNDERS |
| --- | --- | --- |
| OHIO STATE | 157 | 34 |
| ALABAMA | 144 | 39 |
| LSU | 143 | 21 |
| GEORGIA | 139 | 25 |
| FLORIDA | 128 | 25 |
| MIAMI (FL) | 124 | 32 |
| USC | 120 | 24 |
| FLORIDA STATE | 114 | 25 |
| OKLAHOMA | 113 | 16 |
| MICHIGAN | 106 | 17 |
With the likes of C.J. Stroud, Paris Johnson Jr., Jaxon Smith-Njigba, Dawand Jones, Zach Harrison, Luke Wypler and Ronnie Hickman, among others, ready to be drafted in 2023, Ohio State will retain its hold over the No. 1 spot in the rankings for at least another year.
Whos Next?#DevelopedHere pic.twitter.com/MpgOYbz455

— Ohio State Football (@OhioStateFB) January 26, 2023
Once those players are drafted, they'll look to follow in the footsteps of other former Ohio State stars who are now candidates for major NFL awards like Offensive Rookie of the Year (Garrett Wilson), Defensive Player of the Year (Nick Bosa), Walter Payton Man of the Year (Cameron Heyward, Sam Hubbard), etc.
So, as the Ohio State football Twitter proposed, we all must ask this question: Who's Next?
 OHIO STATE NEEDS YOU. One of my favorite board games is "Risk," a strategy board game of diplomacy, conflict and conquest where players work to become the world's most dominant force by gaining supremacy over territories and continents.
On Thursday, I learned there is a website called College Football Risk where fans of college football programs across the country battle each other to be the dominant team in North America. And, yes, Ohio State is one of the programs represented.
In fact, Buckeye fans represent the second-largest army on the website, which is fantastic. However, the largest army belongs to fans of the Michigan Wolverines, which is not fantastic at all. That's why Ohio State needs your help.
A message from Macdaddybuckeye on the 11W forums:
It is that time of year again where we must take to the Reddit boards and dominate the competition. We are currently the second largest army and need all of you to step up, sign up and join in the fight. We must reclaim our dominance and it begins by dominating this. Join us now and fight the good fight.
You heard your commanding officer. You could be the difference. Visit the Ohio State CFB Risk page today and help the Buckeyes defeat those pesky Wolverines and claim a prize as college football's most dominant fanbase. It will be legen – wait for it – dary.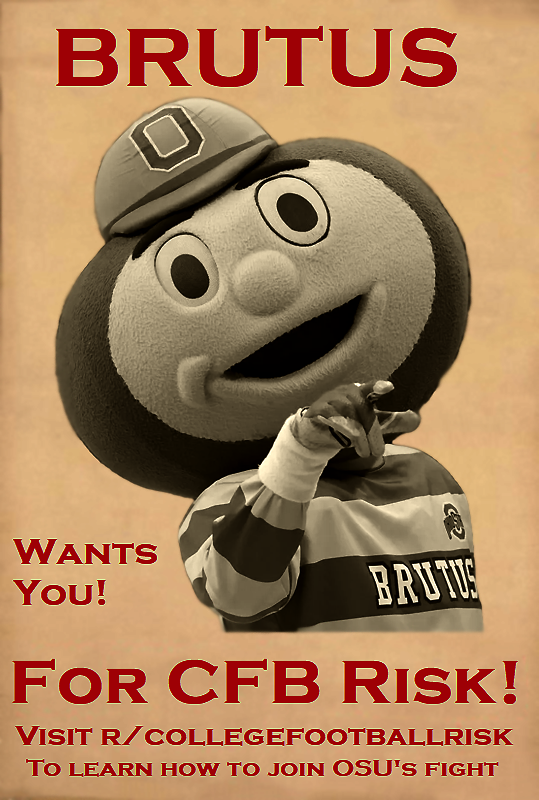 SONG OF THE DAY. "Bungle in the Jungle" by Jethro Tull.
 CUT TO THE CHASE. A fridge too far? Living sustainably in NYC by unplugging... Jaiden Fields, Justin Fields' sister, joins WWE's third NIL class... Bally Sports' regional sports networks headed for bankruptcy... Brian Kelly was overpaid by $1 million dollars in his first season as LSU's head coach... Carolina Panthers' new head coach is the franchise's first-ever QB... Six doctors swallowed Lego heads for science.