Folks, you're not gonna want to miss this.
Your Notre Dame weekend just got better. Join us for a legendary evening on Friday, 9/2 at @LandGrantBeer.

Stay tuned for ticket details and additional information.#Champs20th pic.twitter.com/O44Vc97Gw3

— Eleven Warriors (@11W) July 13, 2022
Song of the Day: Facile.
 BLUE CHIP BABY. The Blue-Chip ratio is one of the single best predictors of who will win the national title (or more specifically, who won't win the national title). The good news is, Ohio State made the cut, coming in second only behind Alabama.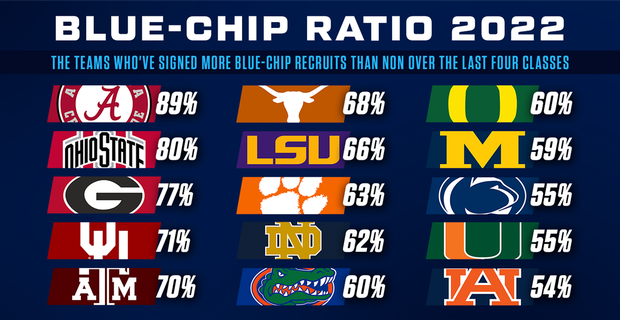 For those of you wondering what the hell this means, that number is the percentage of your roster that is made up of four and five-star prospects – which is essentially a prerequisite for winning a national title.
Basically, if a team isn't on this list, it ain't winning the national title.
Put simply, to win the national championship, college football teams need to sign more four- and five-star recruits (AKA "Blue Chips") than two- and three-star players over the previous four recruiting classes. 

This has been true basically as far back as modern internet recruiting rankings have existed. 

Media will sometimes hype a team which has not met the threshold as a national title contender, but history has shown that is not a smart practice. Think Wisconsin, Baylor, Michigan State, TCU, Utah, Cincinnati, etc. over the last decade. Even the Bearcats, who made last season's College Football Playoff, were really no match for a blue-chip-built team like Alabama. 

This is a necessary but not sufficient condition. It does not guarantee a national championship, but a team not meeting it is almost certainly guaranteed not to win it all.
Also, the higher you are on this list, generally, the better you do.
Notice all of the teams at the top of this list are very familiar faces in the College Football Playoff? That sure ain't a coincidence.
 GRAY SLEEVES? I know a solid portion of y'all are massively unenthused by Ohio State's all-scarlet and blackout uniforms, both of which seem like they will be worn again this season.
But I've got good news. If Teradja Mitchell is teasing what I think he's teasing, it sure seems like the gray sleeve stripes could be making a comeback.
Alternate unis >>
Grey sleeves >>

— Teradja Mitchell (@teeraaw__) July 13, 2022
I would absolutely lose my shit if they decided to make those the standard uniforms once again, but I'd settle for rolling them out for just one game.
I'm also perfectly fine with saving them for the playoff, since I fully expect that to be an annual event anyway.
 SPOT THE COMMONALITY. One of my favorite genres of Tweets is the "Big Ten's best xxx" Tweets that end up just all being Ohio State players, because obviously.
It happens all the time with quarterbacks, it happens with wide receivers, and it happens with defensive ends. Now, it's happening with defensive tackles.
Highest pass rush win rates in a season by a Big Ten DT since 2017:

1 Tyleik Williams (21): 22.1%
2 Haskell Garrett (20): 17.3%
3 DreMont Jones (17): 16.6% pic.twitter.com/1vJ1DmMnV6

— PFF College (@PFF_College) July 13, 2022
Also, I feel extremely blessed that No. 1 on that list was a true freshman last season. By the way, I don't think we're properly hyping Tyleik Williams because winning almost a quarter of your pass rushes as a true freshman is absolutely nuts.
Between Williams, Jack Sawyer, J.T. Tuimoloau, Denzel Burke and TreVeyon Henderson, this group of sophomores is absolutely loaded. Dare I say... super?
 WHEN YOU TRY YOUR BEST BUT YOU DON'T SUCCEED. Former Ohio State kicker Sean Nuernberger hit us all with an evergreen reminder that sometimes, things just don't go your way.
Except I'm nearly certain he'll perform far better on his bar exam than he did on those two tackle attempts because at the end of the day, I would trust him to be my lawyer 1,000 times before I trusted him to tackle Saquon Barkley from behind.
I'd like to think he'd say the same about me, but honestly, he might roll the dice on Saquon accidentally tripping over my carcass rather than bank on me winning a case for him. 
 SONG OF THE DAY. "Two Worlds" by Phil Collins.
 NOT STICKING TO SPORTS. A man says an Amazon driver pooped in front of his house... An art crime for the ages... I went to Pizza Hut's all-you-can-eat restaurant and had an existential crisis... Inside the lives of queer people in heterosexual marriages... An Israeli museum finds sketches hidden in a Modigliani painting... A Chinese ice cream brand goes viral after their products don't melt even when blasted with a blowtorch...