Life update: after spending the past few years in my home state of Georgia, I'm heading back up to Columbus.
I'll let you all decide if that's good news or bad news.
Word of the Day: Depuration.
 BUCKEYE LEGEND. If you consider career longevity, NFL accolades, and what he did off the field in addition to what he did as a Buckeye, Malcolm Jenkins is easily one of the best and most accomplished players ever to wear the Scarlet and Gray.
He's calling it a career, and what a hell of a career it was.
What a career @MalcolmJenkins!

All-American
Jim Thorpe Award Winner
13 Pro Seasons
2x Super Bowl Champ

Enjoy retirement #DevelopedHere pic.twitter.com/khRSLQZ5zz

— Ohio State Football (@OhioStateFB) March 30, 2022
I'm not sure an All-American who won the Thorpe Award winner could possibly be considered "underrated," but I don't feel like we Buckeye faithful adequately appreciate Malcolm Jenkins.
Dude was BIA before BIA was a thing. And after all the absurd defensive back talent Ohio State has produced over the past decade, Jenkins is *still* the last Buckeye to win the Thorpe.
 FINDING PAY DIRT. Throughout his three seasons as a starter, Chris Olave was like just a touchdown waiting to happen. It didn't matter where you were on the field, it felt like the end zone was in striking distance.
Turns out, the numbers back that up.
Most 20+ yard TDs since 2019:

Chris Olave - 19pic.twitter.com/hlGNPUKgm4

— PFF Draft (@PFF_College) March 31, 2022
I will miss seeing him absolutely dust defensive backs on his way to the end zone.
Like this!
Or this!
Also, he's pretty good in short yardage, too.
If I wanted to go as a touchdown for Halloween, the closest I could get is just a Chris Olave jersey.
 NEW RIDE. When you're the starting running back at Ohio State – and also arguably the top running back in the country – you drive a ride worthy of your name (image and likeness).
Big s/o to @RickRicart & @ricart for getting @TreVeyonH4s suv looking on point! #NILmanagement pic.twitter.com/FCBI0aqWTJ

— nilmanagement (@nilmanagement) March 30, 2022
One day, I'm sure I will look at a photo of an Ohio State player very clearly getting a car as an endorsement deal and think that it is very normal and fine. But that day is not this day.
 REST EASY. I'm sad to share that we have lost one of the most important and iconic Buckeye football photographers as Jim Davidson, a longtime photographer for The Ozone, has passed away.
Saddened to be told last night of the passing of Jim Davidson. Over his nearly 20 years on the OSU beat, he has taken some of the most iconic photos in Ohio State sports history. His football photos are well-known, but he shot every Buckeye sport his schedule would allow.

— Tony Gerdeman (@TonyGerdeman) March 30, 2022
I did not know Jim well, but whenever our paths crossed he was always more than kind to me – even when I was a mere intern just trying to keep my head above water as I covered the women's basketball team.
You may not have known him, but I promise that you know his photos.
March 30, 2022
This one is my personal favorite: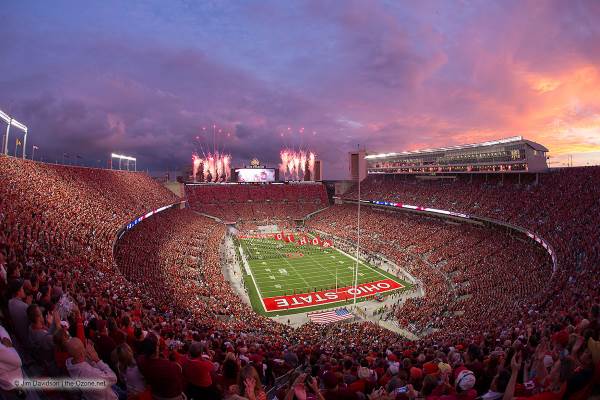 He will be missed, and he made a permanent mark on Buckeye football history with his photographs.
 SONG OF THE DAY. "Superman" by Goldfinger.
 NOT STICKING TO SPORTS. O.J. Simpson thinks Will Smith went a little too far... Demand for panic rooms skyrockets in Los Angeles... How colorblind NHL players see the game... How cocaine affects your penis... I get paid to go on fake dates with people to help prepare them for real ones... How the Blue Man group became so successful...