Sweet, sweet victory.
Last time Ohio State basketball won at Minnesota, DAngelo Russell, JaeSean Tate & Keita Bates-Diop were freshman, Thad Matta was the coach and Jeff Boals was an assistant. That is until tonight. Nice win fellas. The 7-year drought is over! #Buckeyes

— Matt McCoy (@MattMcCoyRadio) January 28, 2022
Word of the Day: Caesura.
 FUN WITH PROTECTED GAMES. With all the talk of the Big Ten potentially going divisionless in the near future, folks have started to prognosticate what the would look like for the conference. More specifically, they've started to guess at what those three protected conference games could be for each team.
Scott Dochterman of The Athletic took a stab at it. Here's what he came up with: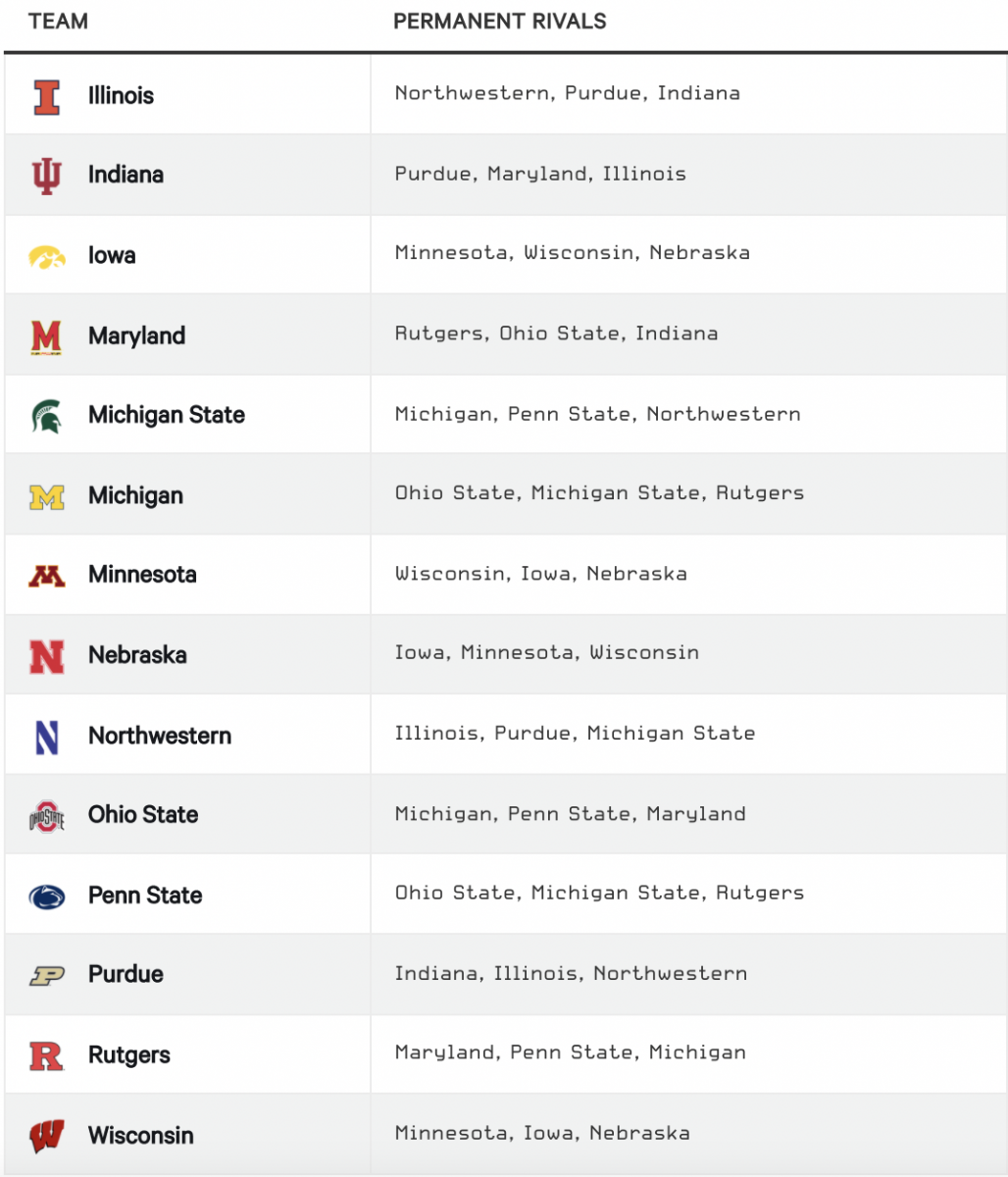 Obviously, Michigan and Penn State are great and correct, but I cannot think of a protected game I'm less interested in than Maryland. Give me literally anybody else instead – Rutgers included.
Though if this does happen, Dochterman does provide at least a sentence of hope:
"Also, there will be compromises with a few teams playing Maryland and Rutgers annually perhaps with assurances those permanent opponents might rotate in the future."
Imagine the entire conference being so profoundly disinterested in playing your team that they have to make a compromise to rotate the burden. That decision to add Maryland and Rutgers is the gift that keeps on giving. But hey, at least they got that coveted TV market!
The good news is, though, that Dochterman's list isn't official and even one of his colleagues, Andy Staples, has a different one:
Illinois — Northwestern, Ohio State, Purdue
Indiana — Purdue, Maryland, Rutgers
Iowa — Wisconsin, Nebraska, Minnesota
Maryland — Rutgers, Nebraska, Indiana
Michigan — Ohio State, Michigan State, Minnesota
Michigan State — Michigan, Penn State, Northwestern
Minnesota — Wisconsin, Iowa, Michigan
Nebraska — Iowa, Maryland, Wisconsin
Northwestern — Illinois, Purdue, Michigan State
Ohio State — Michigan, Penn State, Illinois
Penn State — Michigan State, Ohio State, Rutgers
Purdue — Indiana, Illinois, Northwestern
Rutgers — Maryland, Penn State, Indiana
Wisconsin — Minnesota, Iowa, Nebraska
This is the correct list. Give me Illibuck forever and ever. Thank you.
JT Barrett sings Carmen Ohio for the final time in Ohio Stadium cradling the Illibuck .

: @The_Photo_Queen pic.twitter.com/uopJhSEcTv

— Ohio State on BTN (@OhioStateOnBTN) November 19, 2017
 DIFFICULT TIMES. Joe Burrow may have finished his career at LSU and may not have ever really gotten an opportunity at Ohio State, but he'll always cherish the time he spent with the Buckeyes, and credits it for making him the player he is today.
Joe Burrow, asked during his press conference today about his time at Ohio State: I wouldn't be the same player that I am today without those trials and tribulations that I went through there. I loved my time there. I stay in contact with a lot of people from Ohio State.

— Dan Hope (@Dan_Hope) January 26, 2022
I honestly think it's wild that people get so up in arms about Buckeye fans claiming Joe Burrow when he continues to claim Ohio State. It's not like he didn't spend more than three years at Ohio State (twice as long as he spent at LSU), earn a degree, and appear in 10 games. He played more games in a Buckeye uniform than Trey Sermon!
Obviously, his monster season at LSU is the reason he got drafted No. 1 overall, and nobody is trying to give Ohio State credit for that. But Joe is a Buckeye. He might be a Tiger too, but he's a Buckeye.
 GOOD APPLE. Eli Apple's career thus far has been... tumultuous.
His issues certainly haven't always (or even mostly) been about what's happened on the field, but if we're being honest, his onfield performance certainly hasn't helped, either.
But this season, he's been legitimately dominant and looks like the player that was a top-10 pick five years ago.
In his fifth year in the league, Apple is having his best season yet and has been a key part of the Bengals' push to their first playoff berth since 2015.

"I'll say I'm definitely having the most fun," Apple told ESPN. "I've been the most healthy. I've been the most happy that I've been, I feel like, in a long time."

Those statements are significant considering the gauntlet of experiences Apple has had since the New York Giants selected him with the 10th overall pick in the 2016 NFL draft.

The short version: Labeled a locker room "cancer" by a Giants teammate, he was traded to the New Orleans Saints after just two and a half seasons in New York. After two seasons in New Orleans, he signed with the Carolina Panthers, where he battled through injuries in his lone year there.

...

When Bengals starting cornerback Trae Waynes suffered a hamstring injury at the end of the preseason, Apple took over and hasn't looked back. Through 15 games, his allowed completion percentage as the nearest defender in coverage is 4.8% below expectation, the best percentage on the team, according to NFL Next Gen.

With Waynes now healthy, Apple remains the starter despite Waynes being one of biggest free-agent signings in franchise history. Anarumo credits Apple's turnaround with the consistency he's displayed. He says Apple does not vary in technique or misapply the defensive playcalls.
I think if there's any position in football that requires absurd amounts of confidence, it's cornerback. You're on an island, nobody really notices you until you screw up, and the game's rules don't do you any favors, either. 
So when you see him talking more on Twitter, getting (admittedly dumb) taunting penalties, or playing with a swagger that you've never really seen from him, it ain't a coincidence that he's also having the best year of his life. All that goes hand in hand.
 SEEMS GOOD! So, E.J. Liddell went ahead and had himself a GAME last night.
I'm never shocked by anything he does on the court anymore, but when he goes out and does something that nobody's done in an Ohio State uniform for 25 years, it's uh... worth noting.
E.J. Liddell is the first Ohio State player in the last 25 seasons to record at least 20 points, 15 rebounds and 5 assists in a game. pic.twitter.com/gdZuJ7FEVh

— ESPN Stats & Info (@ESPNStatsInfo) January 28, 2022
I think my favorite part of Liddell's career is how he's gradually gotten better and developed as a player. I think in college basketball, sometimes people have this weird thing where they think a player is either going to be one-and-done or they just aren't ever going to be one of the top players in the country.
In his third year, Liddell is a player of the year candidate. He stuck around, he worked on his game, and now he's a finished product. Have to respect that.
 SONG OF THE DAY. "Hoppípolla" by Sigur Rós.
 NOT STICKING TO SPORTS. An unknown space object beaming out radio signals every 18 minutes remains a mystery... Teachers share the wildest things they've seen at private schools... A veteran won a $4 million lottery prize using the numbers from a fortune cookie... An ex-banker argues that strip club visits were business-related... Bereaved families fight to use a deceased child's sperm to be grandparents...