Baby time!
Having an infant son hasn't brought with it a ton of surprises for yours truly; I feel like my wife and I were fairly well-prepared for the ups and downs that we've seen (so far) with parenthood. But what I've found interesting in the past month is how much time I've devoted to looking up my kid's nostrils for signs of errant snot. Poop, pee, yeah I knew about all that crap and expected it. But being on 24/7 booger patrol is a new experience for me.
Luckily, everything else about raising a child is extremely easy and relaxing. Babies basically take care of themselves, so if any of your friends with kids complain about the crushing stress, lack of sleep, and constant guesswork, just know that they're lying their asses off for sympathy.
Anyway, have a banger:
 WHAT IN THE HELL IS GOING ON AT THE SHOE? Getting into Ohio Stadium was a gigantic pain in the ass last Saturday, with delays caused by poor WiFi, an inadequate number of staffers, and unfamiliarity with new technology. Luckily, however:
The Ohio State University Department of Athletics will initiate a number of action items to improve the game day experiences for all fans attending the 3:30 p.m. game against Tulsa this Saturday and for the rest of the season.
"Action items" in this case means "we'll try and do the same thing but competently this time," although you do get a bonus .gif of Brutus using a scanning kiosk!
On the plus side, if you'd like to stress-test the hopefully upgraded stadium entry experience, there are still 12,000ish tickets left for Saturday's tilt against Tulsa for you to purchase.
 YOU ARE NOT ALONE Not just the best part of Final Fantasy IX, it's also a statement of support for the 2021 Ohio State Buckeyes as they try to recover from a devastating home loss to Oregon. To wit:
13 AP-ranked teams have lost in 2021,

the most all-time through the first two weeks of a season.

— Cole Cubelic (@colecubelic) September 14, 2021
Parity! Unless you're Alabama, but for everyone else: parity! For a little bit!
 NO, URBAN ISN'T GOING TO GO COACH USC It'd be really funny if he did, which means that he should. But according a source named Urban Meyer, Urban Meyer has decided to ride it out in Jacksonville and see if he can lose as many games in 2021 as he lost during the entire 2010's.
Still, USC is still a top 10 job in the country. At least that's what a poll of 100 people working within college football says, when asked by The Athletic to rank the best head coaching jobs. While it seems obvious that a job with the words "Southern California" in its title would rank highly, some of the other options were less conspicuous.
The top three of Alabama, Ohio State, and Georgia probably wouldn't shock anyone, but Michigan hanging on at 11, just ahead of Texas A&M, is something I didn't expect. Shoutout to Northwestern for being just a smidge behind Penn State, though.
 HAHA THAT SUCKS BRO Terry McLaurin is a really cool human and since we're basically best friends (he was on the Dubcast once), I'm incredibly happy that he's had such a great NFL career so far, despite this bullshit:
Terry McLaurin will play with his 7th different starting qb in the regular season tomorrow--his 11th starting qb change in 3 seasons. Happy Birthday, Terry!

— Colleen Wolfe (@ColleenWolfe) September 15, 2021
And yet! He's still able to do things like this on the field!
ACROBATIC from Terry McLaurin! #WashingtonFootball

: #LACvsWAS on CBS
: NFL app pic.twitter.com/dOLGjOLlhi

— NFL (@NFL) September 12, 2021
The good news for McLaurin is that the extremely competent Washington Football Team administrative apparatus is no doubt well on their way to rectifying their quarterback problem.
 PORTLAND STATE HEAD COACH BRUCE BARNUM WANTS TO BUY YOU A BEER No, really. He means it.
Barnum joined me on Tuesday's radio show for his weekly appearance and offered to buy the beer of anyone who attends Saturday's home opener. [...]

"I've got to get people to see my kids," the Vikings' coach said. "I like my team." [...]

"I've got a deal for you," Barnum announced, "anybody who heard me on your show... just say 'I heard Barney on the BFT' at the Barney Beer Garden and I'll buy your beer.

"I'm not buying your ticket, but I'll buy your beer."

How many beers?

Said Barney: "All of them."
So now what I need is for someone to calculate how much beer I'd have to consume to make a round trip from Columbus to Portland a net gain for me. If Portland State is operating on Ohio Stadium prices, that's probably like... five beers.
 THE NEWS OF THE WORLD ACCORDING TO GARP WE DID IT, ASHTABULA!!... The forgotten Indian soldiers of Dunkirk... They tried to steal Mr. Lincoln's brain... Yo... The Great Lakes, like every other body of water, are filled with plastic... Bobcats chillin' in Athens... Gear up, roll out...
Your word of the day is EXTRATERRESTRIAL.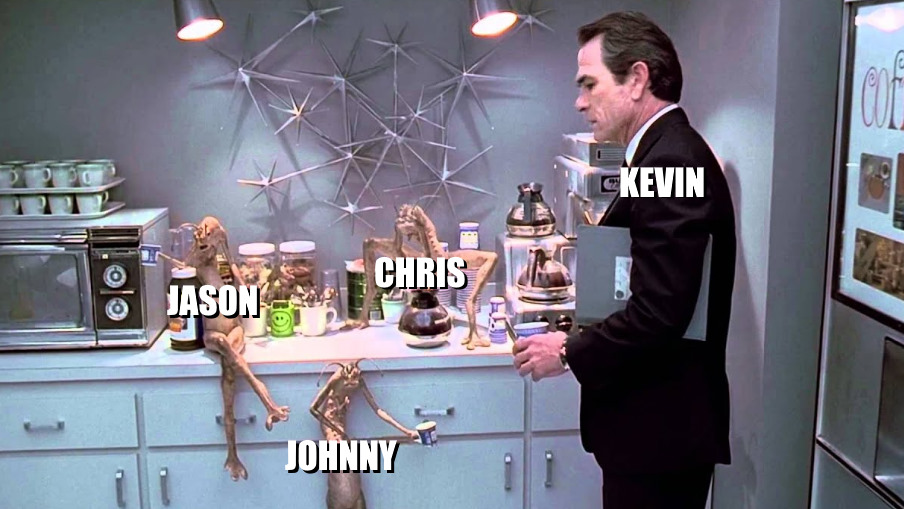 In all seriousness, you and your fam are in our thoughts, big guy. Take care.