Less than a week ago, top-100 prospect Xavier Worthy was still technically a part of the Michigan football team. But after a swift decommitment and a request to be released from his letter of intent, he's out here posting this on Twitter: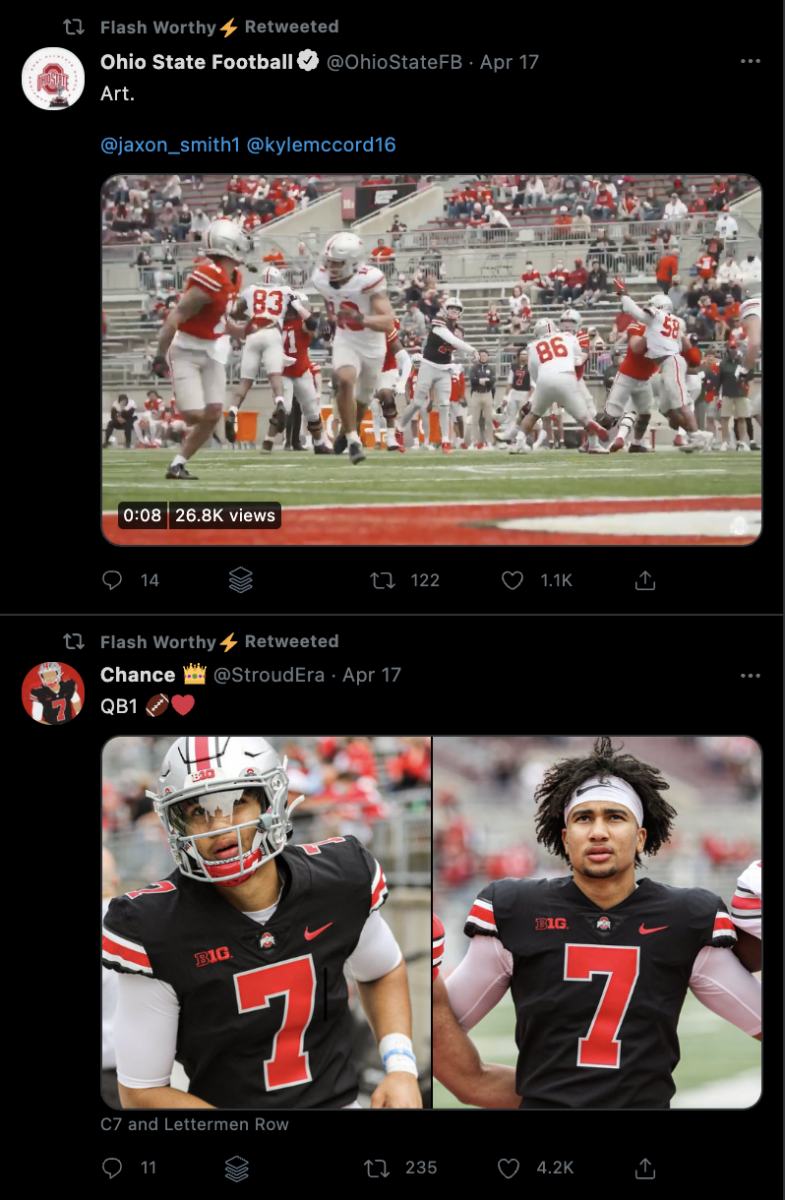 To be clear, he's almost surely not coming to Ohio State (the Buckeyes don't need much help at the receiver position these days, in case you haven't noticed). Meaning, this is just elite trolling of his ex fanbase. Respect.
Word of the Day: Melancholy.
 DWAYNE'S WORLD. Dwayne Haskins started just one season at Ohio State, but that was still enough for him to rack up a solid 5,000 career passing yards and more than 50 touchdowns.
So when you ask him to rank his four favorite plays, my guy's got options. But he did it.
We asked Dwayne Haskins to rank his 4 favorite plays.

Warning: This countdown is .@dh_simba7 // @OhioStateFB pic.twitter.com/FTXPjZS25U

— Ohio State on BTN (@OhioStateOnBTN) April 19, 2021
Honestly, this is harder than almost any other player who I've ever seen do this simply because there are like 20 instances where he threw it 40 yards downfield and it landed right in the lap of a streaking wide receiver. And those were all my favorite play!
I also love the one where he casually trotted right past two five-star defenders and almost scored during the 2017 Michigan game (remember when Michigan used to have five-star defenders?), given that he ran like C-3PO the rest of his career.
All in all, though, this is a solid list and I have no real qualms.
 THAT'S HIS QUARTERBACK. Wyatt Davis spent most of his time at Ohio State protecting Justin Fields from pass rushers, and now he's doing it from unfair pre-draft criticism.
I asked Ohio State OG @wyattdavis53 about his QB @justnfields. Watch .#NFLNow @nflnetwork pic.twitter.com/eo7wXIfhq7

— Andrew Siciliano (@AndrewSiciliano) April 19, 2021
I don't think I ever would have expected him to say anything different here, but that doesn't mean I don't still love a good 'ole honest and fiery defense of his teammate.
 INDIANA, OFFICIALLY SALTY. 2020 was wild for (the limit does not exist) reasons, but one thing we don't talk nearly enough about is how Indiana and its football fans (which apparently exist?) flipped from loveable underdogs to absolutely unbearable irrationalists with the quickness.
And here's our forever reminder that it went all the way to the top.
I don't know if this has been published anywhere else yet, but I've learned, via FOIA, that the official vote to chance the Big Ten football tiebreaker rule was 12-1-1. Indiana, as you'd expect, voted against it. Iowa abstained due to AD Barta's work on the CFP.

— Matt Brown (@MattBrownEP) April 20, 2021
To be fair, there are no surprises here. This is exactly how I would have expected Indiana to vote and I don't really *blame* anybody for making decisions purely out of self-interest. But also, when literally everybody else votes in the opposite direction, that should probably tell you something about what you're perceiving as unjust.
What a wild year.
 PUSHING IT DOWNFIELD. The days of Ohio State getting most of its yards crossing routes and screen passes to Paris Campbell and K.J. Hill are done. And that's partially what has helped make Justin Fields such a polished downfield passer – that's just what the Ohio State offense does, because it's got those kinds of receivers.
Happy to see Sage explain this. Ohio State's scheme is built to push the ball downfield, which explains some of why Fields held it/was as aggressive as he was. And you don't need to be Pop Warner to figure out why Day set it up like that.

2 reasons. Chris Olave. Garrett Wilson. https://t.co/XXjNphKp9q

— Albert Breer (@AlbertBreer) April 19, 2021
And the cool thing is, those two reasons will be the same this year, regardless of who lines up at quarterback! Hell of a situation to walk into as a first-year starter, in my opinion.
 SONG OF THE DAY. "Carry On Wayward Son" by Kansas.
 NOT STICKING TO SPORTS. A woman divorces her husband after he claims a nightclub photographer edited out his wedding ring... A kidnapping gone very wrong... The plot to kill the Olympics... 50 years ago, a Texan changed happy hour forever... The Great cottonmouth-catching get-rich-quick scheme of 1956... The Midwestern grandmas who became stock market celebrities... Behind the hunt for Sasquatch... The U.S. citizen lost in Bali's prison system...