When Ohio State's social media team is in on the joke >>>>
This one is less blurry pic.twitter.com/caOU4lG9CC

— Ohio State Football (@OhioStateFB) December 29, 2020
Word of the Day: Venerate.
 NOT BAD! Public service announcement to all football teens who would maybe like to become the best rookie pass rusher in the NFL one day:
Highest-graded rookie edge defenders since 2015:
1. Nick Bosa, 49ers (2019) - 89.8
2. Chase Young, WFT (2020) - 87.7
3. Joey Bosa, Chargers (2016) - 86.6 pic.twitter.com/jGEmyTil4B

— PFF (@PFF) December 29, 2020
On one hand, I'm certain all of these guys would have been just fine regardless of where they went to school. On the other, this is a pattern that also doesn't just happen by coincidence.
 THE DEEP THREAT. It's been six years since I've had the privilege of seeing Devin Smith streak down the field in an Ohio State uniform, and to be honest, I still haven't seen a deep threat quite like him yet.
The dude was like lightning in a bottle, indiscriminately scorching everyone unlucky enough to draw a matchup against him.
He finished his Buckeye career with quite the highlight reel of running past folks on his way to the end zone, but he narrowed it down to his four favorite plays this week.
His speed, his numbers, his timely highlights, all of it was underrated.

We asked @dsmithosu for his 4 favorite @OhioStateFB plays . pic.twitter.com/qFqxSkyVbW

— Ohio State on BTN (@OhioStateOnBTN) December 29, 2020
First off, holy hell, Braxton Miller's arm was more impressive than I even remember. Second, it feels like a crime that there are no plays from the Big Ten title game among his top plays.
Maybe it was just too hard to pick because the whole damn game was a highlight reel.
 FINALLY COMFORTABLE. Like everyone else in the world, I was massively caught of guard by Trey Sermon's sudden switch to looking like Eddie George after weeks of looking much more like Lydell Ross (no disrespect to the GOAT, of course).
But the truth is, maybe I shouldn't have been that surprised he was struggling early and been far less quick to write him off.
Thinking about it, he joined a completely new football team amid a global pandemic that kept him from practicing, then had to split practice and game reps once he was finally able to get going, and then had his season basically cut in half. On top of that, he was coming off of a severe leg injury from last season.
The poor guy has finally been able to get in a rhythm.
"I feel like it was more just getting comfortable with the offensive line, the guys up front. It takes time to really get a flow of where plays are going to hit and how guys move," he said.

"I feel a lot different. Even in practice, I can tell that I'm just getting a better feel for the guys up front and just kind of getting used to them and how they move and just working off of that. So it's definitely a big difference within these couple weeks."

After breaking Eddie George's Ohio State single-game rushing record, attention is now on Sermon. He is aware that the Clemson defense is likely to spend time on any running back that rushed for 300-plus yards in a game, much less the most recent contest.

But that performance will just be a footnote if Sermon isn't able to have another big game and help the Buckeyes to a win against the Tigers in the Playoff semifinal.

"Really just play my best game," Sermon said of what he plans to do for an encore. "I know that my ability, I'm more than capable of getting the job done. I don't need to do anything extra and just give 100 percent effort and again, just play my best game."
It's worth noting that in any normal season, we'd be just at the midway point with six games and far fewer people would be questioning why it took so long to see him play like this.
But I'll tell you what, a repeat performance will get people to completely forget any and all early-season struggles.
 ALL IN THE THREADS. I think it's safe to say Cardale Jones approves of Ohio State's wardrobe choice.
https://t.co/l0zVhFPrAm pic.twitter.com/rVYs7Ok8ut

— Cardale Jones (@CJ1two) December 29, 2020
I'm sure Ohio State can find a way to stash Dolo somewhere on the bench in case they need to use some of his magic mid-game. Nobody's going to know.
 GEORGIA QUARTERBACK JUSTIN FIELDS. I'm sure Ohio State fans will handle the latest ESPN graphical mishap well!
if you're wondering how this will be received, I once used a file photo of Fields in his UGA uniform *several months before his first OSU game* and Buckeye Facebook - notorious for being cerebral, reasoned & logical - was ready to waterboard me https://t.co/4GSXQp6mF5

— Ramzy Nasrallah (@ramzy) December 30, 2020
As retribution, ESPN should be required to show Joe Burrow in an Ohio State uniform with no explanation or rationale next time they talk about him.
Also, everyone was losing their minds at seeing Fields in a Georgia uniform, but this abomination was by far the most egregious thing in that segment: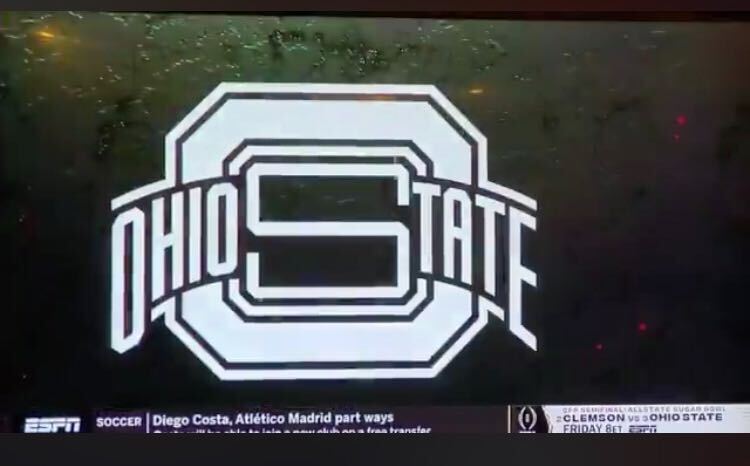 That's so bad, Ohio State probably might not even immediately try to sue my ass if I tried to put that logo on a shirt.
 NOT STICKING TO SPORTS. A Paraguayan soccer player faces punishment for exposing his penis during a goal celebration... An extinct woolly rhinoceros is found in incredible condition after 50,000 years frozen in Siberian permafrost... Hit hard by the pandemic, Mexico's drug cartels tweaked their playbook... A man received his severed leg for Christmas...