As a Massillon Tiger by marriage, I have a simple message today: get dumped then, Hoban.
Word of the Day: Envisage.
 THE OTHER BUCKEYE STATE. A few years ago, I firmly believed that Tom Herman could one day be funneling troves of top Texas teens to Ohio State, especially the top quarterbacks.
I mean, I technically wasn't *wrong.* 
OSU (6) has 2 more commitments from 5-stars in Texas than UT (4) since 2017:

Browning (OSU, '17)
Okudah (OSU, '17)
Foster (UT, '18)
Sterns (UT, '18)
Wilson (OSU, '19)
Whittington (UT, '19)
Smith-Njigba (OSU, '20)
Jackson (OSU, '21)
Sanders (UT, '21)
Quinn Ewers (OSU, '22)

— Ari Wasserman (@AriWasserman) November 20, 2020
This doesn't even account for J.K. Dobbins – the best running back to come out of Texas during that span – because he was only a four-star. It also doesn't yet include the next five-star Texan to leave the Lone Star State for Columbus, if you catch my drift.
 RICH GET RICHER. With Quinn Ewers' commitment, the future of Ohio State's quarterback room now includes the No. 1 overall player in the 2022 class, a five-star in the 2021 class, the No. 2 pro-style quarterback in the 2020 class, and a sought-after four-star in the 2020 class.
All the while, Ohio State already has the best quarterback in the country currently starting.
Article coming tomorrow about Justin Fields and how hes so much different than previous Ohio State QBs.

The Buckeyes are allowing him to run full field reads more consistently this year. An example here of Y-Cross vs. Nebraska. Watch his eye/hips/feet move left-to-right. pic.twitter.com/2mQry5AcVP

— Jordan Reid (@JReidNFL) November 19, 2020
I think that Ryan Day is a very good coach and that he should please continue to coach the Buckeyes.
 COACH OF THE YEAR? Speaking of Ryan Day, he's officially a finalist for the Dodd Trophy, given to the coach of the year.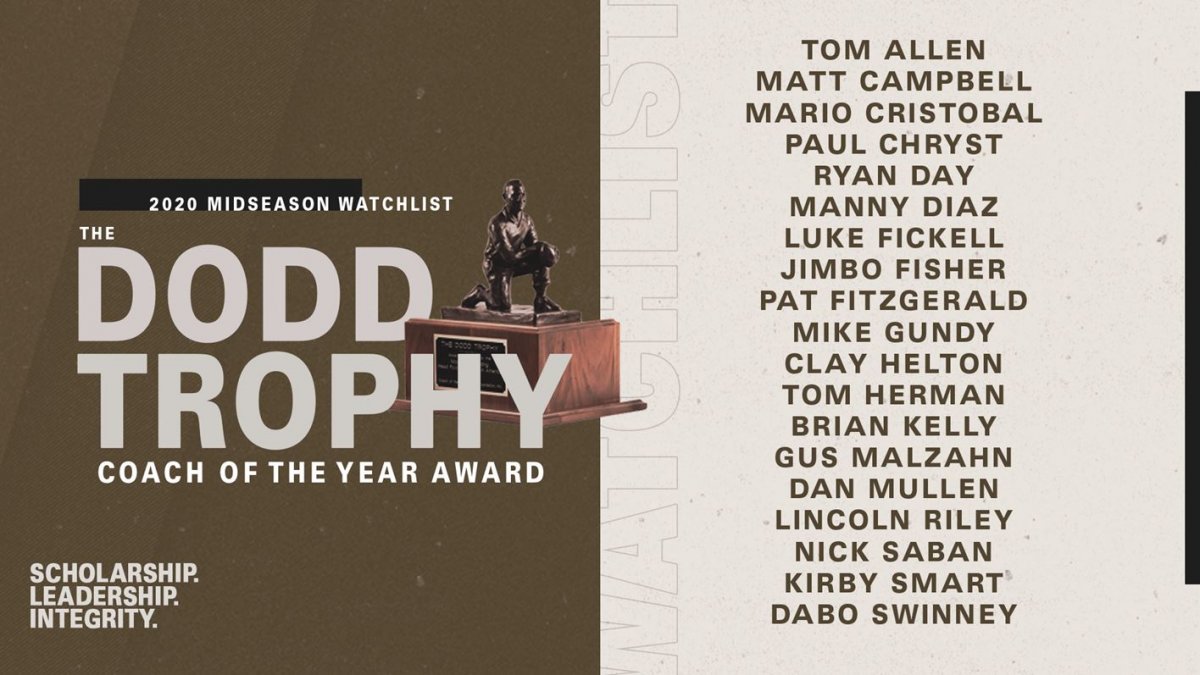 This is cool and all, but I'm truly not sure what the criteria was here because Tom Herman is also on this list. It's either it's a glaring misprint, or he's overachieved this season by simply not getting himself canned yet.
 FYI, FWIW.  To no fault of his own, Kevin Warren's son and his status with the Mississippi State football team became a weird focal point in the drama surrounding the Big Ten's decision to cancel the football season.
Well, y'all aren't going to have to worry about him playing for the Bulldogs anymore, pandemic or no.
Have learned that Mississippi State wide receiver Powers Warren has entered the transfer portal. Son of Big Ten commissioner Kevin Warren.

— Matt Zenitz (@mzenitz) November 19, 2020
I'm now imagining talking to my January self and trying to succinctly explain the series of events that led to me blogging about a walk-on receiver at Mississippi State entering the transfer portal.
2020 has been the wildest ride I ever rode. And I say that as someone who wrote the words "Wildman T Ball Lifter, Red, Size XL" in a Skull Session just over two years ago.
 SONG OF THE DAY. "In Case You Don't Live Forever" by Ben Platt.
 WORD OF THE DAY. A French radio broadcaster accidentally announces the deaths of 100 of the world's most famous people... More than 200 people were caught in an illegal New York City fight club... A fake lawyer gets four years in prison for fraud and identity theft... Sunken boats, stolen gear and fishermen are prey as China conquers a strategic sea... A Chinese county aims to curb dog walking by threatening to kill the Dog...