This is the look of a team that knows it's about to put up 800 yards in a season opener.
Look at these guys clowning on @Geescottjrs IG Live Theyre ready for some football. #GoBuckeyes pic.twitter.com/sfiXTo43ye

— #BeatNebraska (@FieIdsEra) October 21, 2020
Buck by 60. Every game.
Word of the Day: Virile.
 INJECT THIS INTO MY VEINS. What if I told you that Ohio State has five first-team defensive ends, but the best pass rusher on the roster plays linebacker?
It's quite a take, I understand, but it sure sounds like Thayer Munford would back me up.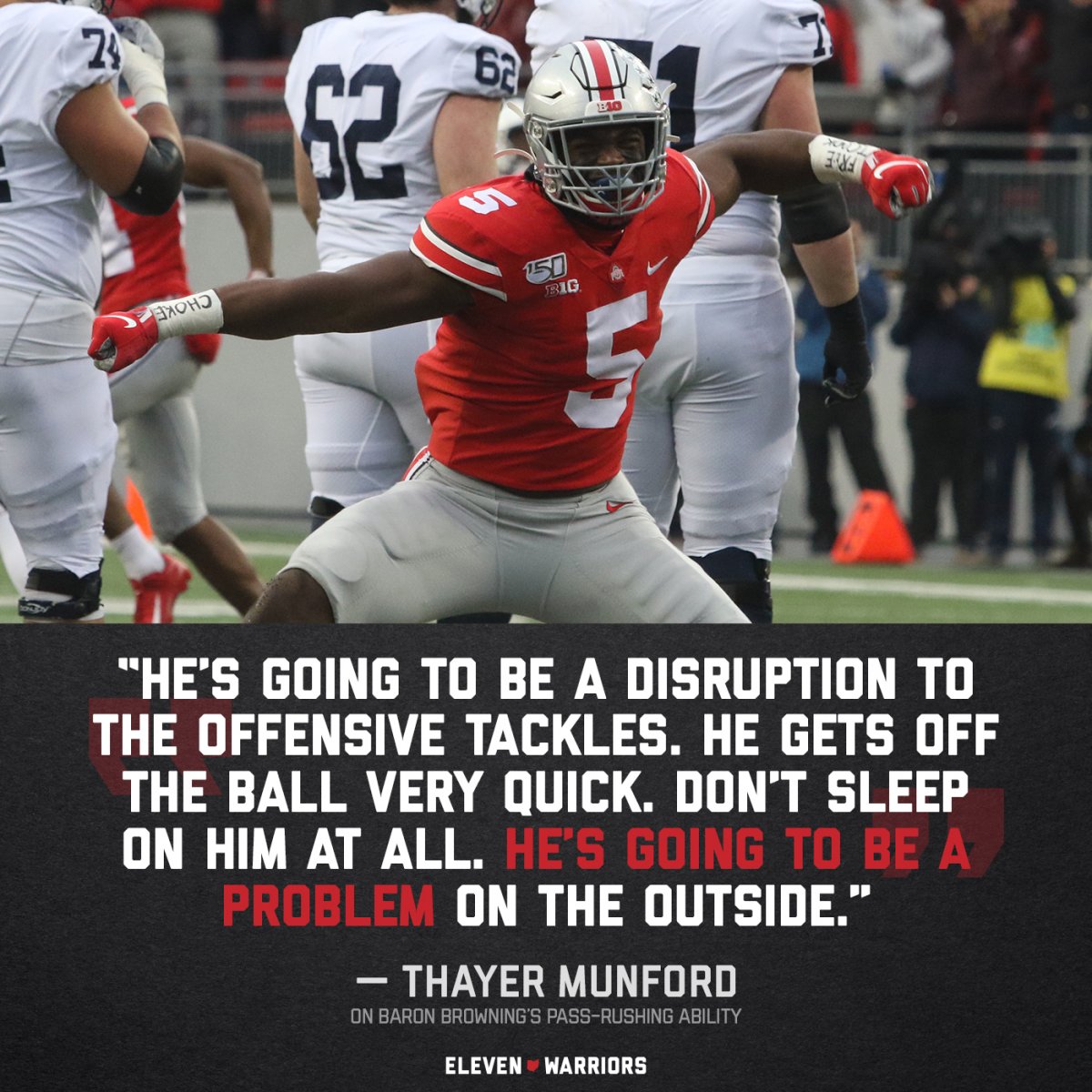 The best part is, calling him the best pass rusher on the team isn't even that bold because statistically, he is.
Browning tallied 43 tackles and 10 tackles for loss as a junior. His five sacks in 2019 are the most by any returning Ohio State player.

Yet, he hasn't had an overwhelming amount of opportunities to get after the quarterback yet in his career. He played multiple games last season where he didn't blitz at all. We don't have access to a metric measuring the percentage of snaps he blitzed that ended with a sack or pressure – maybe we should try to put that stat together – but he might have finished top-two on the team in pass-rush success rate last season.
As long as I get to see Trevor Lawrence folded across his shoulder in January, I'll be a happy fellow.
 LIKE LIGHTNING IN A BOTTLE. Asking Urban Meyer to rank his best touchdown doers is probably like asking a parent to rank their best children. But Meyer's a media guy now and knows the value of good #content, so he went ahead and did it anyway.
And I salute him for it.
Fact: @CoachUrbanMeyer coached a lot of explosive @OhioStateFB players.

We asked him to list his best of the best.

Thoughts? pic.twitter.com/qkEW7rx7Sn

— Ohio State on BTN (@OhioStateOnBTN) October 21, 2020
When I read the Tweet before looking at the graphic, I was already preparing my blogging fingers to proclaim a hall of fame head coach's wrongness, but to be honest... that's a damn good list.
Let's just go ahead and tack on Devin Smith at No. 5 and we'll call it a day.
 "LIKE YOU'RE COACHING BRADY." Remember ahead of last season when there were folks talking about Justin Fields like he was basically just a running back who played some quarterback in high school?
He silenced those doubters with the best touchdown/interception ratio in college football history, and now he's proving elite at the mental part of the game, too.
Fields spent his first year in Columbus absorbing the reads, protections and other details of Day's offense. Now, he wanted to know the philosophy behind it. Why did Day call a slant route on one third-down play but not another? Why did he take a deep shot on first down against this defensive look but not the next?

Day said Fields asked hard questions in meetings and took detailed notes. The quarterback and newly-minted team captain began holding both himself and his teammates more accountable in their preparation.

"Every single day you walk in that meeting room, you better be prepared," Dennis said. "You better have the cut-ups in order. You better have the tip sheets.

"You better know what you're talking about, and you better be ready to go. Because it's not just, 'Man, hey, let me just run in here and run this meeting.' You've got to prepare like you're coaching Tom Brady."
Remember, this is the first time Ryan Day has ever had a returning starter at quarterback, and his first-year starters seem to have done okay...
 WHO IS QB2? If y'all were holding out for a black stripe removal to give a hint about Ohio State's backup quarterback battle, I've got some bad news...
Literally the exact same time. Hilarious. pic.twitter.com/LIVZCCvX4d

— Colin Hass-Hill (@chasshill) October 21, 2020
And yet, CJ Stroud's Tweet still came on my timeline first. Makes you think, for sure.
 CHECKED IN THE COOP. If y'all were in need of some wholesome content, enjoy Jonathon Cooper giving us a little practice commentary on Gatorade flavors – with a quick chemistry lesson mixed in.
.@JonathonCooper7 on the mic is the game week content you need #GoBuckeyes pic.twitter.com/oY4mlepH1b

— Ohio State Football (@OhioStateFB) October 21, 2020
I love that hollow shoutout to Jalyn Holmes, knowing there's not a chance he's gonna hear.
I feel you, Coop. I feel the same way when I talk about my friends and family in the Skull Sessions.
I'm completely convinced that my wife only knows when I mention her because her old high school band director is a daily reader (shoutout to Jason Neel of the Best Damn High School Band in the Land).
 SONG OF THE DAY. "Ghost of You" by 5 Seconds of Summer.
 NOT STICKING TO SPORTS. The insane bookstore that just opened in China... Keith Jarrett confronts a future without the piano... Phil Collins wants to end his ex-wife's 'armed occupation' of his mansion... Parents name their daughter after their internet provider for free WiFi... A rapper is arrested after bragged about a $1.2 million unemployment scam in a music video... The story behind why witches ride on brooms...