Since this is the quarantine social media game of the week, let's play.
You can only keep three pic.twitter.com/FK7sFf8fdc

— Ramzy Nasrallah (@ramzy) April 7, 2020
There are no wrong answers, but the correct answers are 2012, 2016 and 2018.
Mostly, I just think it's hilarious that Michigan would have to go back to the '90s to even play this game.
Song of the Day: "Only Human" by the Jonas Brothers.
Word of the Day: Anamnesis.
 JEFF OKUDHA > CHASE YOUNG. The Washington Redskins holds the No. 2 pick in the NFL Draft, and I'm fully prepared to torch them online if they do anything besides draft Chase Young.
Washington is likely going to take Young at second overall. He's the elite Ohio State defender. But with Okudah as one of the top prospects in the class, I can't help but wonder: Why isn't he getting talked about as a potential pick at No. 2?

WHICH POSITION DOES WASHINGTON NEED MORE?

After cutting Josh Norman and trading Quinton Dunbar, the cornerback room includes quality slot and average outside corner Kendall Fuller, depth piece Fabian Moreau and Jimmy Moreland, a developmental slot player. They added Ronald Darby in free agency, sure -- but he can't be expected to be healthy or productive at this stage in his career. There's also the starting trio of Montez Sweat, Ryan Kerrigan and Ryan Anderson. Kerrigan is getting older, and both he and Anderson are in contract years. Washington's situation at corner is bad.
I'd still take Young without a second thought, but it if they take Okudah instead it wouldn't be the world's worst decision by any means. They're both generational talents, it really just depends on which position you value more.
If the Redskins prefer their future All-Pro Buckeye to play cornerback instead of defensive end, who am I to judge? You have my blessing, Washington. Take whichever can't-miss Ohio State defender you would like.
 TRANSFER U. With at least three potential first-team players beginning their careers at Ohio State basketball is quickly turning into Transfer U. It's an approach Doug Lesmerises of Cleveland.com thinks essentially renders recruiting irrelevant.
But maybe when it comes to Ohio State basketball, recruiting doesn't matter anymore.

Because what the Buckeyes are doing on National Signing Day isn't translating into who they're going to be on the court two or three years later. At least that's the case so far in the Chris Holtmann era.

Maybe Ohio State can win this way, but their roster building has been haphazard of late. It's the way of the world in college basketball, we all know that. Transferring is far more common than it used to be, and the Buckeyes are adding transfers in, as they're losing transfers out.
First off, I think it's kind of odd that there's a dichotomy between "recruiting" and landing a transfer. In both cases, you're trying to convince a talented individual to join your team and make it better. Are they not both "recruiting?" Wasn't it "recruiting" when Ryan Day landed Justin Fields, Jonah Jackson and Trey Sermon? I just think it's kind of odd to make a huge distinction about when the recruiting takes place.
Regardless of the semantics, that last bit hits on something I've been thinking about: players are transferring in, as well. This isn't like the late Matta era with players leaving and nobody of notoriety coming in. The Buckeyes are still going to be a dangerous team next year and for the foreseeable future even after these departures.
I think when people see a lot of transfers, they get a little antsy and assume there's a large-scale, systemic problem that needs to be unearthed. That's probably especially true of football-first fans (hand up, that's me too). But on a case-by-case basis, it's not like any of these transfers made no sense.
More than that, I think Ohio State might be better after these transfers, not worse. I'm unconvinced that a roster with CJ Walker, Justice Sueing, Seth Towns and Jimmy Sotos is any worse than one with Luther Muhammad, Jaedon LeDee, D.J. Carton, and Alonzo Gaffney. Gave me that first set of players 10 times out of 10.
Don't get me wrong, I don't think building a roster out of transfers is not ideal or sustainable in the long run. At the same time, I do think the concern is just a bit overblown right now, especially because I think the team is genuinely better after all the transfers than it was before. So I'm keen to just let this play out.
 DELIGHTFUL SHADE. It took well over a year for Justin Fields to clap back at Tate Martell for his "don't swing and miss" Tweet, but on a random quarantine Tuesday evening, he did just that.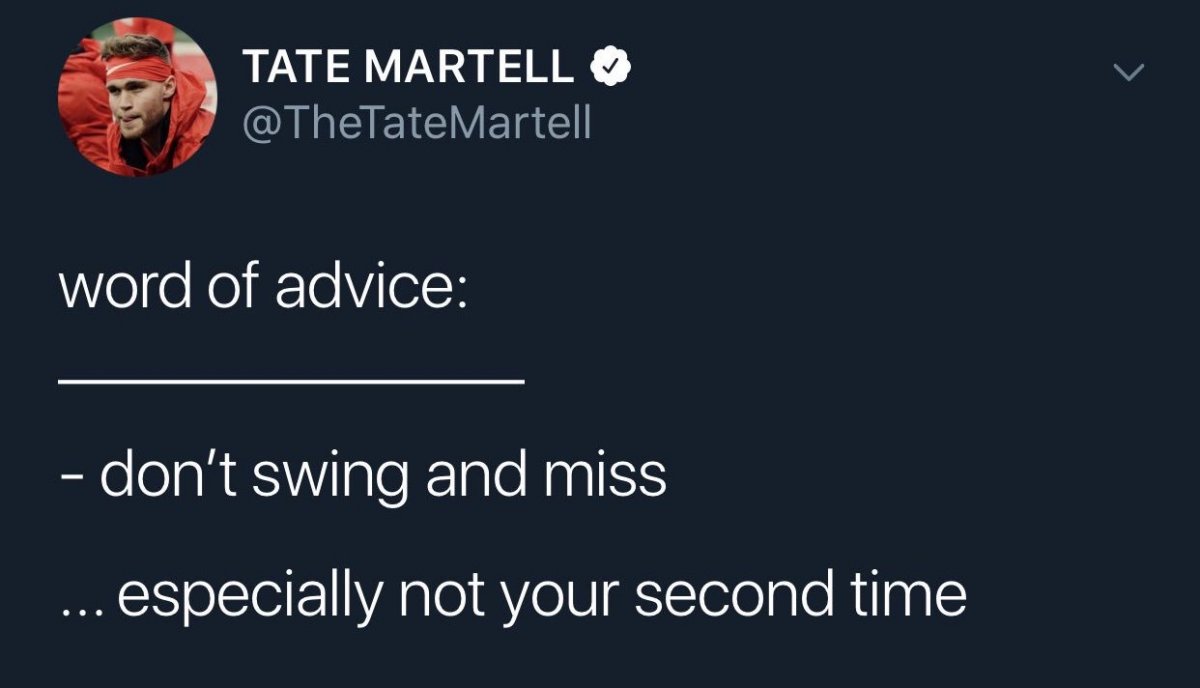 Got a lot of work to do, but at least I didnt swing and miss. pic.twitter.com/70kiCYGWmb

— Justin Fields (@justnfields) April 7, 2020
Perhaps there was no ill intent and it was merely a coincidence (it wasn't). In any case, he's right – he decidedly did not miss.
 YESTERDAY I LEARNED... Turns out, yesterday was the anniversary of a crossover event I had no idea even took place. 10 years ago, rapper Drake pulled Evan Turner on stage during his concert at the Schott and gave him a special shoutout.
One of his most well-received songs was "Uptown," where one of Drake's lyrics gives a special shout out to the Buckeyes.

"I see all this money through my Ohio State Buckeyes," the crowd screams along.
During the performance, Drake said he heard that "ET" was in the building. He was referring to OSU basketball player Evan Turner, and Drake requested that Evan make his way to the stage. The rapper hugged Turner and congratulated him on his decision to play in the NBA.

"ET, I'm proud of you man! Your city is proud of you. Your school's proud of you," Drake said.

The rapper then dedicated his performance of his new single, "Fireworks," off his upcoming album, "Thank Me Later," to Turner.
I had no idea this happened, but you better believe The Villian remembers.
I crowd surfed this night https://t.co/94yxvTWi6g

— Evan Turner (@thekidet) April 7, 2020
I can only assume Mark Titus got a similar shoutout from Kanye West a few months later.
 NOT STICKING TO SPORTS. The suffering and scientific legacy of a large family consumed by schizophrenia... 'Murder House Flip' television show renovates notorious homicide homes... Baltimore's mayor urges residents to stop shooting each other during the pandemic... The Highland Park drug ring...