I regret to inform you that I fell asleep with my laptop on my chest and a Skull Session half-finished.
Tomorrow's Skull Session will come to you 2.5 hours earlier to make up for lost time, because that's clearly how it works.
Please accept my sincerest of apologies – or don't, and rightfully dunk on me in the comments below. The choice is yours!
Word of the Day: Insolvent.
 WELCOME TO NEW YORK. It's looking like the Heisman Trophy ceremony is going to be just an Ohio State public service announcement.
Three of the top-five vote-getters in a straw poll from The Athletic ($) are Buckeyes. And that doesn't even count the Ohio State graduate that is currently the frontrunner. So, everyone in the top-three and four of the top-five players in the country attended Ohio State.
That seems about right.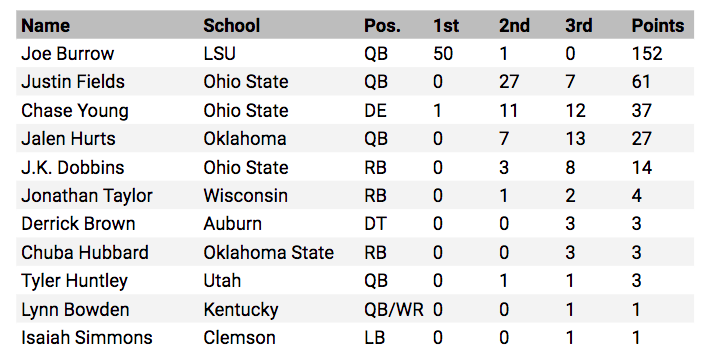 If five players are invited, Ohio State has a chance to become the first school to send three players to a single ceremony. But if only three are invited, you better believe I'm still claiming that title, because 2.5 is more than 2.
 GOOD, BUT NOT GOOD ENOUGH. Michigan fans need to accept that this is as good as it's going to get. Jim Harbaugh has the program back and humming, but it's never going to be at Ohio State's level as long as Ohio State is routinely a top-three team in the nation.
Your rival defines your perspective. Michigan's hire of Jim Harbaugh has been an unquestionable success. A former Bo Schembechler quarterback in Ann Arbor, Harbaugh has gone 47-17 in five seasons; in the previous seven years, Michigan had gone 46-42. If Harbaugh goes 0-12 in each of the next two seasons -- call me crazy, but I'm guessing he won't -- he'll still have the better seven-year record. He has three top-15 finishes (with a chance at a fourth), and that's two more than Rich Rodriguez (2008-10) and Brady Hoke (2011-14) have combined.

...

Is Harbaugh an Osborne or a Cooper? There's no way for us to know the answer at the moment. All we know is that few teams can surpass the product Michigan has put on the field the past five season, but the rival from Columbus is one of them. Somehow, the Buckeyes have thus far gotten better since Ryan Day succeeded the historically successful Urban Meyer.

Harbaugh has rebuilt Michigan back to the level it established for most of the 1980s and 1990s. But the Buckeyes remain on a different plane of existence, and Harbaugh will continue to be judged harshly for that until something changes.
I know I joke about wanting Harbaugh in Ann Arbor forever, and it's not a joke – I do want him at Michigan forever. But secretly, it's not because I think he's a bad coach. It's because I think he's a good coach who's always going to lose to Ohio State and anyone they replaced him with would be worse (and also still lose to Ohio State).
I don't think it matters who coaches Michigan, in terms of The Game, because whoever takes up that cross is going to get their ass kicked every November. Because Ohio State is better (or at least comparable) every single season, and also cares about The Game way, way more. That's just not a recipe for success.
The difference is whether that Michigan team that gets its ass kicked is good or bad. And to Harbaugh's credit, the only outright bad team he's had was in 2017. I want Harbaugh at Michigan forever because at least he's putting together competent teams for the Buckeyes to beat every year, and no other coach for the past decade and a half has been able to even do that.
 GRAB THE WHITE ROPE. Urban Meyer knows about coaching in the postseason, and outside of a loss to Michigan State that still haunts me in my sleep, he was damn successful in Indy.
His key: focus on absolutely nothing else besides the game.
.@CoachUrbanMeyer went 5-2 in conference title games.

His advice to his teams before playing for the ?

"Focus on the white rope."

The former @OhioStateFB coach got the message from Billy Donovan, and it seems to work. pic.twitter.com/Nq9mIHTvIn

— Big Ten Network (@BigTenNetwork) December 2, 2019
"If I hear anybody talk about anything other than the focus on beating Wisconsin, it's going to be a bad day for everyone."
And knowing how intense he is, I absolutely believe that's true.
Urban also tossed some delightful and unintentional (yet also 100 percent true) shade at Wisconsin when he offhandedly explained that the Badgers aren't going to have to deal with agents calling their players, because... Well...
 CHARTING A DISEMBOWELMENT. If you'd like to see what Ohio State's latest murder looks like as an advanced box score, Bill Connelly has you covered once again.
The craziest thing about this chart is that it reveals Michigan didn't play nearly as bad as you'd expect of a team that lost by 29. Ohio State just played damn near perfect.
OHIO STATE 56, MICHIGAN 27

* Was massively foreboding to realize UM's offense couldn't possibly play better in the 2H and they were already down by 12
* OSU: 53% success rate on PASSING downs. Not fair
* Fields and Olave are sophomores. Garrett Wilson is a freshman. Guh. pic.twitter.com/EoBy3JrOfO

— Bill Connelly (@ESPN_BillC) December 2, 2019
You know that whole "good, but not good enough" thing we just talked about with Harbaugh's teams? This is basically just that in chart form. And you can rinse and repeat it next year.
And the year after that. And the year after that.
 ODDLY SATISFYING. There's something oddly enjoyable about watching The Incomparable in the Big House to a soundtrack of boos.
They are not fans of Script Ohio in Ann Arbor. #GoBucks pic.twitter.com/lSaLoxndFJ

— The Ohio State University Marching Band (@TBDBITL) December 2, 2019
It's understandable that they'd be pissy when they lose the game and the halftime performance.
 NOT STICKING TO SPORTS. With prison staff shortage, Oklahoma looks to hire teenagers as guards... 83-year-old 'Tinder Granny' is ready for love after decades of one-night stands... I got to leave prison for a few hours – it broke my heart... Where the nurse prescribes heroin...