If you're looking to make the trip to Ann Arbor for The Game, this might be a good year because it's looking like ticket prices are down.
In final regular season weekend for #cfb, #Wisconsin #GophersFootball is the most anticipated game of the week, ahead of #IronBowl and #OSUvsMICH Prices up 152% since start of season https://t.co/LSxWBKV4z0 CC @GoAUpher @Minnesota247 pic.twitter.com/q3hlA31B1p

— TicketIQ (@Ticket_IQ) November 25, 2019
I mean, who can blame folks for not wanting to brave the elements to watch a blowout?
Word of the Day: Animosity.
 URBAN TO THE COWBOYS? I don't have the kind of time to post about every time I hear a different "Urban Meyer to (insert team here)" rumor on the interwebs, nor do I really feel like humoring the delusions of fans at USC, Notre Dame, Michigan, Arkansas (yes, seriously) Texas, Tennessee or anywhere else.
However, when someone's putting a sort of monetary confidence on the line, I'll listen. And folks, sportsbook betonline.ag is listing Urban Meyer as the favorite to be the head coach of the Dallas Cowboys in Week 1 of the 2020-21 football season at +300 odds.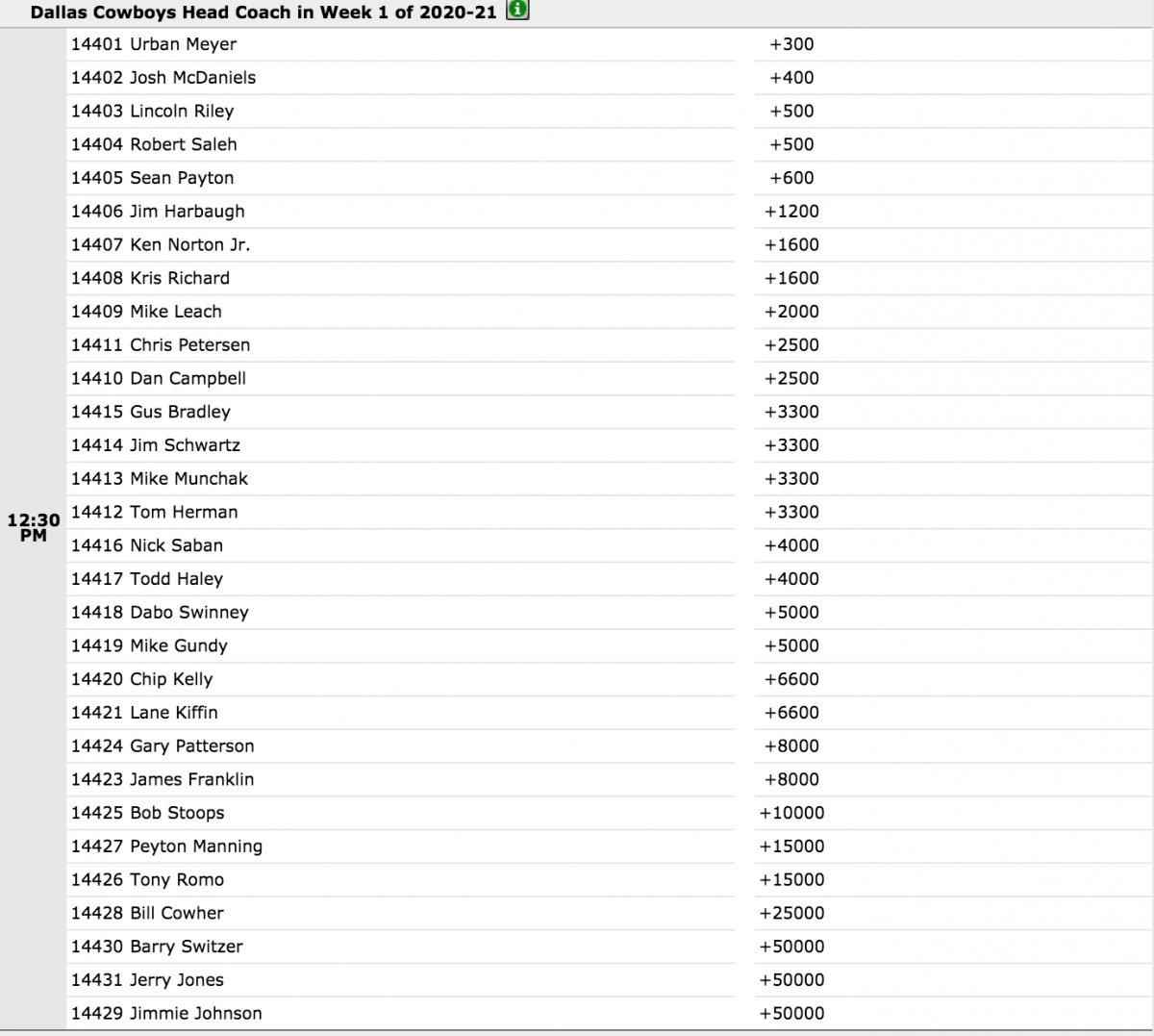 Damn, it looks like Rutgers is going to have to look elsewhere!
What do these odds really mean? Probably not much. These sportsbooks often use prop bets like this to generate buzz and create publicity (it worked!) and the maximum bets are usually relatively small.
On the other hand, they're still trying to make money and set accurate lines. So there has to be a reason why they made Meyer the favorite. And it's probably because he's openly said that he would listen if the Cowboys gave him a call.
"That's the one. That's New York Yankees, the Dallas Cowboys, that's the one. Great city, you got Dak Prescott, you got Zeke Elliott, you got a loaded team," Meyer told Colin Cowherd last month. "To me, that the one job in professional football you kind of say, 'I gotta go do that.'"
Cowherd then asked if Meyer would consider taking the job if the Cowboys reached out.
"Sure, absolutely," Meyer said. "That one? Yes."
I don't know if he'd actually do it, but I do think it's a hell of a lot more likely he ends up there than USC (or Arkansas, I'm sorry to say).
Plus, he and Zeke are already pretty comfortable in Dallas together...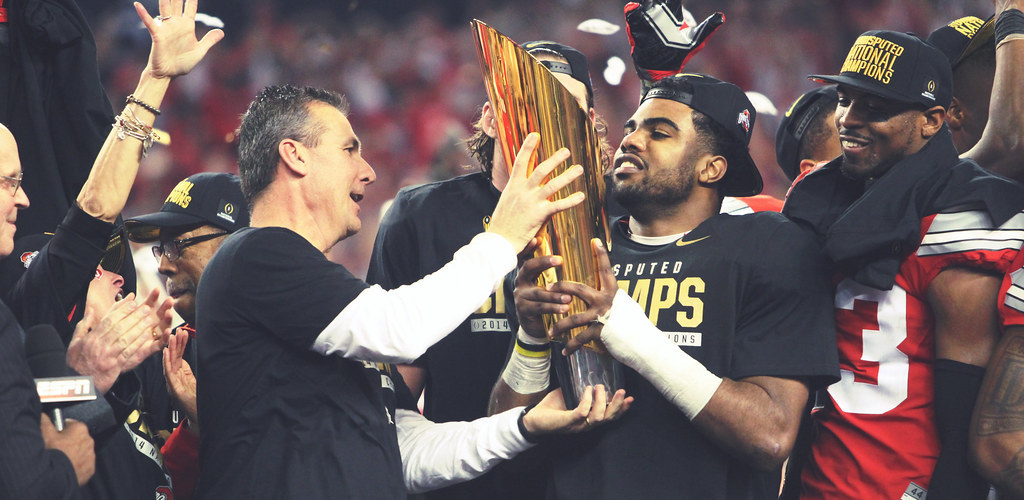 Never say never!
 BOX SCORE, BUT BIGGER! The Nittany Lions were able to do some things that other teams were not, but at the end of the day Ohio State dominated Penn State in pretty much every area of the game except the final score (kind of – I mean, I was still a double-digit win) and turnover margin.
WEEK 13 ADVANCED BOX SCORES

OHIO ST 28, PENN ST 17

* PSU forced PDs better than I thought anyone could vs OSU. Buckeyes escaped just enough of them
* PSU benefited from TOs, but ANY big-play presence could've flipped the game. They had none
* Hoo wee, that OSU pass rush pic.twitter.com/qindWyErbg

— Bill Connelly (@ESPN_BillC) November 25, 2019
Those first two bullet points kind of tell you everything you need to know.
Penn State did a great job forcing Ohio State into passing downs, but it didn't matter because the Buckeyes converted them more often than not. Penn State was also gifted three crucial turnovers, but it didn't matter because the Buckeyes played damn near perfectly everywhere else.
Even when this team does things that seem to make it beatable, it turns out to just be so good that it compensates some other way and dominates anyway – against a top-10 team, no less.
 LONG SNAPPERS ARE PEOPLE TOO. Yesterday we got news that four Buckeyes will be heading to the College Football Awards Show in Atlanta (which yours truly will be covering, cause they're letting me go outside!).
Liam McCullough isn't one of them, but he should be!
God is good! Incredibly grateful for the founders & committee and what theyve seen in me thus far. Love my brothers in Columbus and the special things this team is doing together- this honor is a reflection of them! Thank you #BuckeyeNation for your continued support! God bless. https://t.co/YbVc6XHLtR

— Liam McCullough (@LiamMcCullough2) November 26, 2019
This award should be given out at the College Football Awards Show just like all the other ones (and also, Liam should win it).
 BUCKEYES GIVE BACK. I'll leave it to a couple Buckeye receivers, past and future, to put a smile on your face during this holiday week.
Wide receiver commit Gee Scott Jr. added a new member to Buckeye Nation this weekend, hooking up a homeless football fan with some Ohio State gear to help keep him warm during the winter.
I wish you @geescottjr , your team and all the other teams still alive for a title good luck , but youre already a winner in my book. Thanks for showing love n compassion to this homeless football fan and for taking time. I think some of us adults could learn a thing or two. pic.twitter.com/jwk8oME4s9

— Chris Egan King-5 TV (@ChrisEgan5) November 25, 2019
Parris Campbell's giving mentality was on display too, as he took a trip to make sure some families had food for Thanksgiving.
#Colts WR @PCampbell21 spent his evening making sure underserved families in #Indy had food for #Thanksgiving.

Campbell delivered turkeys and sides. But, maybe he should've brought pizza too... pic.twitter.com/23y7vRL0XL

— JoJo Gentry (@jojogentrytv) November 26, 2019
Big hearts are a character trait if you're going to be a Buckeye receiver.
 SEE HOOTIE, BEAT CANCER. I present you a rare opportunity to see Hootie (sans Blowfish), root for the Buckeyes, enjoy a relaxing vacation and beat cancer – all at the same time.
MAJOR CONCERT ANNOUNCEMENT!!!

Performing LIVE on the pool deck on the 2020 Buckeye Cruise for Cancer is the incredibly talented DARIUS RUCKER!!

Don't be left at the dock when we sail in February! BOOK HERE, BOOK NOW, as cabins are limited!https://t.co/PQ1Lb3j3W9 pic.twitter.com/AQFpNTBXeD

— BuckeyeCruise (@BuckeyeCruise) November 25, 2019
Get dumped then, cancer.
 NOT STICKING TO SPORTS. Town accidentally invites everyone to take photos with satan at their Christmas fair... A driver unknowingly drags a body for miles... Russian cows are fitted with VR headsets to reduce anxiety... Man creates dating app where he is only man allowed... Can bee stings treat lyme disease?... Surrounding yourself with plants might help you live longer.