I don't know of a single Buckeye whose performance hurt his draft stock this week. I'd say the NFL Combine was a resounding success.
Bring on spring football.
ICYMI
Word of the Day: Habile.
 MURRAY NO. 1 OVERALL? Just a few days ago, it seemed like a lock that Ohio State would have No. 1 overall pick and the first quarterback off the board.
It's looking like there's a chance neither will be true after all.
From Tony Pauline of DraftAnalyst.com:
Adding fuel to the Murray fire, Arizona Cardinals head coach Kliff Kingsbury was telling people last night that it's a "done deal" the Cardinals will select the Oklahoma Sooners quarterback with the first pick of the draft. Whether or not Kingsbury has the final say on the choice remains to be seen, but stay tuned.
I'm not really convinced, mostly because I don't think a front office could possibly be that stupid.
That would be just a terrible move, and I say that not even considering my personal convictions about Kyler Murray and the fact that the Cardinals drafted a quarterback in the top-10 literally last year.
Even if the Cardinals were really sold on Murray, it would be a terrible waste to select him No. 1 overall because literally nobody in the top-six wants him. You could probably safely trade down to pick No. 6, get extra picks, and still get the guy you want.
But they can do what they want. Ultimately, it's just the Cardinals. Whoever they draft is just going to leave during free agency once they reach their prime anyway.
I'm confident this is how Haskins feels about the idea he's not the top quarterback in the draft:
Haskins brushing off various criticisms pic.twitter.com/dxVYLjb4w3

— Marcus Hartman (@marcushartman) March 1, 2019
 HYBRID ROLE. It's looking like Brendon White and Dril are being reassigned to a hybrid safety/linebacker position, similar to what Jabrill Peppers (who is not a murderer) played at Michigan.
Can confirm that White and Jahsen Wint are now playing a hybrid S/LB position https://t.co/UD57YoGjjn

— Alex Gleitman (@alexgleitman) March 2, 2019
My good pal Tony Gerdeman of The Ozone did some savvy detective work, combined with some good 'ole common sense, to arrive at this hypothesis.
I'm pretty stoked about this because this is kinda always what I expected Brendon White to be, given his versatility, but then he never really easily fit into one of the boxes in Greg Schiano's scheme. That is, until he had to against Nebraska, and showed what he can do.
The real downside is, the Buckeyes now have to find another starting safety again. But it could be a blessing in disguise because White and Jordan Fuller are both boundary safeties at heart, and it's probably better if you can avoid playing one of them out of position.
But that means someone's gotta step up.
 MAKING SOME MONEY. You know it's been a good weekend when multiple Buckeyes were the top performers at their respective positions.
You've got this from R.J. White of CBS Sports on Mike Weber:
Speaking of taking notice, Ohio State's Mike Weber was the most impressive player of the day to me. His 40 was one of the top times of the day at 4.47 seconds, and he constantly looked like one of the best RBs on the field in every drill, showing fluid change-of-direction skills, great hands and quickness in routes. He's earned a shot to be part of a committee at the NFL level at the very least, with the potential for more.
And here's Todd McShay giving some love to Parris Campbell:
The most impressive player I saw Saturday (not named Metcalf)? Ohio State's Parrish Campbell. pic.twitter.com/pfkO54sUqD

— Todd McShay (@McShay13) March 3, 2019
My lone regret is that Kendall Sheffield couldn't melt people's minds with his 40-yard dash time as well, but I guess we'll just have to live with knowing he was literally the fastest in school history at the 60-meter dash and extrapolate from there.
 PARKER BRAUN GOING ELSEWHERE. It looks like the Buckeyes may be done adding players after all as Georgia Tech graduate transfer offensive lineman Parker Braun is heading to Texas.
Per a family member of his, graduate transfer OL Parker Braun has committed to Texas. Braun was a two-time all ACC selection at Georgia Tech.

— Jason Suchomel (@OB_JasonS) March 3, 2019
Tom Orr of The Ozone reported that Ohio State was still interested in Braun even after Jonah Jackson's commitment, and that Braun could possibly redshirt this upcoming season and play the following year.
It looks like that ain't happening.
 ENOUGH ABOUT D.K. METCALF. Everyone is flipping the hell out over D.K. Metcalf this weekend, and I get it. The guy looks like a super soldier, allegedly has 1.9 percent body fat (which is biologically impossible) and also finished in the top-five in the vertical jump, broad jump and 40-yard dash.
But something didn't really add up. I mean, for all of that, he only had 26 catches in seven games last season, and 39 catches in 12 games the season before that. I couldn't figure it out, then I stumbled upon his Pacman-ass radar chart.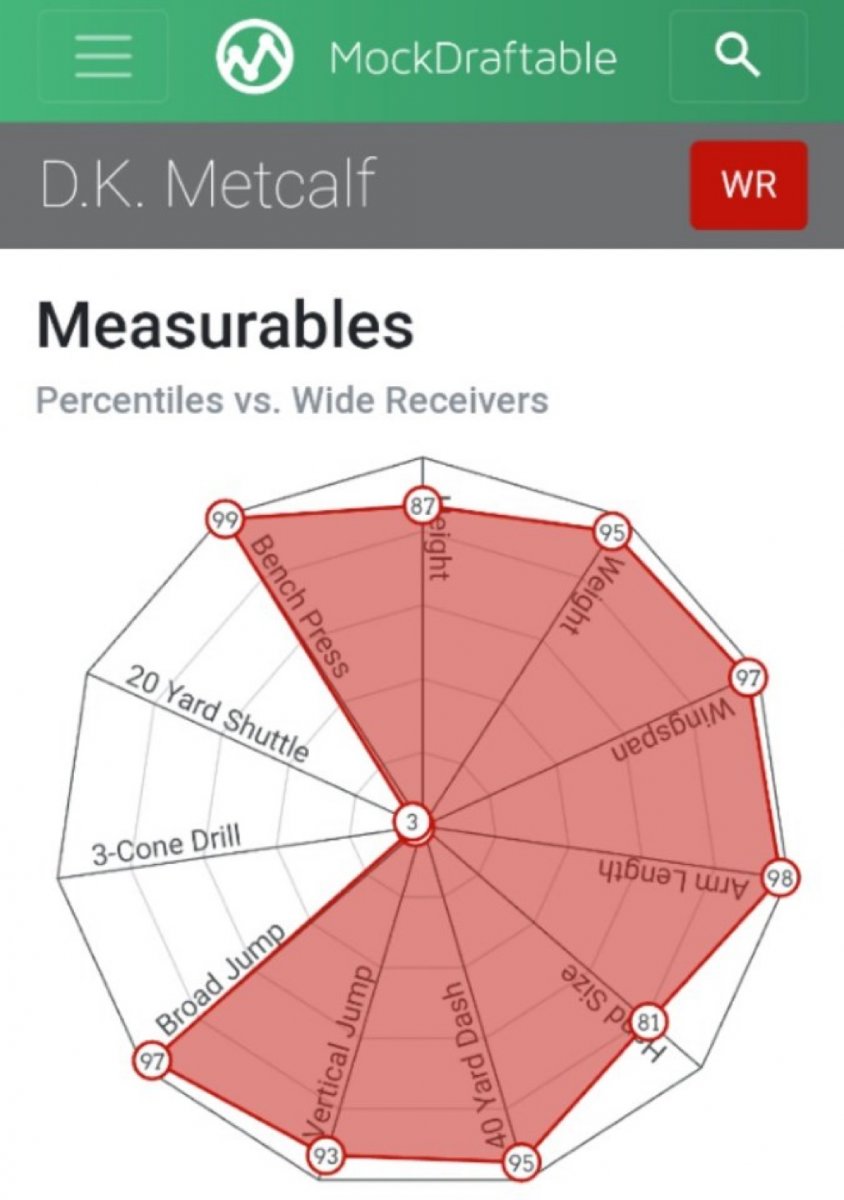 Suddenly, it makes sense. He's huge and fast as shit, but he can't stop or change directions, which totally checks out if you have even a rudimentary understanding of physics.
If you don't believe me, or that chart confuses you, this should provide some perspective on just how atrocious those numbers are:
Oh my gosh. This is true.

Tom Brady: 7.2 cone, 4.38 shuttle
DK Metcalf: 7.38 cone, 4.5 shuttle

https://t.co/rkfZ2XB5jr

— Jon Moore (@HelloJonMoore) March 4, 2019
So, yeah. Unless your route tree is exclusively four verts, maybe draft literally anyone else. On the other hand, he could make one hell of a kickoff returner. God help anyone in that collision.
 SKULL SESSION. Trapped in the snow, a man survives for five days on taco sauce packets... Mafia "super fugitive" arrested after 14 years on the run... What it's like to be diagnosed with ADHD as an adult... The one time my mom won the lottery... Untranslatable Danish word is the key to lowering stress...