Let us begin today with this glory:
If you were wondering how Cameron Johnstons transition to the NFL is going, he just bombed an 81-yard punt. pic.twitter.com/S7q8J9Imah

— Eleven Warriors (@11W) August 10, 2018
My favorite part of this is the absolutely immediate backpedal from the return man, like a centerfielder knowing damn well he's not getting to it.
Jim Tressel can be heard weeping in the background if you turn the sound loud enough.
ICYMI:
Word of the Day: Intransigent.
 TO PUNT, OR NOT TO PUNT. We all know there's a drastic difference in Jim Tressel's fourth down calls and Urban Meyer's. But now, thanks to a handy tool, we can see it!
A hero by the name of Zane Murfitt put together this handy tool, which can be found at FootballScoop.com, that graphically shows how often teams went for it on fourth down in a given year.
Here's a look at Ohio State's.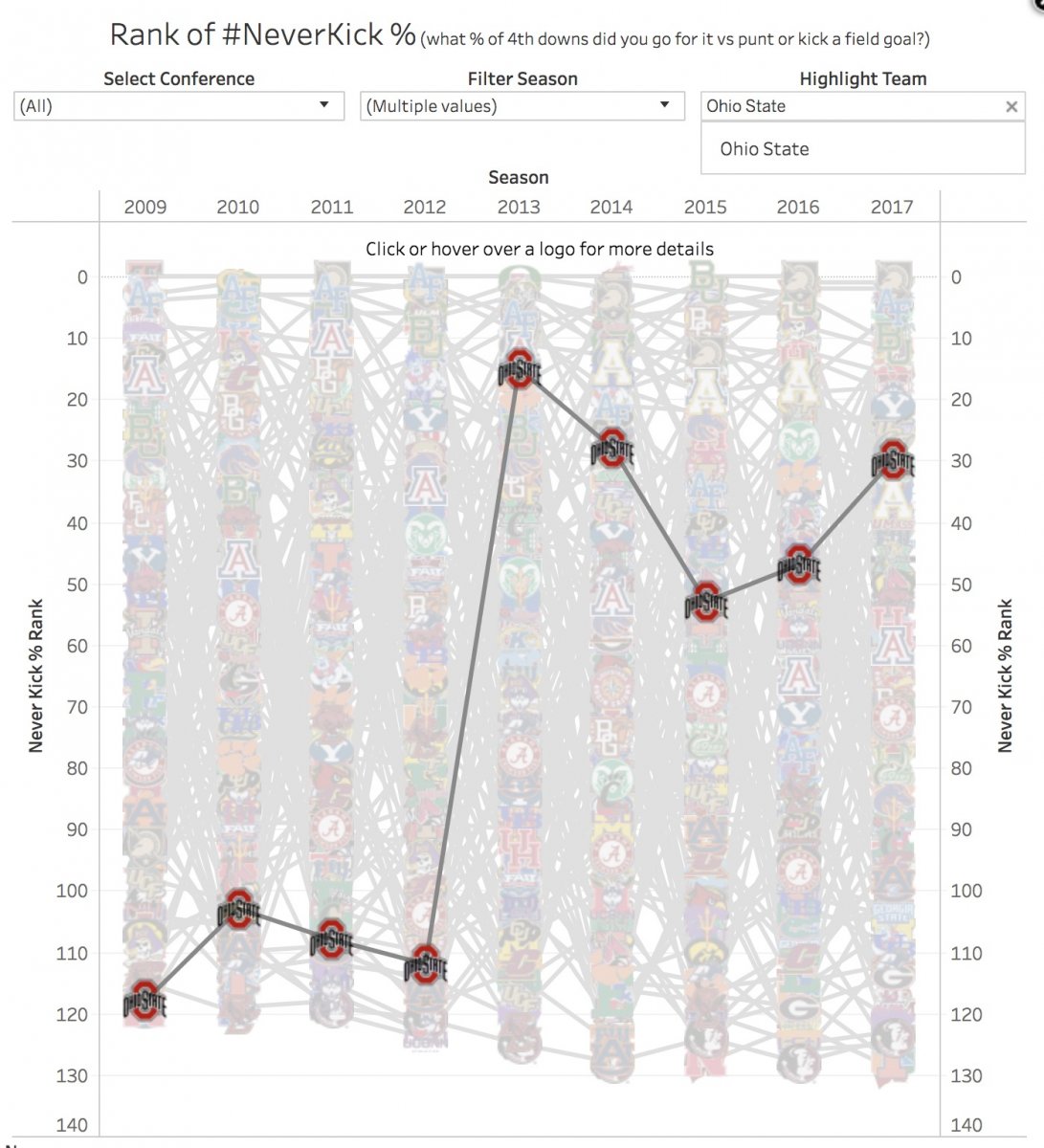 The immediate takeaway is how much more often Ohio State punted under Tressel than it has under Meyer, but that enormous jump isn't quite where you'd expect it to be – it happens between Meyer's first season and his second.
In fact, Meyer went for it on fourth down fewer times in 2012 than either Tressel in 2010 and Luke Fickell in 2011. I'm not sure I have an answer for why, other than it was a new team without a ton of offensive firepower but a strong defense.
That jump was welcomed though. I love punts, and am a huge fan of punters, but electing to punt while you're on the opponent's side of the field in short yardage is always hailed as "conservative," but it's not. It's analytically reckless. You're giving away free yards and taking points off the board.
Now, if you're inside your own 20 and need a big leg to flip field position, fire away.
 THIRD TIME'S A CHARM? I have good news and I have bad news. The good news is, CBS Sports' Jerry Palm has Ohio State in the College Football Playoff. The bad news is, he has the Buckeyes playing Clemson in the semifinal.
From Jerry Palm of CBSSports.com
Dabo Swinney has built a relatively new powerhouse at Clemson, one that is now beginning to rival the one Nick Saban has built at Alabama.  Clemson, my pick for the No. 2 seed in the CFP, figures to be a strong favorite again in the ACC and will be trying to make its fourth consecutive playoff.  The Tigers have finished the regular season at No. 1 two of the last three years only to lose in the CFP to the Tide.  Clemson is also trying to decide on a quarterback with senior returning starter Kelly Bryant trying to hold off five-star freshman Trevor Lawrence.

Ohio State has the talent to make another run through the Big Ten, but the question surrounding the Buckeyes is whether Urban Meyer will be there to guide them?  We will not have the answer to that question for another week or so as Ohio State evaluates Meyer's status with the team.  He is on paid administrative leave while the school investigates what he knew about former assistant coach Zach Smith's domestic violence issues.  On the field, all eyes will be on Dwayne Haskins as he replaces four-year starter JT Barrett at quarterback.  The Buckeyes just missed out on last year's CFP because of a 31-point loss at Iowa.
Maybe it will be fine this time. Kelly Bryant is definitely not Deshaun Watson or Tajh Boyd and there's nobody quite like Sammy Watkins or Mike Williams. But my lord, that defense line.
I vividly remember reading Kyle Jones' piece about the best defensive line Ohio State has seen in years. I also vividly remember what said defensive line did to the Buckeyes that game.
And here's the thing: three of the four guys Kyle highlighted in the piece are still there, and have only gotten better.
But we'll cross that bridge when we get to it!
 COACH MICK HOLDING DOWN THE FORT. We've talked a lot about how experienced assistants and coordinators with head coaching experience will be vital to Ohio State with Urban Meyer on paid administrative leave.
But we neglected to mention the man who all the players know, who essentially controls the team all through the summer, and has been one of Meyer's closest companions long before he was ever a head coach.
We forgot about Mickey Marotti.
From Bill Landis of Cleveland.com:
Strength coach probably doesn't adequately describe Marotti's role. Officially, he's the Assistant Athletic Director for Football Sports Performance. Strength coach just rolls off the tongue better. But Marotti is a coach in every sense other than helping design game plans and making decisions on Saturdays. Otherwise he's heavily involved in the operation, and has a greater influence on the totality of the roster than any other person in the football building.

"Coach Mick is the guy who keeps that team together," former OSU center Billy Price told cleveland.com on Wednesday. "He's with us more than any other coach."

...

"Coach Mick is basically the head coach when Coach Meyer is on vacation or on the road recruiting," former linebacker Joshua Perry told cleveland.com this week. "He works with everyone. He has a united front with coach Meyer as well, so there is a sense of continuity."
That's why it makes complete sense that Marotti – not interim head coach Ryan Day, defensive coordinator Greg Schiano, or offensive coordinator Kevin Wilson – addressed the team before their practice on Tuesday. Not all the players are close with each of those coaches, but I assure you they all know Marotti.
 DOLO AND GENO KEEP IT FRIENDLY. Cardale Jones is no stranger to quarterback competitions. And based on his relationship with J.T. Barrett – his best friend who he says will one day be in his wedding – he knows the key is to keep things friendly. So that's what he's doing at the next level, too.
From LATimes.com:
"Clearly, we understand it's a battle, but we both want what's best for the team," Jones said after Tuesday's practice. "I think not having a decent enough relationship to have a decent conversation with one another — that's not going to get us closer to our goals."

...

Smith and Jones are ready to keep fighting — even if the battle is friendly.

"I wouldn't want it any other way. I wouldn't want anything given to me," Jones said. "I'm pretty sure he feels the same way. It's great to have competition with an experienced guy. I'm trying to take advantage of some of the mistakes or things he does well and try to put it in my game.

"It's a huge advantage and he feels the same way to just not be thrown into the position of, 'Hey, you're our guy. You're our backup and we're sticking with you.'

"So, it's kind of a position where we both need to prove our worth."
If Dolo can prove himself consistent this preseason, I don't know how you could pick against a Mack Truck with a missile launcher attachment.
 WORLD'S CRISPIEST THROWBACK JERSEY. Andre Wesson decided to walk around Spain with perhaps Ohio's greatest throwback hoops jersey – his father's from 1987.
In the category of things you just dont see everyday (in Spain).....Keith Wesson throwback jersey circa 1987#Buckeyes pic.twitter.com/wmcFNs2GzV

— Ryan Pedon (@ryanpedon) August 9, 2018
I personally love those uniforms and think they should be Ohio State's regulars from now on.
 THOSE WMDs. New study reveals just how much people like to be thanked... The baseball stars who ignore MLB to stay loyal to Cuba, and Canada... Pablo Escobar's Mexican hideaway is now a luxury resort... Anheuser-Busch on its way to becoming king of craft beer too...