Well, well, well, if it isn't Jim Harbaugh and the diabolical Michigan Wolverines. Y'all are a long way from your hellholes, demons.
All year Michigan fans gleefully clucked as their team mashed Illinois, Rutgers, Penn State and Colorado. Historians claim UM fans used to consider that a routine year.
But a night in Iowa City can almost ruin your life. One minute you're cheering your team in the big game, the next you're handcuffed to a hospital bed with no memory of committing six felonies due to grain alcohol poisoning.
The most hyped Michigan team in a decade, with 40 rostered seniors, comes into Ohio Stadium as a 6½-point underdog against a team that plays six seniors (including former walk-ons Joe Burger and Craig Fada).
Michigan is back, baby!
The only outcome that shocks me today is a Michigan rout. It could be a low-scoring game where the first team to fumble or muff a punt loses.
But the Blue noses better hope their false flag local team doesn't go down 10+ points. Michigan would have to throw out a guy with a broken collarbone and high on painkillers or the other QB that can't accurately throw downfield.
Hopefully, Jabrill Peppers' Heisman campaign takes a ride in that elevator later today. And may these Michigan bastards—is there any better use of "bastard" than when deployed against a Michigan bastard?—never know the joy of cheering for a team with five or six players as athletic as Peppers.
Today's slate of lesser affairs:
11/25 SLATE

| TIME (ET) | GAME | FAVORITE | TELEVISION |
| --- | --- | --- | --- |
| 12:00 | KENTUCKY at No. 11 LOUISVILLE | UL (-26) | ESPN |
| 3:30 | No. 13 AUBURN at No. 1 ALABAMA | BAMA (-17½) | CBS |
| 3:30 | NOTRE DAME at No. 13 SOUTHERN CALIFORNIA | USC (-18) | ABC |
| 3:30 | No. 18 WEST VIRGINIA at IOWA STATE | WVU (-7) | FS1 |
| 3:30 | MICHIGAN STATE at No. 7 PENN STATE | PSU (-11½) | ESPN |
| 3:30 | MINNESOTA at No. 6 WISCONSIN | UW (-14½) | BTN |
| 7:30 | No. 22 UTAH at No. 9 COLORADO | COLO (-10) | FOX |
| 7:30 | SOUTH CAROLINA at No. 4 CLEMSON | CLEM (-24) | ESPN |
| 8:00 | No. 15 FLORIDA at No. 14 FLORIDA STATE | FSU (-7½) | ABC |
I think Michigan State beats Penn State, but I won't be mad if I'm wrong. The Big Ten conference is cool, but a game Ohio State can't lose or suffer an injury is cooler. Plus, a trip to Indianapolis in December is a great thing to waste.
 THE WOLVERINE DOSSIER. Here's everything you need to know about today's opponent, that team up north:
Also be sure to follow @11W, @EricSeger33, @TimShoemaker, @AndrewMLind and @Edge11W on Twitter for up-to-the-minute analysis.
 ETERNAL WOODY HAYES. Woody's 1978 playbook from his first squad meeting still rings true.
From @BuckeyeHistory: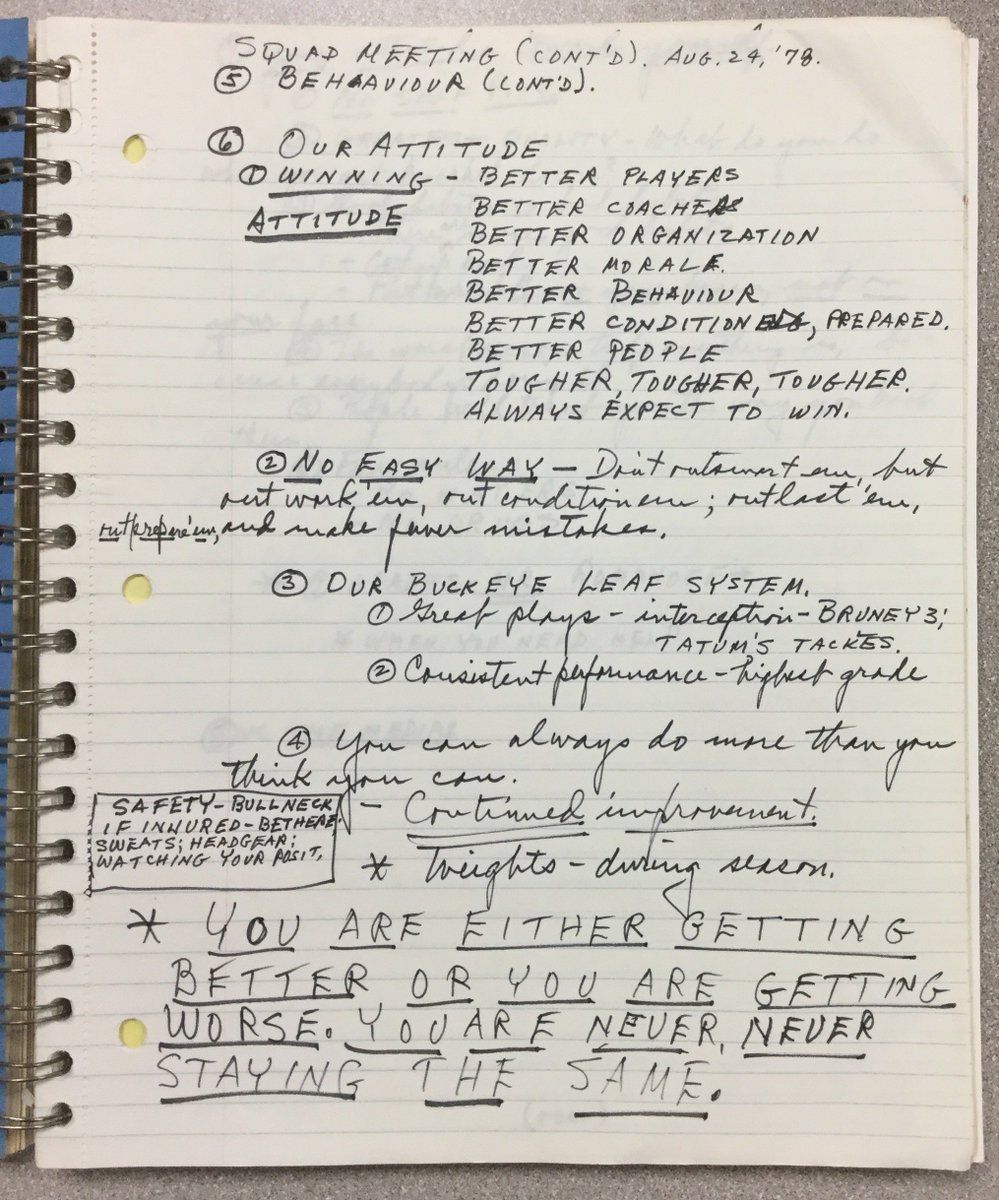 Why the local team wins:
Better players
Better coaches
Better organization
Sound familiar?
 #PERTINENTWIRE. This game felt like 27-13 all week. But then I drank an IPA at the Pine Club last night, and the chemicals in my brain switched.
The day I wake up with Michigan in Columbus and say anything besides, "N.I.M.B.Y." or "Put litter in its proper place," is the day I melt my laptop in my microwave (yes, haters, I bought a microwave for 2016) and join a west coast monastery that allows me to herd feral cats.
Michigan will bring 300 fans down here, tops. They're all scared the knockout game is real or their car ending up in a chop shop. (That's the home field advantage the mainstream media won't tell you about, folks.)
They won't be able to effectively run the ball, and it's going to put them in third-and-long, which, good luck against the #BIAs.
Don't let "Touchdown" Tim Beck dial up the ol' play-action to take advantage of Peppers' tendency to over-pursue rushing plays, either. There will be an "Apologize to 'Touchdown' Tim Beck" thread within 30 minutes of the final whistle and people will be held accountable for their words.
Speaking of being held accountable:
PREDICTION: 34-10, local team.
 THOSE WMDs. 42 million Americans dead after bloodiest Black Friday in history... Guide to not getting hacked... Video: The best two soccer minutes ever... A Bronx librarian keen on teaching homeless children a love for books... World's most prolific tweeter tweets about nothing.