11W ICYMI:
Tony Alford and Greg Studrawa will be made available to media after Ohio State's seventh spring practice, which concludes at approximately 11 a.m.
 SILK APOLOGIZES, SAYS TAPED CONVO WAS BAD PRANK. D'Angelo Russell's rookie season went from "disappointing but still reason for hope" to radioactive waste by making a dumb mistake, which is something to which every mortal on Earth can relate.
The difference is most of us aren't famous or reach levels of masochism where we're recording our buffoonery on Snapchat. (At least once a month I thank God I escaped high school and early college years before social media arrived outside the club looking menacing and brandishing machetes.)
But it's telling the shame of sports media focused on D'Angelo Russell and not Nick Young, the 30-year-old engaged guy who takes pride in seducing teenagers at clubs. (It's almost as if more guys can relate to cheating than dropping a dime on their friend...)
This isn't to say D'Angelo Russell is without fault. You can't torch people like that—personally or professionally—and expect to cobble together the team needed to get you through your death sentence on this intergalactic pebble we all call home. 
Russell spoke on the scandal Wednesday night. He showed remorse and explained it as prank culture gone too far.
From yahoo.com:
"I am sick," Russell told The Vertical by phone on his drive to the Staples Center on Wednesday. "I am sorry about recording the video. I can't repeat myself enough on that: I am sorry I recorded that video. I feel horrible. I wish this never happened."

When asked about how the video left his possession and became public months after it was recorded, Russell told The Vertical: "Honestly, I have no idea. Me and Nick, that's our friendship: We play around a lot. Anyone who knows him and knows me, they know that about us. But I apologize for recording that video. I never intentionally wanted to hurt anyone. I never wanted what was said in there to get out. It was my fault that it did, but that was never intentional.

"The thing is, we record ourselves doing dumb stuff all the time," Russell told The Vertical. "On the road or home, wherever. We go back and watch what we did and said and laugh at ourselves. I guess I just never thought that these pranks we pull on ourselves could have bigger consequences. That was a big lesson I learned."
It's like the old saying: A prank leads to a man cajoling another man into confessing to serial cheating on his fiancée on Snapchat. Truly a story as old as time.
The one perk for Silk, other than the support of the worst rapper in the world, is nobody can deny Silk has ice in his veins. He's going to need it after the Lakers scrap him for parts and he's residing in Detroit later this year. (That could be a boon to his career if he plays his cards right.)
The Lakers, by the way, picked up their 16th win of the season last night beating the Miami Heat in LA 102-100. Russell, who started, finished with 16 points, 4 rebounds, 1 assist and 2 steals.
 FIRST DROP HAUNTS CAMPBELL. People always say dreams are good, but I'm here to tell you they're trash. You're either king of the world with super powers and robes of stitched $10,000,000,0000 bills bearing your fat face or all your teeth are falling out, stripping you of every meal in life except gumming corn-on-the-cob.
You wake up disappointed with reality (never good) or panting and caked in cold sweat.
Parris Campbell apparently can relate. He dropped a walk-in touchdown in Blacksburg, Virginia that would've opened Ohio State's 2015 scoring and is haunted by it.
From cleveland.com:
In Campbell's reoccurring dreams about the above scenario, he's the hero, the guy who scores the first touchdown of the season for the defending national champions. 

Most of the above scenario is true. Except for when Jones' pass finally arrived at Campbell's finger tips in last year's opener at Virginia Tech, Campbell dropped what would have been a walk-in touchdown. 

"I think about that first game, that first drop I had, I think about that every day," Campbell said. "There isn't a day that goes by where I don't think about it. So that pushes me to go harder." 
Failure is a major key success, so let's all join hands and sing a health hymn for young Parris Campbell's season.
 URBAN ISSUES OFFICIAL CALL TO ARMS. Students! Shake off your Saturday hangovers (or stop wonton substance abuse altogether) and head to the Woody Hayes Athletic Center on Saturday for Ohio State's fifth annual Student Appreciation Day.
Your team's coach would love to see you:
For any students on the fence: Kevin, our intern, raved about the experience last year and he seems to be swell enough for a creature born in 1994. Urban Meyer will want to bring the juice to his unproven team, so you can bet the atmosphere will be "lit" as y'all I like to say.
 SHOUTOUT TO THE SCHOLAR-ATHLETES. I remain impressed by student—athletes' ability to balance craft and school, especially lesser-known guys and walk-ons that are putting their bodies through brimstone for something bigger than playing time and glory.
Ohio State christened 26 footballers as scholar-athletes on Wednesday. To earn such status, players must post 3.0 GPAs or above.
Some notes from Jerry Emig, Urban Meyer's enforcer and Ohio State spokesman:
Braxton Miller, who already has his bachelor's degree in communication, capped his Buckeye career with OSU Scholar-Athlete recognition.
Joe Burger, who will be a fifth-year senior and who will become one of the few walk-ons ever to earn four Varsity O letters, earned scholar-athlete status for the fourth time after previously picking up his third academic all-Big Ten honor in December. He majors in industrial and systems engineering.
OSU graduate Cam Williams (communication), now employed by the New England Patriots, earned his fourth scholar-athlete honor after also earning a third academic all-Big Ten honor last fall.
Chase Farris was one of only 14 Ohio State student-athletes to have a 4.00 cumulative grade point average; this coming in the first year of his sport management master's program.
First-team Academic All-American Jack Willoughby also had a perfect, 4.00 GPA in his agricultural environmental and development economics master's program.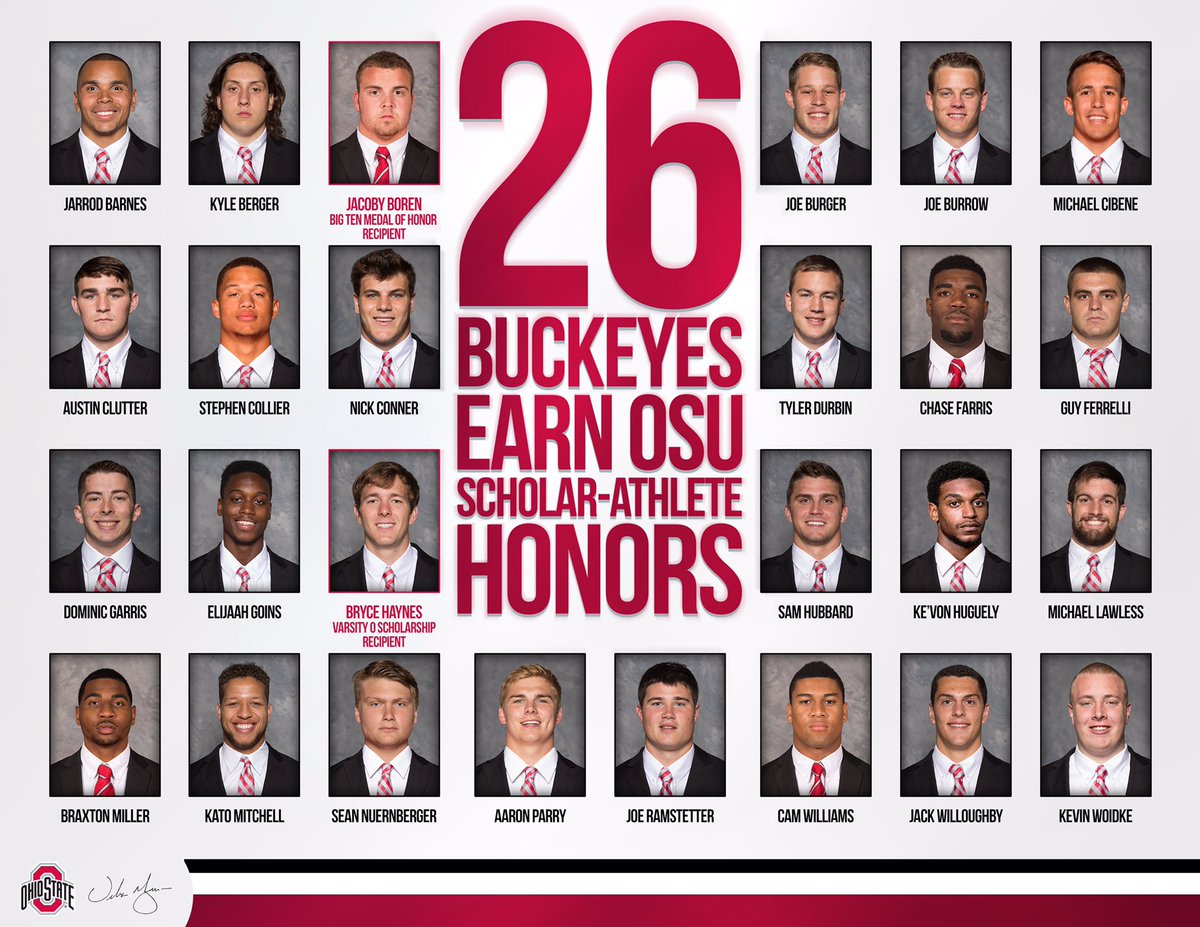 MAYBE MICAH POTTER DOESN'T KNOW THE LEGACY. Big news here: No. 0 is coming back to the Ohio State basketball program in the form of 2016 three-star Mentor center Micah Potter:
Chang of plans! I will be wearing #0 at OSU next year!

— Micah Potter (@BigJam_23) March 30, 2016
Silk connection aside, the swagger of No. 0 could be the shot of tequila Thad Matta's program needs.
 THOSE WMDs. What's wrong with American youth soccer development... New analysis of 40-year-old recording reveals Ohio National Guard was given the order to prepare to fire at Kent State... 45 years ago: Allman Brothers Band records At Fillmore East... Requiem of a debt collector... The AP busted an international seafood slavery racket.