CARDALE JONES!
CARDALE JOOOOONES!
STATE OF OHIO!!!!!!!
CAR!!! DALE!!!!! JOOOOOOONES!!!!!!!!!
Folks, earlier this week I said I'd let King Cardale drink a bottle of Hennessy before performing open heart surgery on me. I still stand by that rock-solid #take, but I'm not going to lie: Not even I thought the Year of Wario would keep rolling like this.
Cardale Jones, Legend, Skips Class To Announce He's Returning To Class

— The Fake Lantern (@TheFakeLantern) January 15, 2015
Even better: NFL and national media were enraged. (Here's Mike Florio whining; here's Stu Mandel wondering if Cardale was too stupid to realize he was being used for publicity [instead of, you know, paying it forward to the community who gave him so much.])
Cardale Jones was visiting his dying uncle in hospice last night and signing autographs for people there who asked.

— Doug Lesmerises (@DougLesmerises) January 15, 2015
It's basically a dream of mine to troll Real Serious Media members while wearing sweatpants and my own shirt (which you can buy here, h/t @kevin_slates). It was basically a Godfather-style hit on all his salty-ass critics, and the fact it will end as him being his family's first college graduate is the icing on the cake to me. (WHERE IS YOUR "COME TO PLAY SCHOOL" TRASH-GOD NOW, IDIOTS?)
Dale is savage for that

— Taylor Decker (@TDeck68) January 15, 2015
Agreed. The Iron King of Ohio, Cardale Jones, First of His Name, Controller of Tides, Slayer of Ducks, Troll Sultan, and 12th Son of Ohio did it way more baller than that scrub Peyton Manning.
And he could be at Ohio State until January 2017. Hell, I don't think I'm ready to ride that dragon.
---
This week's NSFW ANTI-WORK #BANGERS:

HE DOES HAVE A POINT. Interesting point by former offensive lineman Kirk Barton:
Getting Cardale, Taylor, Mike, and Adolphus to come back another season is like adding four 5 Star guys to this recruiting class #gobucks

— Kirk Barton (@Kirk_Barton) January 16, 2015
All four of those men could be millionaires by this time next year, and instead they all chose to come back to school. I think that says a lot about the brotherhood within the team and the culture Urban Meyer's worked to established.
So many Buckeyes face this decision every year and for the most we all stay. It's bigger than football.

— CJ Barnett (@see_4our) January 15, 2015
It's easy to talk about stuff like that, but it's also easy to see Urban Meyer isn't bullshitting when he talks about how much that stuff means to him.

STONEBURNER DISAGREES WITH THE DALECISION. NOT ALL BUCKEYES agreed with Cardale's decision to return to his throne in Columbus.
Former tight end Jake Stoneburner:
@darrenrovell: Cardale Jones says after football he wants to be a financial planner.a smart advisor would tell him to go get paid!

— Jake Stoneburner (@STONEYeleven) January 15, 2015
You can always go back and get a degree. Millions of NFL dollars waits on nobody. #justsaying

— Jake Stoneburner (@STONEYeleven) January 15, 2015
Not saying he's a 1st round pick. But his stock will never be higher than it is right now!

— Jake Stoneburner (@STONEYeleven) January 15, 2015
Cardale stood to make min of $500K in Ohio between today & the draft @STONEYeleven -nothing hotter than a CHAMPION in OHIO @darrenrovell

— Mike DiSabato (@CageFighterMike) January 15, 2015
I disagree with Stoneburner in that Cardale could definitely improve his stock. What if he comes back, wins the Heisman and leads Ohio State to a second national title?
Secondly, I think you can disagree with Cardale's decision, sure. But to say it was the wrong? I'm not willing to cash that check.

KURT WARNER WAS A BROKE MAN'S DOLO, IN RETROSPECT. I remember watching that Rams-Titans Super Bowl with my mom, who was cheering for the Titans, because like all heterosexual women she is in love with Eddie George. (Not that I blame anyone of any gender for being in love with Eddie George).
I think a Super Bowl ring is the only thing Eddie George hasn't accomplished in life. I'm guessing that doesn't keep him up at night.

#THROWBACKTHURSDAY OR WHATEVER. Here, via Twitter user @kielmeyer is a picture from the Horseshoe in 1954.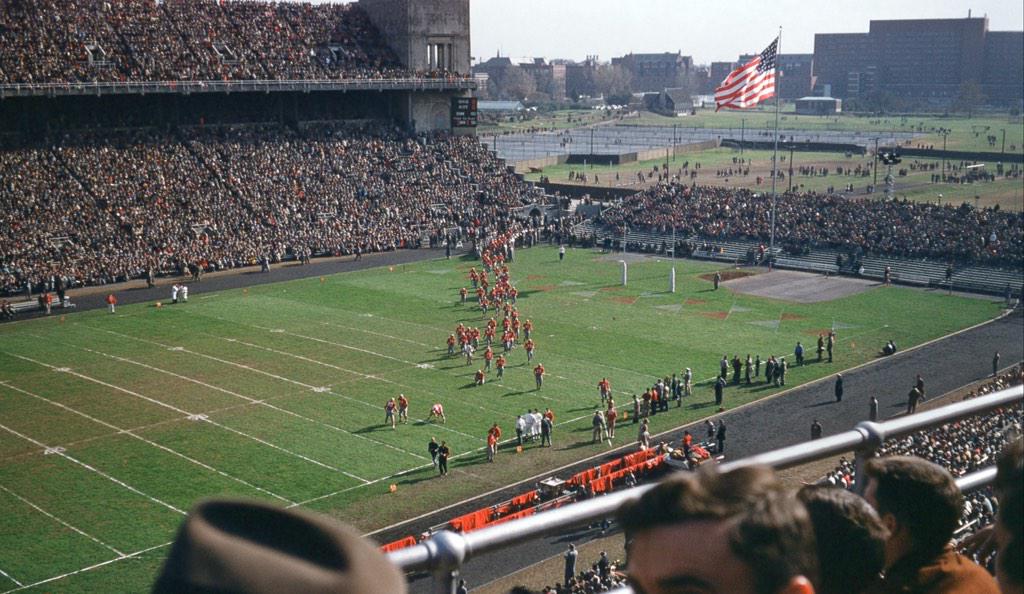 Could you imagine if Cardale Jones played in 1954? He might have killed a man.

URBAN IS HAPPY JAMARCO AS HELL RIGHT NOW. Reminder: Happy Urban Meyer will be on Lettermen tonight. Here's a preview:
All your recruits belong to this man. (Sorry, Wheatley.)

THOSE WMDs. Silk Road Trial: Defense Says Mt. Gox CEO Real Drug Lord... Nik Stauskas owned by #teen; girlfriend forced to attend prom...Police find 11 hidden cameras in apartment woman's been living in a year... Meet the Indian tennis star with three fatwas against her... "We decided we needed a cat cafe."