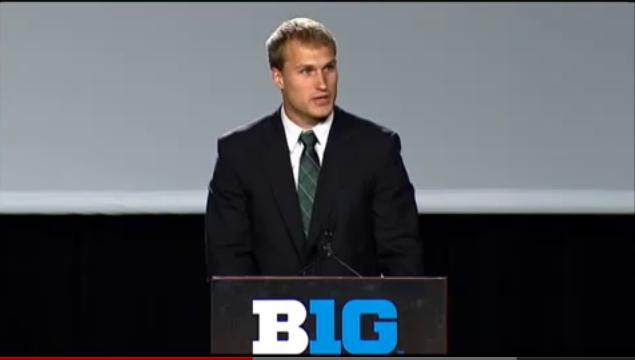 With the #25 ranked Spartans of Michigan State coming to bang in Columbus on Saturday, Ohio State head coach Luke Fickell took to the podium this afternoon in the Alumni Lounge of OSU's Fawcett Center this to answer the assembled media's questions.
Both these teams are probably disappointed to have already taken an "L" this early in the 2011 campaign, but B1G season is here with an opening game where each side expects to win.
Here's what the Ol' Fick had to say:
… Fickell started the conference by saying the team and he were glad to see the students back on campus for the games. He called it a "big boost for us." He said he hopes the student support continues.
… Braxton Miller did "a good job" according to Fickell. "The number one thing he did was hold onto the football," he noted. He also mentioned Braxton's slow start, but he was glad to see how he got back up and "competed."
… How prepared is Ohio State for the upcoming four-game stretch? "We'll see… one week at a time." He did note that it's a "big month" but says his kids "aren't blind" and "they understand [it's a big month]."
… Michigan State, the B1G's defensive statistical leader, could be the biggest test Ohio State's offense has seen this year. When asked about it, Fickell was also quick to mention that Miami had a pretty good defense as well, but did agree Michigan State's defense was formidable.
… With traditional thinking being to throw the kitchen sink at a young quarterback, Fickell said he expects that to be Michigan State's game-plan on Saturday.
… Fickell refused to compare the off-the-field turmoil of last year's Michigan State team to his squad's. He also didn't seem too enthused about the idea of using Michigan State's success last year (tri-B1G champs) as inspiration for his own team.
… Missed tackles happened against Colorado, Fickell acknowledged, but he did say sometimes those happen "when you're aggressive." The difference between the Colorado and Miami games, he said, was when somebody missed a tackle against Colorado, somebody else was there to wrap up the ball-carrier.
… Jordan Hall is "a big part of our team," Fickell said. Jordan, who was suspended the first two games of the season, was named one of the game captains for the week. He noted his team "isn't going to throw anybody away" and part of the reason he chose to rotate captains was to bring everybody into the sense of team.
…. Christian Bryant, who supplanted Orhian Johnson last week at safety, was compared to fellow Glenville product Jermale Hines. "He's a fiery guy," Fickell said, who also noted Bryant's leadership and the "different attitude" Bryant brings to the table.
… Devin Smith will "continue to be moved along." Smith "can make plays… he can get on top of you... he has speed." Fickell said they'll need Smith's speed to counter-act against defenses who will surely be playing the run against Ohio State from here on out.
… Fickell says that Mike Dantonio is one of the people he stays in touch with the most. "We have a really good relationship."
… Ryan Shazier has "done a great job. He's going to be a great football player. He's got a knack for the ball."
… Curtis Grant "hasn't been a big special teams player as we'd like," but Fickell said "he continues to come along." He also noted Grant could play more in the Sam position this week. (Grant had been playing the Mike).
… When asked if Braxton's 17 runs were a product of nerves or game-plan, Fickell said "probably a little bit of both."
… When asked about Nathan Williams' and Philly Browns' status, Fikell offered, "'Don't know'… and 'don't know.'"
… Fickell did agree that a "heightened awareness" occurs when B1G season opens up. The month of October will be tough for the Buckeyes, but Fickell said "they're excited."
… Fickell isn't worried about the impending integration of Boom Herron and DeVier Posey back into the lineup. "We've had a plan all along," Fickell said, who also noted that Boom and Devier have done "everything we've asked of them."
… Jordan Hall is "very good at what he does," but Fickell said the big thing about him is that he's a competitor. He even went as far to say that if Hall were to be placed on the defensive side of the ball, he would be a starter.
… Fickell wants a balanced offense, something he acknowledged his offense needs more of. He added, "We called a few more passes than we threw last week,"  Fickell said.
… Fundamentals, according to Fickell, will be key in counter-acting Michigan State's trick-play game, which is robust.
… Jordan Hall "is his own person" Fickell said, when asked if Terrelle Pryor's struggles, whom Hall went to high school with, affected Hall.
… Kirk Cousins is "an unbelievable young man. He controls the offense…. They can do a lot of different things. They can spread the field, but that's because they have a quarterback who can control the offense."
… Fickell acknowledged Michigan State's recruiting power in the state of Ohio. "They do a great job. We battle with them all the time." (MSU has 25 Ohio players). Fickell agreed, there could be some players from Ohio (wearing green and white) with an extra edge in Ohio Stadium on Saturday.
… "It's a difficult situation," Fickell said, when asked how he tries to balance Braxton's gift (running) with what's best for the offense. "We're going to have to try to help him through those things," Fickell said.
… Is the offense about minimizing risk or maximizing opportunity? "Probably a little bit of both," Fickell said. He also implied it was determined by a game-to-game basis.
… Braxton "is like a freshman, but he's starting to learn how to do it." Sometimes, Fickell said, in practice, "you think you know it, but then you get out there and realize you don't."  He said it's learning the playbook can be hard for a freshman, but put the burden on the coaches to get their players to learn it.
… Fickell claimed he "honestly" didn't know Nebraska and Wisconsin were playing, noting his own day-to-day schedule's demands and family. He looks forward to the day when he can lean back and watch other people play.