Kyle Snyder doesn't lose matches. He is, without question, the best wrestler on the planet. But giving up 6 inches and 65 pounds to the largest human in NCAA wrestling was too much for Captain America to overcome.
Ohio State traveled to Ann Arbor for a meet dubbed "The Clash at the Crisler," squaring off against the Buckeyes' century-old rival for the right to wear the Golden Singlets. Despite Snyder's first collegiate loss in nearly three years, Buckeye bonus points made all the difference in the 18-15 victory over the maize and blue.
While the two teams split the matches evenly, five wins each, bonus-point victories from Nathan Tomasello and Kollin Moore made the difference in the final score. The Buckeyes improve to 13-1 overall and 8-1 in the Big Ten win with the victory; they have one dual left ahead of the postseason conference and NCAA tournaments.
Buckeye Breakdown
Last week versus Penn State, the Buckeyes won four of the team's first five matches, and then dropped four of the final five. This week, it was clear that a few wrestlers who ended up in the loss column in Happy Valley went back to the drawing board and learned from the painful experience of losing to the No. 1 team in the country.
Tomasello, who couldn't quite manage the tech fall last week against an unranked opponent, handled No. 9 Drew Mattin almost from the opening whistle. Mattin never really got his offense going, and Tomasello was rarely out of position.
One of the critiques from last week for the team as a whole was the need to "Win the Third" period, a reference back to Ohio State's mantra a few seasons past. Tomasello clearly heeded the call, as his late takedown extended his lead enough to seal the 20-5 tech and the 5 team points.
Luke Pletcher, on the other hand, dropped his first match of the season. The sophomore grinder has been on the right side of narrow decisions all season long; he played with fire long enough that he finally got burned in an 11-4 loss.
No. 5 Stevan Micic went on offense almost immediately in the match, and once he got rolling in the second period, he caught Pletcher out of position more than once and got his man on the mat again and again. Micic rode Pletcher hard for lengthy periods of the match, and it took every ounce of Pletcher's strength and will to keep from getting turned for back points.
Joey McKenna and Ke-Shawn Hayes, on the other hand, won relatively comfortable decisions at 141 and 149, putting the Buckeyes out to an 11-3 lead through four matches. The two were very disciplined in their approach to their matches, scored when they should have, and gave up nothing.
This is an adult male super fan in a singlet. Pure Michigan. pic.twitter.com/DNQRDqNrWR

— Eleven Warriors (@11W) February 12, 2018
Micah Jordan, at 157, presented a very different scenario. Facing No. 7 Alec Pantaelo for the second time this season, the younger Jordan brother had hopes of getting revenge for his loss in the finals of the Cliff Keen Las Vegas Invitational.
Pantaleo had other plans, and a 6-point move in the opening moments of the match could very well have ended with a Michigan pin instead of merely a near fall. Jordan exhibited every amount of grit and determination you would expect, and battled back such that he was still in contention late into the final frame... but Pantaleo managed a late takedown that simply put the match out of reach, and tacked on another for good measure.
After Te'Shan Campbell gave up his sixth-consecutive loss, Bo Jordan took the mat against No. 6 Myles Amine, hoping to get his own mojo back after last week's loss to No. 1 Mark Hall.
Again, Amine had other plans. Jordan appeared to be in the driver's seat late in the match, up 4-3 with the riding time advantage salted away. In the waning seconds, however, he found himself out of position again, and Amine converted for a last-second takedown to earn the decision, and give Michigan their first team lead of the night, 12-11.
With three matches to go, the Buckeyes felt good about their chances in the team race, having No. 2 Myles Martin, No. 1 Kollin Moore and No. 1 Kyle Snyder cocked and loaded.
Martin and Moore did their jobs well.
Martin scrambled with every ounce of energy he had left to ward off a late takedown attempt, picking up the 5-3 decision over a top-5 opponent.
Moore, who looked so off his game last week that more than one reporter asked Tom Ryan if the sophomore superstar had the flu, came back with a vengeance against No. 12 Kevin Beazley.
Beazley started off as though he would hang with Moore, but Moore went on offense and seemed determined to put points on the board early and often. He picked up a pair of takedowns in the first period, and went to work, putting his opponent on the mat pretty much at will as the match progressed.
His major decision and resulting bonus point pretty much locked up the team victory for the Buckeyes, as the Wolverines would have needed to pin Kyle Snyder to tie the score.
Fee-Fi-Fo-Fum
And then, the unthinkable happened. Kyle Snyder, the certified best wrestler on the planet, the reigning, defending, undisputed world, Olympic and NCAA champion, lost his first match since 2015.
Adam Coon, the No. 2 heavyweight in the country, is simply a massive human being, perhaps the largest wrestler in the country. Weighing in at close to 6-foot-6 and every bit of 285 pounds – sources tell Eleven Warriors he was walking around closer to 315 during the offseason – he simply towered over Snyder, who is closer to 5-foot-11 and 220 pounds.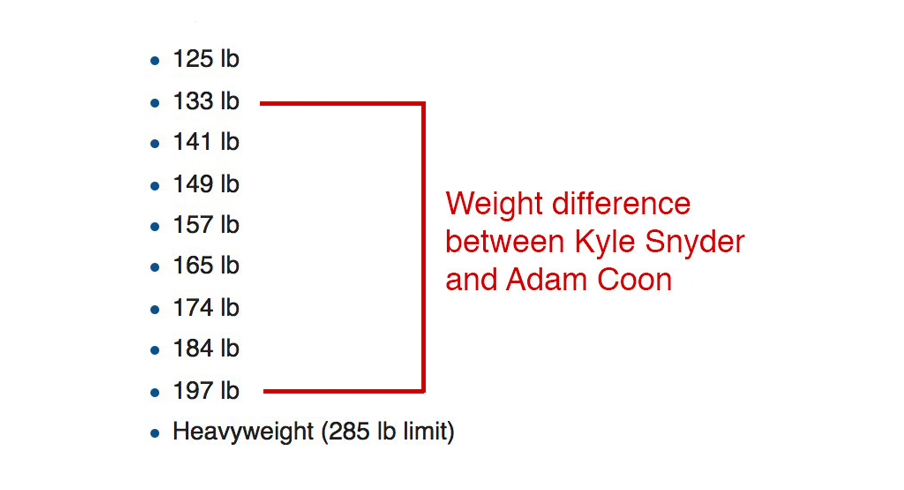 To put this in perspective, this match was the physical equivalent of Luke Pletcher (133 pounds), wrestling Kollin Moore (197 pounds). In other words, the equivalent of the next-to-lightest wrestler on the roster wrestling the next-to-heaviest wrestler on the roster.
Synder, for what it's worth, has dispatched other large humans before, including Coon, who he defeated to win the 2016 Big Ten championship. He's also defeated Nick Gwiazdowski, his Team USA teammate and fellow Olympian, who wrestles 125 kg., while Snyder wrestles 97 kg.
Knowing that he faced such a huge disadvantage in size, Snyder brought in the big guns. He spent the week training with two-time Olympic and World Champion (125 kg) Taha Akgül of Turkey.
Even with a massive, world-class training partner, Captain America could never quite get the shot he wanted. Even late in the match, when he abandoned the high-crotch for an ankle pick or a low single, Coon simply squashed the attempt, and nearly managed to get Snyder on the mat himself.
Only Snyder's own impressive strength and wrestling acumen kept him from giving up points against his behemoth of an opponent. When the final whistle blew, Snyder picked up his first loss since his freshman year, but the decision wasn't enough for the Wolverines to eek out victory in the meet.
Ohio State won the Golden Singlet, and added yet another Buckeye victory over a Michigan sports team this season.
Match Results: Ohio State 18, That Team 15

| Wt | Result | OSU | UM |
| --- | --- | --- | --- |
| 125 | No. 4 Nathan Tomasello, victory by tech fall over No. 9 Drew Mattin (20-5) | 5 | 0 |
| 133 | No. 5 Stevan Micic, decision over No. 2 Luke Pletcher (11-4) | 5 | 3 |
| 141 | No. 7 Joey McKenna, decision over Sal Profacci (6-2) | 8 | 3 |
| 149 | No. 6 Ke-Shawn Hayes, decision over No. 18 Malik Amine (9-2) | 11 | 3 |
| 157 | No. 7 Alec Pantaleo, decision over No. 5 Micah Jordan (12-7) | 11 | 6 |
| 165 | No. 9 Logan Massa, decision over No. 14 Te'Shan Campbell (6-2) | 11 | 9 |
| 174 | No. 6 Myles Amine, decision over No. 3 Bo Jordan (6-5) | 11 | 12 |
| 184 | No. 2 Myles Martin, decision over No. 5 Domenic Abounader (5-3) | 14 | 12 |
| 197 | No. 1 Kollin Moore, major decision over No. 12 Kevin Beazley (17-6) | 18 | 12 |
| HWT | No. 2 Adam Coon, decision over No. 1 Kyle Snyder (3-1) | 18 | 15 |
The Buckeyes finish the dual-meet season next Sunday in Raleigh, with a late-afternoon showdown versus No. 6 North Carolina State.