A buzzer sounds ending a brutal, hourlong wrestling session and Kyle Snyder slaps the mat with his left hand. Snyder, drenched in sweat, the gray shirt underneath his red wrestling singlet a much darker shade than it was an hour ago, lets out some frustration. It is clear he's not pleased with how the last rep of the day ended; he immediately wants to go another.
Snyder and his training partner continue grappling until the reigning NCAA and world champion is pleased with the result. There are a few loose ends that need to be tied up before today's training session concludes and when Snyder is finally satisfied, he hops up, shakes hands and heads toward the water cooler in the corner of the room.
But before Snyder can get there, he stops for a brief minute to catch his breath. He leans over, places both hands on his knees and loudly exhales. Exhaustion has clearly set in.
"Man," he says out loud, to nobody in particular.
This is just one day, but this moment — with Snyder keeled over and pain written on his face — illustrates what life is like in the middle of training for the upcoming Olympics. Snyder, a  20-year-old junior-to-be at Ohio State, is a member of the United States wrestling team in the 97-kilogram (213-pound) weight class.
It's a sweltering hot and humid Thursday afternoon in July here in Columbus, Ohio. The temperature outside is hovering around 90 degrees and inside the Ohio State wrestling room, it feels around the same. Snyder and his training partner, fellow United States Olympian Tervel Dlagnev, finished working on a series of individual wrestling drills — their second workout of the day. The first came earlier in the morning; there's no such thing as too much mat time.

Since qualifying for the U.S. Olympic wrestling team back in April — and long before that, really — days like this one are essentially what every day was like for Snyder. He worked out twice a day, five days a week, leading up to his departure for Rio. On Mondays, Wednesdays and Fridays he did weight training in the mornings followed by a wrestling session in the afternoon. On Tuesdays and Thursdays, he participated in grueling wrestling sessions twice a day.
If Snyder felt he needed extra workouts on the weekends, he did those, too.
"I like working out so it's not even a big deal to me," he says. "It's something that I just enjoy doing. I like being in good shape and I like getting stronger and lifting."
That's easy to say after the fact, but in the moment, Snyder's training session on this day looks far from enjoyable. Snyder and Dlagnev go at each other, at full speed, for 15-minute intervals with two-minute breaks built in between. They work on various situations — front headlocks, tie-ups and more — in an effort to simulate Olympic competition. At the end of each rep, a different expression comes across the face of Snyder or Dlagnev. You can almost feel their pain by simply observing from the side.
When the day's session finally finishes, a recovery period begins. Snyder grabs a towel, a cup of water and walks slowly in circles. Dlagnev crouches down and leans against the wall. The two discuss the day's workouts, what they learned and what they can improve going into tomorrow.
Thursday is about finished. On Friday, they will do it all over again.
"Hopefully," Snyder says, wiping the sweat off his forehead, "this will all be worth it."
There is a dry erase board near the entrance of the Ohio State wrestling room with a simple message displayed on it. "What are you willing to sacrifice to be great?" it reads.
For Kyle Snyder, the answer is simple: everything.
---
Roughly 15 years ago, Stephen and Tricia Snyder stumbled upon an advertisement for a local wrestling club near their central Maryland home and it got them thinking. Their second son, Kyle, enjoyed causing a ruckus around the house, particularly with his older brother. Maybe they should send Kyle in to try it out?
"Kyle was just the type of kid when he was inside the house or around the house he was always horseplaying or wrestling around," Stephen says. "He climbed all over me, his mother, his older brother, grandparents, whoever."
"We just signed him up, started taking him to practice and it was just one of those things that we pretty much knew right away when he started participating that it was something he really liked and it started keeping him, for at least a few hours, so he wasn't banging on the walls of our house."
Wrestling was not the only sport Snyder played growing up. He enjoyed them all. "Baseball, basketball, football, heck, even ping pong," Stephen says.
If there was competition to be had, Kyle wanted to try it.
Stephen Snyder says he is not sure how much of a difference those early trips to the wrestling club during Kyle's childhood days impacted his future. Kyle enjoyed wrestling, as he did all sports, but he says his first love was actually football. He was bigger than most kids his age and Kyle says he grew up like many did in central Maryland.
"If Kyle had been four inches taller, he'd probably be playing football at Ohio State right now."
"What I wanted to do first was play in the NFL because I was big for my size back in the day," Kyle said. "I was like, 'Dang, I'm going to keep getting bigger. I'm going to be like 6-foot-5 and play defensive line for the Redskins.'"
Kyle was as good a football player as he was a wrestler, according to his father.
"If Kyle had been four inches taller, he'd probably be playing football at Ohio State right now," Stephen Snyder says.
Kyle still starred at Good Counsel High School in both football and wrestling through his sophomore year. But after that, he had a decision to make. His future looked brighter in wrestling, but football was his first love.
Ultimately, massive success on the mat outweighed his love for the gridiron.
"He really wanted to wrestle year-round his junior year," Stephen said. "As a junior, he was going over to some of the college practices in the state of Maryland whether it be at Navy or the University of Maryland or wherever he could go workout. That's what he wanted to do. He just wanted to wrestle year-round and he had a lot of success his freshman and sophomore year at the toughest tournaments in the country."
All of that success stemmed from the decision Stephen and Tricia Snyder made after seeing that advertisement back when Kyle was five years old. Stephen Snyder did not wrestle growing up. He was familiar with the sport, obviously, but had little experience in it. The two were just trying to find an activity for their ultra-active, second-born son.
"Things have a funny way of working themselves out," Stephen says now, laughing.
---
Skylar Saar knew Kyle Snyder was a bit different from the moment he first walked into the wrestling program at Our Lady of Good Counsel High School in Olney, Maryland. He was unlike any other Saar ever coached in the way he acted and carried himself, but also unique in the way he approached the sport.
"He just did things a little differently," said Saar, the head wrestling coach at Good Counsel now preparing for his 13th season. "He worked at a different pace. He worked with a different intensity but was having fun the whole time. He made it look very easy and obviously it wasn't."
The results showed as Snyder surprised everybody, including his head coach, during his freshman season. It was just the beginning of what turned out to be an indescribably dominant high school career.
"I figured he'd take about five, six losses his freshman year," Saar said. "Obviously, that didn't happen."
Snyder lost zero.
In fact, he took a grand total of zero losses throughout his entire high school career at Good Counsel. Snyder amassed a perfect record of 179-0 and won three Maryland state championships before he elected to compete — and win — the junior world championships in 2013. He then opted to spend his senior year training at the U.S. Olympic facility in Colorado Springs.
Snyder surrendered exactly one takedown in his entire high school career.
"His name was Alex Campbell," Snyder recalled. "I was winning by 13 points and I let him up to get a tech fall and if I would have taken him down then the match would have been over. He ended up taking me down and that was the only takedown I gave up in high school."
Saar uses Snyder as the example for the Good Counsel program.
"It's just about the way he did things," Saar said. "It's not necessarily all about the wins and losses for him. That's very rare for any athlete, but especially an athlete at his age, to realize and detach himself from — he certainly wants to win, but he detaches himself from the result and his goal is to go out there and get better and have fun while wrestling.
"I've never seen a kid love the sport as much as he does."
There are dominant high school wrestling careers and then there was Snyder's. Good Counsel's head coach is asked, somewhat tongue-in-cheek, if he ever envisions coaching another like him. Saar can only laugh.
"No I don't," Saar says, the smile almost visible through the phone. "I do not envision ever having another Kyle Snyder."
---
Around 9 a.m. on New Year's Day in 2013, Tom Ryan received a phone call. Kyle Snyder, then a high school junior, was on the other end with some good news — potential program-changing news.
Snyder wanted to wrestle for Ohio State.
"I've been alive for 46 years," Ryan, the Buckeyes' head coach, recalls. "I would say that's probably the best start to any of my 46 years on Earth.
"Nothing else good could have happened that year and we would have been all right."
Ryan jokes about it now, but it's hard to ignore how important it was to land a commitment from Snyder back then.
His first glimpse of the "freak show" came when Snyder was a high school sophomore. It was at the Walsh Ironman — one of the top high school wrestling tournaments in the country — when Ryan first saw Snyder wrestle live. It was an eye-opening experience.
The first time the two met sold Ryan even more. It was a done deal: Ryan needed to get Snyder in his program.  
"Him being from Maryland, we didn't get to see him that often," Ryan said. "But the first time we actually met him was at a regional training center camp, a weekend camp, and he came in and worked out with a bunch of graduates who were training for the Olympics.
"At the time, we had five of the best big men in the country training here. For us, watching him train pretty much sealed the deal that this guy is not only a super talent, but this is a guy that has a deep-rooted understanding of the workload that's needed."
When Ryan got that phone call on New Year's Day, he knew the Buckeyes landed a phenom. His high school career spoke for itself, but when Snyder went on to win the junior world championships in the summer of 2013, it all but solidified the notion Snyder wasn't a typical high school wrestler.
Penn State and Virginia Tech were also hot in pursuit of the top-ranked recruit, but ultimately it was Ryan and Ohio State that won Snyder over.
"I think the thing that sold me the most was probably the training partners that I have here," Snyder said. "I felt like those were the guys that I needed to be surrounded by that would push me enough so that I could learn and grow at a really fast pace because that's what I wanted to do."
"But after you see the training partners, you get to know the coaches more, you get to know the guys on the team more, you get to know the academic support staff and all of the smaller things that you want in a school," he continued. "Ohio State had those and more. After I took all that into consideration, I just felt like Ohio State was the best for me."
Added Stephen Snyder: "It's an amazing university with just the network of students that graduate from there every year. Ohio State is obviously just a massive, massive network of amazing people. And as far as the wrestling program, they just had a really great room of upper weights at the time when Kyle was looking. He loved the coaches, we really liked the coaches, it was just a good fit."
Ryan remains thankful every day that decision was made.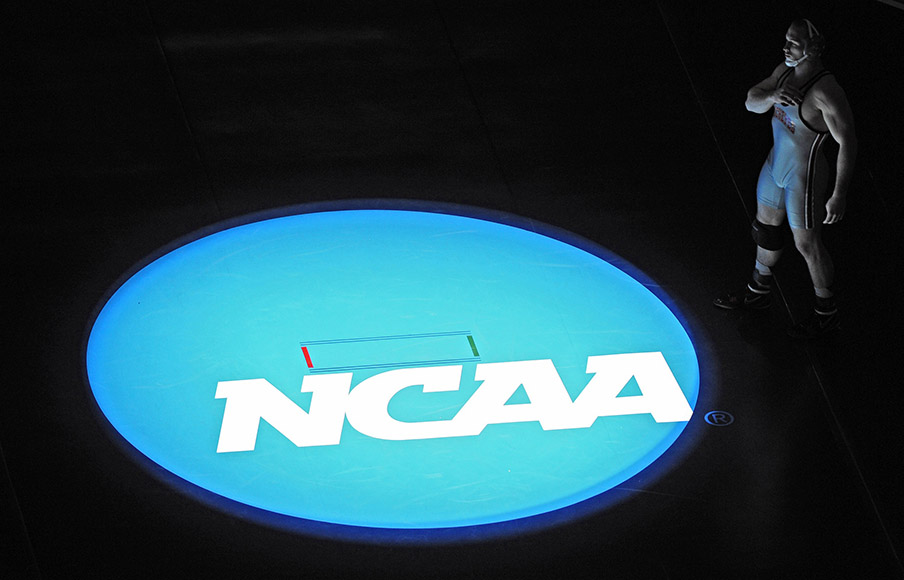 After Logan Stieber dominated the collegiate wrestling world for four years, winning four national titles at Ohio State, Snyder was the perfect person to carry the torch and follow in Stieber's footsteps. Continuing on Stieber's triumphs with another phenom was such an important step in Ryan continuing to build his program.
"I think it's kind of the evolution of success," Ryan says. "Logan comes in and just lights the college wrestling world on fire and then you have these younger people that are watching and saying, 'You know what? If they can help him do it or if he can do it there then I can do it there.'"
"Logan took it to a certain level, an amazing level, and now I think a large part of why Kyle is doing so well is he saw someone win four titles. Kyle has certainly helped us move to another level or at least maintain the level that Logan got us to which is a team that competes to win championships year in and year out."
As a freshman, Snyder announced his presence to the college wrestling world going 30-4 in the 197-pound weight class. He earned a No. 4-seed at the NCAA championships and advanced all the way to the title match following a victory over defending champion — and fellow 2016 Olympian — J'Den Cox of Missouri in the semifinals.
In the NCAA title match, Snyder held a 1-0 lead over Iowa State's Kyven Gadson in the second period. But Gadson caught Snyder while defending a takedown, leading to a pin and a stunning victory to cut the Buckeye freshman's championship hopes down.
Ohio State won the team national championship that season — the first in program history — but there was a little bit of personal disappointment for Snyder. Expectations were so unbelievably high and he lost. Just like that, his opportunity to match Stieber as a four-time NCAA champion was gone.
Shortly after that defeat, though, Snyder said the following: "A wounded animal is a dangerous animal."
That wound up as quite the understatement.
---
Six short months after Snyder's NCAA title loss, Saar sat inside Orleans Arena in Las Vegas preparing to watch his former pupil wrestle for a world title. Almost immediately following that loss to Gadson, Snyder qualified for the United States national team and wound up reaching the gold medal match at the world championships.
It was quite the turnaround.
His opponent was the defending world champion and No. 1-ranked Abdusalam Gadisov from Russia. This was where Snyder's remarkable summer run was supposed to end.
"It was basically like he was Rocky going out to fight Drago in Rocky IV," Saar recalled. "I had a friend of mine that came up to me and said, 'Hey, second place isn't too bad at the world championships.'"
"I said, 'No, it's not, but he hasn't gotten second just yet.'"
And he didn't.
Snyder shocked everyone that night in Vegas, upsetting the defending world champion with a 5-5 win on criteria. Well, he surprised everyone except those closest to him. They saw how hard he worked, how much he wanted to prove something to his peers.
Kyle Snyder, at the ripe age of 19, was a world champion — the youngest world champion in the history of USA Wrestling.
"That was an unbelievable feeling," he said.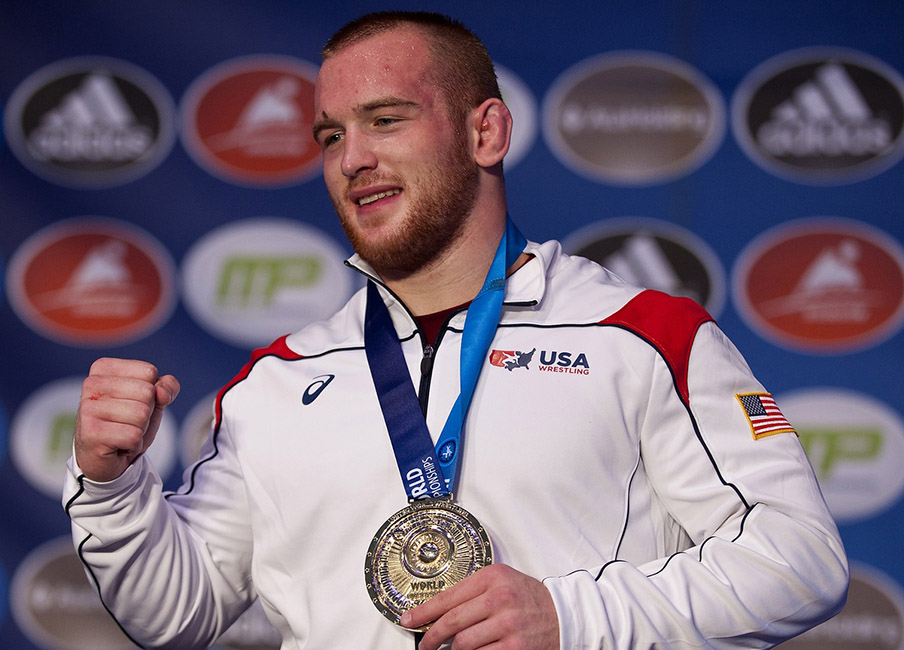 But in sports, it's often about what's next and what was next had been etched in the back of Snyder's mind for a couple of years. The world title certainly wasn't lost on him, but there was something in the very near future that was just a bit bigger. Snyder wanted to qualify for these 2016 Olympics and go for a gold medal.
Snyder originally intended to take a redshirt during his sophomore season at Ohio State in order to focus on his Olympic training. But when he realized the Buckeyes had a chance to repeat as national champs, and he also could avenge some demons from his freshman season, the youngest world champion in American freestyle wrestling history opted to return to his team midway through the year.
Ohio State did not win another team title; the Buckeyes finished third behind Penn State and Oklahoma State. But Snyder did get some personal satisfaction out of the return as he went 11-0 and won a national championship at heavyweight in a title match dubbed by many as one of the greatest collegiate championship matches of all time.
Snyder trailed N.C. State's Nick Gwiazdowski — who was the two-time defending national champion at heavyweight on an 88-match win streak — by three points with just 1 minute, 10 seconds remaining. But an escape by Snyder got things to 5-3 with around a minute left and a takedown with 20 ticks on the clock sent the match to overtime tied at 5.
In the extra period, Snyder scored a quick takedown on his trademark ankle pick to claim the NCAA title. He avenged the loss from his freshman year and checked another accomplishment off the list.
---
The last task for Snyder was to make the United States Olympic team in the 213-pound weight class. All he needed to do was win two of three matches against 2012 Olympic gold medalist Jake Varner — the same man he beat to make the U.S. team for the world championships — and he'd be headed to Rio.
And after dropping the first match of the series on criteria, Snyder dominated the final two matches to punch his ticket to the 2016 Olympics.
World champion. NCAA champion. Olympic qualifier. That's quite a 365 days for Kyle Snyder.
Yet through all of it, he's remained the same.
"Arguably, he's attained more in the last 365 days than any wrestler in the history of time."
"Arguably, he's attained more in the last 365 days than any wrestler in the history of time during a one-year period," Ryan said. "But he's still so level-headed because of the view that he has and where he sees himself as an athlete and a competitor."
Perhaps that's because there's also still one medal out there to grab: Olympic gold.
---
Back inside the Ohio State wrestling room on a hot July afternoon, Kyle Snyder pauses briefly to collect his thoughts. He's having difficulty describing what this past year has been like for him, but it's not for the reasons one might expect.
"A lot of it just seems normal to me," he says. "I don't know why, but it does."
Normal?
"I've always believed in myself so when I accomplish something or I wrestle well then I don't really — I get happy about it but I'm not like on a high for a long time because I expect a lot out of myself. So, when I do something, I'm not really surprised or anything like that.
"I'm definitely very thankful for all the success I've had, but I think maybe I'll be able to describe it easier when I'm done competing and can just think back on it."
Snyder says his goal is to master the sport of wrestling, so perhaps that's why he answers this way. It's far from a normal response, but again, Kyle Snyder isn't exactly normal. He's different, but in the perfect kind of way.
"Kyle's approach is that he wants to be a Jedi, he wants to be the Yoda of college wrestling, the master. He wants to take his wrestling to a level that he's a master and he knows that he's far from that," Ryan said. "Despite his success, he's not a master yet. I think when your standard is to be a master, you don't get too caught up in some of the things you're accomplishing along the way because the goal is just so high."
The stakes don't get much bigger than Sunday when Snyder hopes "to end the Olympics with a bang." All of those workouts, the years of training, comes down to one day — the final day of the Olympics. Snyder first learned what these Games were back in middle school and since then, he wanted to be here.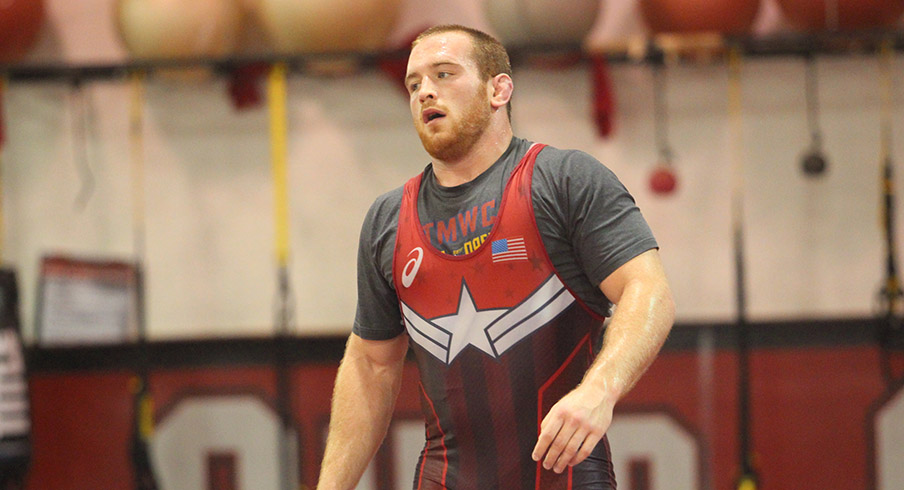 The Ohio State All-American will wrestle for himself, his friends and family. He'll represent the university. And lastly, but certainly not least, he will represent the United States of America.
"Preparation and belief in yourself equals confidence and I've always believed in myself and I've worked as hard as I can mentally and physically for this event so I'm feeling good," Snyder said. "I'm very proud to represent Ohio State and represent our country.
"Other than serving our country in the military, I feel like being an Olympian is the next best way to represent your country and I'm really excited to do it."
Those closest to Snyder will be there watching. The Ohio State community will be watching. The world, too, will be watching.
The Phenom is ready to roll.
"I'm really excited to compete, especially at such a big event, something that I've prepared for so hard this summer and the summer before that and the year before that and before that," Snyder says. "I've been preparing for it for a long time so I'm just excited to put it on the line, put all my work on the line, show everybody how hard I've worked and prove to myself that I'm the best wrestler in the world."