Ohio State concluded the regular season with a split at Penn State. Read on as we recap that series, lay out the Big Ten tourney schedule, and have a look at the headlines around Buckeye hockey.
Weekend recap

With neither of last week's games being televised, I have only the word of Twitter and the radio broadcasters. Best I can tell this is what happened in Friday's 4-2 win.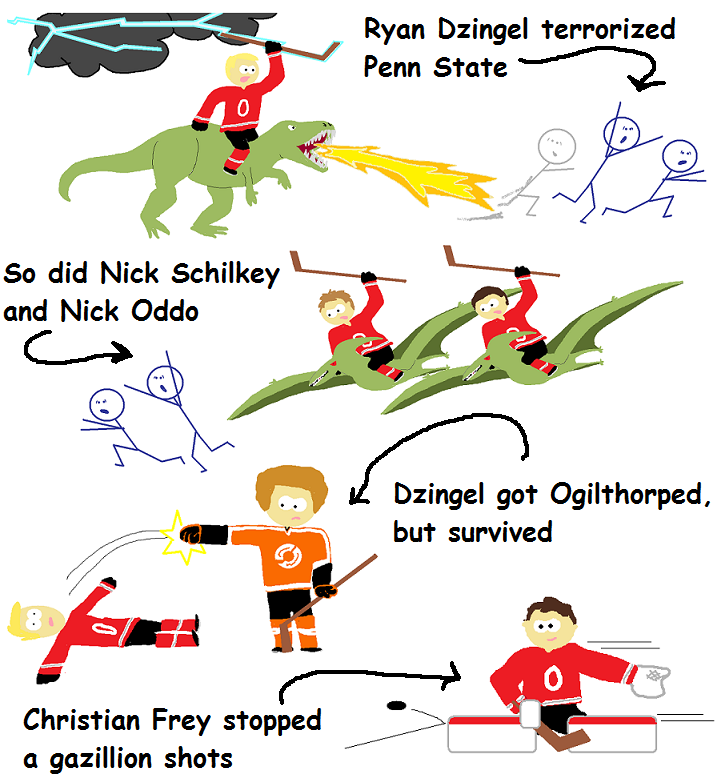 And this is what happened in Saturday's 4-2 season finale loss.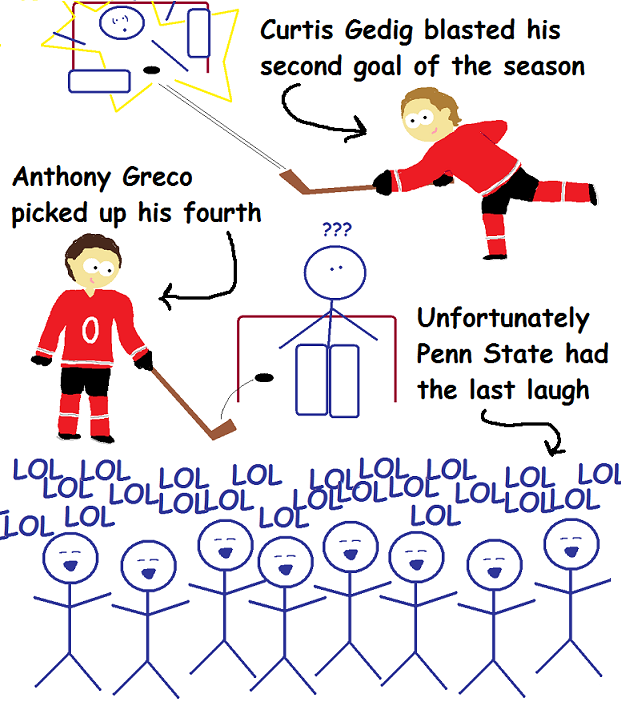 It was pretty clear from Steve Rohlik's pregame comments on Saturday that he wasn't pleased with the way the Buckeyes finished Friday's game. I don't expect he was thrilled with Saturday's game either.
Ohio State should have beaten Penn State both nights, plain and simple. The Bucks just didn't play up to their highest level. Instead it sounded as though they gave a disjointed effort and got burned by a scrappy, highly motivated Nittany Lion squad.
It wasn't an ideal way to close an otherwise decent season. It certainly didn't sound like the ideal tune up for a Big Ten tournament run. The Buckeyes have been spotty team since their February bye week. They really could have benefited from a solid series.
But that's water under the bridge now. Ohio State needs to regroup before facing Michigan State in the Big Ten quarterfinals. If they hope to extend their season, they can't afford any mediocre periods from here on out.
The Spartans come into Thursday's game fresh off their most offensively productive series since Thanksgiving. They posted eight total goals in a split against No. 5 Wisconsin which included a decidedly odd tilt on Saturday. 
Further Reading

Big Ten tourney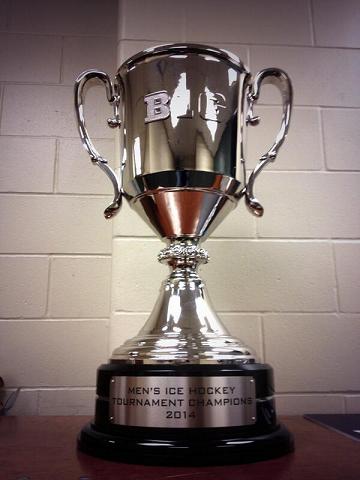 To refresh your memory, the conference tournament progresses thusly. No. 3 Michigan plays No. 6 Penn State in one quarterfinal match-up. No. 4 Ohio State and No. 5 Michigan State face each other in the other quarterfinal. Note that both games are scheduled for Thursday. 
The Wolverines and Nittany Lions are the matinee game. Action begins at 3pm ET. The Buckeyes and Spartans do battle at 8pm ET. Ohio State hockey fan group The Scarlet Liners are hosting a watch party at Roosters on Dublin-Granville Rd. You can find more party details on Facebook here.
Thursday's winners advance to semifinal match-ups against No. 1 Minnesota and No. 2 Wisconsin. Those games will be played on Friday. The Badgers take on the winner of the No. 3/6 game at 3pm and the Gophers get No. 4/5 at 8pm. (Again, times are ET.) 
The semifinal victors fight for the Big Ten tournament championship, not to mention the conference's auto-bid to the NCAAs, on Saturday at 8pm ET. Every B1G tourney game is set to air on BTN. The games should also be available online via BTN2Go.
Short Shifts

NCAA News

Just when you thought the Big Ten had run out of inaugural things, they announce their first ever season awards! Ryan Dzingel is a First Team All-Big Ten selection. Forward Nick Schilkey, defenseman Drew Brevig, and goalie Christian Frey earned spots on the conference's All-Freshmen squad. Tanner Fritz got the nod as Ohio State's Sportmanship Award representative.
You can check out the full list of All-Big Ten teams as well as individual award winners here. Ohio State has more on each of the Buckeye honorees. CHN's Jashvina Shah had a slightly difference of opinion with the voters. Her B1G awards list is here.
Future Nuts

In the AJHL North Division's best-of-seven semi-finals, Nicholas Jones (3g, 3a) and Sherwood Park lead Tyler Busch (1a) and Spruce Grove two games to one in their best-of-seven series. Game Four is on Wednesday. In the other semi-final, Kevin Miller (3g, 3a) and Fort McMurray have a two games to one lead over Lloydminster. The teams are back in action tonight for Game Four.
Nuts Abroad

Thanks to Chris, who passed this link along. The Adirondack players faced off in a mini-Olympics. Team USA prevailed in the thumb-wrestling competition. Then Cal Heeter and his Team USA teammates took on the dastardly Canadians in heated match of Rock, Paper, Scissors. Check out the action here. 
Tessa Bonhomme, women's hockey ambassador extraordinaire, is once again taking part in Scotiabank's Girls HockeyFest.
Are you tired of reading articles about the increasing maturity/confidence/etc. of Matt Bartkowski? I thought not. Here's the latest from Amalie Benjamin of The Boston Globe.
Bad news for Ryan Kesler. He's out "at least a couple weeks" with a sprained knee. (Do yourself a favor and do not watch the video embedded in that post.)
Several former Buckeyes enjoyed productive games this week. Corey Toy had a huge three point night in Fayetteville's victory over Knoxville. 
In the AHL Rod Pelley lit the lamp in Albany's win at Hartford and Hunter Bishop contributed a goal and an assist to Manchester's blow out of Bridgeport.
RJ Umberger scored a shorthanded goal against San Jose.
While those are all great candidates for today's clip-of the-week, none made the cut. Why, you ask? Because Tyson Strachan scored a shorthanded goal. It may be his first shorty ever. It's definitely his first in at least a decade, and it's definitely…unique.