We're living through the most divisive era in our history.
Friendships are dissolving over irreconcilable differences. Families cannot make it through a single meal without it spiraling into a screaming contest. Basic facts are discarded and no longer matter. Reality is distorted. We are fracturing as a tribe.
It wasn't supposed to be like this, not now. This madness should have ended Dec 29, 2017.
That's when Ohio State's three-time B1G QB of the Year played his final game for the Buckeyes. J.T. Barrett (39 school records and 5 B1G conference records - it's final now) is no longer in Columbus for anyone to inflate or diminish. He left his Cotton Bowl MVP, Fiesta Bowl MVP, Silver Football, three 1st team All-Conference awards and all of the smoke and mirrors that enabled those trophies along with several others in Columbus and fled to Louisiana along with Joe Burrow.
The last time Ohio State had this much star power, it overthought everything and tried to make too many players happy.
That era of divisiveness should have ended in Jerryworld. The man everyone thought was either legendary or disastrous is finally gone, and yet we're still divided. We're incapable of moving on.
There are reasons, one of which is the last time Ohio State's offense had this much star power, it overthought everything and tried to make too many players happy. Zeke Elliott got a few touches, Michael Thomas got a few touches, Jalin Marshall got a few touches, Cardale Jones and JTB split time, oh whoops lol we forgot we had Braxton Miller - our bad. The Buckeyes were so loaded they had to try to keep games competitive and welp, they sure did.
Is it 2015 again? When we last saw the Buckeyes, they were beating Wisconsin in Indianapolis before making easy work of the Pac-12 champions. This is going to have 2015 potential, sure. This team's probably hungrier, though. And there shouldn't be a QB controversy this time.
Future Heisman Trophy Winner Dwayne Haskins has the keys, but Tate Martell is right there; hashtag skillset, hashtag change-of-pace, hashtag Fun-Size Tebow. Mike Weber and J.K. Dobbins could start anywhere in the conference including Wisconsin and I'll be at the bike racks at 3pm if any readers would like to fight me about this. They'll battle each other for carries. The game within the game will be to keep them both engaged.
But that ignores the potential of Haskins hitting Demario McCall on wheel routes with teardrops right into his chest; a play so unstoppable not even mighty Rutgers had a prayer against it last season.
Too many guys to feed, once again. Zone Six is defying both math and competition by starting six very experienced high-character guys for the fourth-straight season, headlined by 3rd Team (Coaches) All-B1G Parris Campbell and Honorable Mentions Johnnie Dixon and K.J. Hill (Media). Were they held back the past three seasons by the Big Ten's most prolific quarterback in history and Ohio State's 7th all-time leading rusher behind two consecutive Rimington Trophy winners?
That's a question for the ages. We might be able to answer it soon, but that doesn't mean we won't stop fighting each other. When you know the truth, you fight for it. Haskins has the power to end our strife. Or maybe it's Dobbins. Weber, perhaps? Everyone in Zone Six?
The man pictured at the top of this article dares you to bet against him. Let's get Situational!
---
THE FOURS
It's Independence Day, and we're keeping it light since you're basking in freedom and either already day-drinking or about to (relevant: next section).
Let's pay homage to the number four, on this Fourth day of July.
SOME OHIO STATE BUCKEYES WHO WORE NUMBER FOUR

| PLAYER | BUCKEYE LEGACY |
| --- | --- |
| Ken-yon rambo | Best name in roster history |
| Kirk herbstreit | Second-most completions by an OSU QB vs. Michigan in a game (27) |
| CHRIS VANCE | Once shattered his teeth biting into a steak sandwich |
| SANTONIO HOLMES | Owner of the worst unsportsmanlike conduct penalty in NCAA history |
| Kurt Coleman | Made Tyson Gentry a better person by paralyzing him, per Tyson Gentry |
| CURTIS SAMUEL | This GIF and this necklace (tied) |
| RAY SMALL | The biggest recruiting mistake of Jim Tressel's career, without peer. |
| AARON CRAFT | Illustrious 14-year college career, surpassed only by J.T. Barrett (17) |
Enjoy the 4th. Enjoy the jersey's current owner Jordan Fuller, still in progress. Enjoy America.
---
THE BOURBON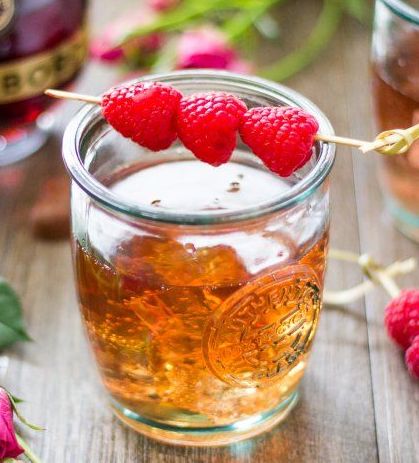 There is a bourbon for every situation. Sometimes the spirits and the events overlap, which means that where bourbon is concerned there can be more than one worthy choice.
It's been five Independence Days since Liber-Tea graced this page, proving that combining America's greatest distillation with England's mid-day teeth browner can be crisp, refreshing and patriotic. Our past and future, in a pitcher.
Today we'll pay respect to the greatest Franco-American collaboration in history, which was the Battle of Yorktown in 1781. If your Revolutionary War knowledge is dusty, here's a quick recap - the French and their Colonial friends ran up the score on the Brits so badly that England was eliminated from the college football playoff in October. England has never recovered. The American championship dynasty has continued unabated since; 1812 doesn't count since the NCAA vacated that entire season.
That L at Yorktown all but ended the Revolutionary War and King George's run atop the Coaches Poll, with co-MVPs George Washington (Continental Army) and Jean-Baptiste Donatien de Vimeur, comte de Rochambeau (France's famed Rock-Scissors Paper battalion) leading the way. 
THE YORKTOWN
OLD FITZGERALD
CHAMBORD
LEMON-LIME SODA
FRUIT
BITTERS
Yorktown made independence possible. Today, once you've drained a few pitchers of Liber-Tea, consider a round of Yorktowns as a nightcap. That's going to require a first-shelf wheated American bourbon, like Old Fitzgerald, and fancy dance partner, like Chambord which is French for "black raspberry liquor."
You'll want a 3:1 Fitz-to-Chambord ratio, a splash of Sprite or whatever clear-ish citrusy soda is floating in your cooler - and a dash of bitters. Berries on a toothpick make for a great stirrer. A nice tumbler glass and some ice (it doesn't have to be fancy ice; you're battling mosquitos and heat stroke - this is no time to get finicky) and you're all set with your nightcap.
Enjoy Yorktown while you enjoy the ambient, patriotic sound of ambulance sirens tonight. 
---
THE PLAYOFF
We are living through the most divisive era in our history. It may seem like we'll never stop hating each other, but that's just fear lying to you. We will eventually all hug it out, and you've got to believe that day is coming. Soon, not soon - it's coming.
Here are the marching bands from Ohio State and Michigan playing America the Beautiful together. 
Thanks for getting Situational today. Go Buckeyes. Go America.