Urban Meyer probably has an idea who his No. 2 quarterback is at Ohio State — but he isn't ready to share it with the world yet.

"I'm not prepared to say who is 2, who is 3, etc., yet," the Ohio State head coach said after Scarlet topped Gray 38-31 to win the program's annual spring game on Saturday.
Joe Burrow served as J.T. Barrett's understudy for the duration of the 2016 season while Dwayne Haskins redshirted. The attention on Ohio State's quarterback room turned to those two players quickly this spring when Barrett announced he planned to return for his fifth season. Barrett is the starter, but who would come off the bench first this fall in the event he can't go remains a clouded mystery. One that only grew murkier with how each played on Saturday.
"I know it is very close."– Urban Meyer on OSU's Backup QB Battle
Burrow finished 14-of-22 for 262 yards and three touchdowns, while Haskins threw the ball 37 times and completed 26 of them for three scores as well (one while he was a member of Scarlet in the first quarter).
"They've done a very good job," Meyer said. "I thought Dwayne and Joe Burrow played well."
How his four scholarship quarterbacks finished the spring — true freshman Tate Martell enrolled in January — made Meyer happy. But to no surprise, he wants to see the film of Saturday before he sits down with Ryan Day and Kevin Wilson to evaluate who is No. 2 on the depth chart.
"We haven't had that [conversation] yet," Meyer said. "I know it is very close."
The two showed great touch on the ball and each completed long passes for touchdowns. Haskins hit Terry McLaurin for a 30-yard strike in the back of the end zone, while Burrow found Johnnie Dixon and Demario McCall out of the backfield to light up his side of the scoreboard.
"The game has really slowed down for me. I can see just about everything that's going on on defense," Burrow said. "Know the offense way better, the ins and outs, what's going on up front. I'd say the game has just slowed down tremendously."
Added Haskins: "I thought it went really well. I just did what Coach Meyer, Coach Day and Coach Wilson asked me to do."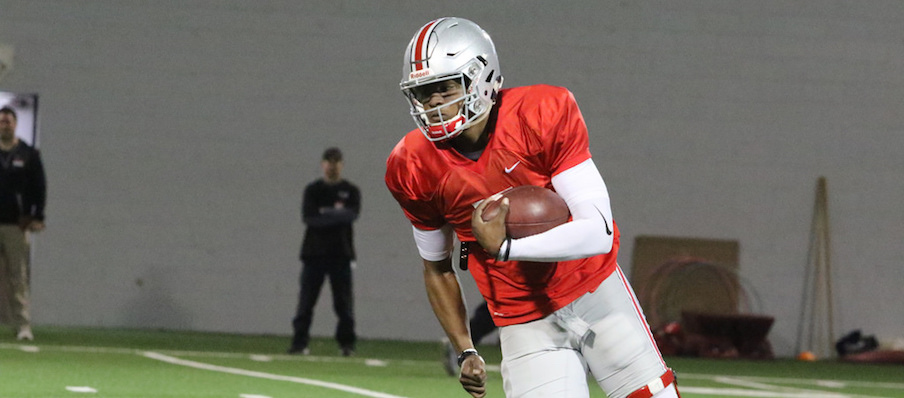 Both Haskins and Burrow said after the game that their focus remains on improving their own game, not worrying about what the other guy is doing. But it is hard to dodge the fact that their battle is important with how much Ohio State likes to use Barrett to run the football.
"I'd say we're all competing every day with each other and ourselves against the defense," Burrow said. "That's what I'm focused on, getting better by myself."
He added that all the quarterbacks are "close friends" and enjoy going out to dinner on weekends with Day. Getting the most out of what he is teaching them is the most important thing.
"I've just got to continue to get better and that's what Coach Meyer, Coach Day and Coach Wilson keep stressing to me, to get better every day because they see the potential," Haskins said. "Just have to continue to put the meetings on the field and continue to get better."
Haskins said he feels like he manages the offense well on the field when it uses tempo. Both he and Burrow showed that on Saturday. The latter has another year under his belt and feels he is up to par with the speed of the game.
Now all that stands in front of them is a long summer ahead of training camp and a constant battle with each other — and themselves.
"I'm just going with the flow, doing what I can do. Grinding every day, getting better," Burrow said. "Really all my focus has been."
"There's a lot of times during the game where you just have to chill out and complete the ball so I just feel I did a great job all spring of being one of the guys who keeps improving each practice," said Haskins.