Ohio State lost its top four and five of its top-six wide receivers as part of the talent exodus from the program last offseason. Its three leading pass catchers from this past season's College Football Playoff team — which struggled to connect on downfield passes all year — are also gone.
Needless to say, there are ample snaps available in Zach Smith's position room.
"We just want to do our job. Make plays when plays present themselves," Smith said in November, the most recent time he spoke to reporters. "Whoever is in the game, we're going to be accountable that they're going to get it done."
Outside of Curtis Samuel, the argument for Ohio State's wide receivers not being held accountable during 2016 is strong. Samuel caught 74 passes last season, more than twice as many as Noah Brown, who finished second on the team. The two combined to catch 14 touchdowns from J.T. Barrett. Both elected to leave school early for the NFL Draft. Dontre Wilson's eligibility expired after he caught 27 passes for 352 yards and five touchdowns his senior year.
That leaves Marcus Baugh, a tight end, as the team's leading returning pass catcher for 2017. A redshirt senior, Baugh became an integral part of Ohio State's hit or miss passing attack in 2017 and caught 24 passes for 269 yards and a pair of touchdowns. K.J. Hill is the leading man back at receiver in terms of production — he snagged 18 passes and scored the first touchdown of the season for the Buckeyes.
Parris Campbell, Terry McLaurin, Binjimen Victor, James Clark and Austin Mack are some of the names that are also back for 2017. Combined, they have three career touchdown catches.
Let's break down the position a bit further by grade.
Senior
Personnel: James Clark
The Skinny: A fifth-year player, Clark is the lone senior wide receiver on the roster after Samuel jumped to the NFL. His career numbers are nothing to write home about — Clark has six catches for 47 yards at Ohio State. All came last season.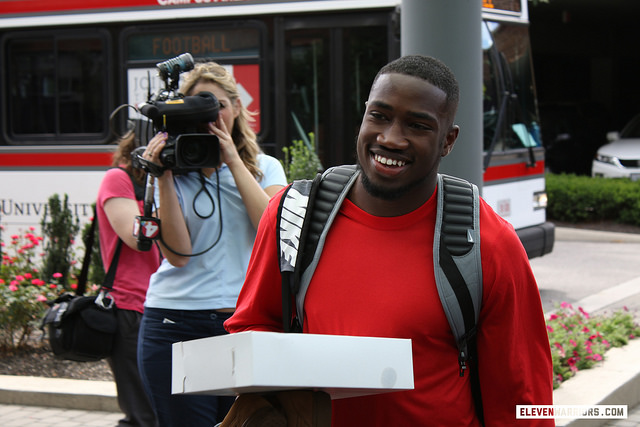 At 5-foot-10 and 186 pounds, Clark is on the smaller side of things when it comes to the younger talent at wide receiver for Ohio State. The staff was able to sign multiple taller and longer players the last two seasons, which puts Clark in a bit of a bind. Is he still good enough to be considered a realistic option on the outside?
That question needs to get answered this spring. Clark played in every game last season and made a minimal impact in the offense, instead being a burner on special teams with McLaurin and Campbell. The passing game had a wide range of issues from Barrett's inaccuracy to pass blocking by the offensive line and play calling. But the Fiesta Bowl showed what difference makers at wide receivers can do. Clemson's Mike Williams, Hunter Renfrow, Deon Cain and Ray-Ray McCloud are just a few of the names that made plays for Deshaun Watson on New Year's Eve. Clark hasn't shown he is anywhere near the same level as a player. Is 2017 finally the year he makes a real impact?
Junior
Personnel: Terry McLaurin, Parris Campbell, Johnnie Dixon, Eric Glover-Williams
The Skinny: Campbell and McLaurin each showed glimpses of promise last season, albeit in different ways. The latter caught a touchdown pass from Barrett in routs of Rutgers and Nebraska, while Campbell grabbed a stranglehold on the kickoff return duties. He nearly returned one for a score against Indiana and twice gave the Buckeyes excellent field position against Clemson.
Both play key roles on the punt team as gunners, which helped turn Cameron Johnston into a Ray Guy finalist and the Big Ten's Punter of the Year. However, the fact is neither blossomed into the go-to player Urban Meyer or Smith wanted them to be at wide receiver. They combined for just 24 catches, 235 yards and McLaurin's two scores despite playing in all 13 games.
Dixon again dealt with injuries all season but actually found his name in the stat book in 2016, unlike previous years. He reeled in six passes for 26 yards and scored a rushing touchdown against Rutgers. Whether or not his knees cooperate will again determine his availability for 2017. But along with McLaurin and Campbell, Dixon isn't of the same mold as some of the younger players at wide receiver. Campbell is the tallest of the three at 6-foot-1.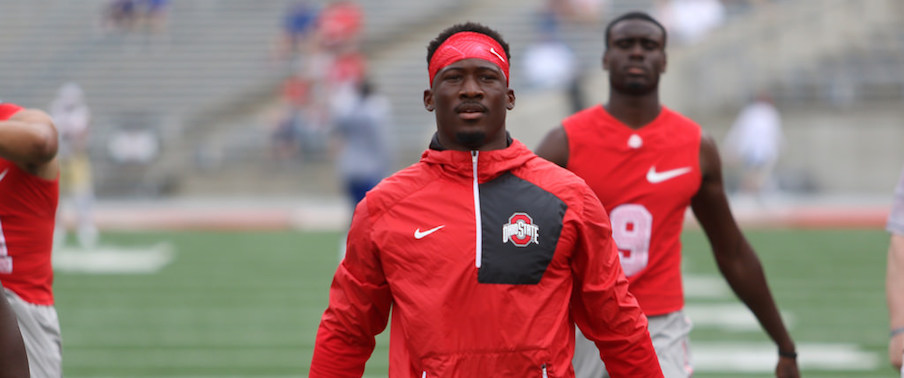 Campbell played running back in high school and looks suited more for an H-back role than playing on the outside. Ed Warinner managed to get him in the end zone once on a reverse flip against Rutgers and he ripped off a trio of other runs that averaged more than 20 yards a pop. McLaurin played well in last year's spring game but needs to take another step in his development.
All three are redshirt juniors, so the clock continues to wind near the twilight of their careers. Each will be involved (Dixon if he is healthy) this fall, so how Wilson integrates them with the freshmen and sophomores will be interesting.
Special teams ace Eric Glover-Williams tweeted on Jan. 10 about joining Ohio State's wide receiver pool, a move likely made by the staff in an effort to bring some explosion to the position. A true junior who always seemed to be involved in tackles on the kickoff team, Glover-Williams is quick as a cat and has good ball skills. If he stays at wide receiver, where he lines up on the offense will be a storyline to watch this spring.
Sophomore
Personnel: Alex Stump, K.J. Hill, Austin Mack, Binjimen Victor
The Skinny: Hill figures to be a large part of what Ohio State does through the air this fall. He showed serious promise last season, has great hands, always seems to catch the ball away from his body and is elusive. He just didn't heed as many opportunities with the other struggles in the throwing game, in addition to fighting through an ankle injury suffered in the win at Oklahoma.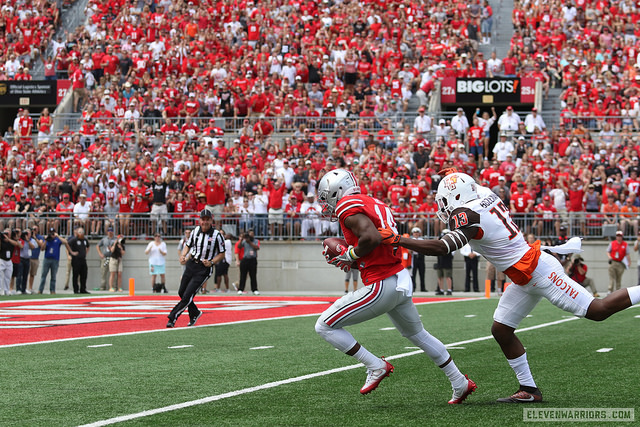 Mack and Victor played as true freshmen but their first taste of college football took different paths. Mack enrolled in January 2016, a 6-foot-2, 215-pounder from Fort Wayne, Indiana, that caught a few passes in the Spring Game. He played almost extensively on special teams but did catch two passes in his debut season. Ohio State burned Victor's redshirt against Rutgers and he caught his first career touchdown in the fourth quarter of a 62-3 blowout at Maryland, a 25-yard strike from Joe Burrow.
Victor's 21-yard catch in the Fiesta Bowl was the longest pass play of the game for Ohio State. That should tell you how dire the need is for playmakers at wide receiver.
Stump came to Ohio State rehabbing a foot injury, so he redshirted in 2015. The St. Edward High School product didn't dress for multiple games this past season but made his first career catch against Rutgers.
It is a crucial spring for Ohio State's sophomore wide receivers.
Freshman
Personnel: Trevon Grimes, Jaylen Harris, Elijah Gardiner, Brendon White*
The Skinny: Sensing the need for a talent upgrade at wide receiver, Ohio State answered the bell on the recruiting trail. The Buckeyes signed a trio of players who played the position all throughout high school and each is at least 6-foot-3. Trevon Grimes is the highest rated of the three, while Jaylen Harris and late add Elijah Gardiner are both 6-foot-5.
Meyer described the latter as a "project," so don't count on him making too much noise in 2017. That isn't the case for Grimes or Harris, however. Grimes is rehabbing and ACL injury sustained in his senior season at St. Thomas Aquinas and the Buckeyes really like what Harris did his final year for Cleveland Heights.
Like Eric Glover-Williams before him, early enrollee Brendon White also tweeted that he will be a part of the Ohio State wide receiver room. White refuted that a bit on National Signing Day, telling reporters he is unsure whether he will end up there are at linebacker. Either way, his athleticism is off the charts.
Grimes has the edge to give the largest bump to Ohio State's passing game if he comes to campus in June healthy. Like former high school teammate Nick Bosa, who also had an ACL injury his senior year of high school, Grimes is expected to play immediately. Harris could too but as we've seen so far in Meyer's tenure, not too many freshmen wide receivers do. These three (or four) names look to change that.
---
With such minimal production from wide receivers not named Curtis Samuel in 2017, the group arguably needs to take the largest step forward during the offseason. Talent isn't an issue and more is on the way. Zach Smith just needs to get it in a spot where it can be exploited by Kevin Wilson and J.T. Barrett.
Can anyone become a star? Which guy can grow into a consistent player that can stretch the field? Replacing Samuel's production won't be easy — he was the perfect H-back — but the excitement in Columbus after Kevin Wilson's arrival is palpable.
Now it is on Barrett and the wide receivers to make it happen. More plays made in the passing game means more balance on offense, which is what Urban Meyer wants.