Welcome back to Remember When, where we delve into some interesting moments in Ohio State sports history.
Previously, we looked back on the time that Ohio State apologized to Michigan for any damage caused to the Michigan band, but the tables have turned. A year later, the rivalry resulted in another apology after Michigan reacted poorly to Ohio State's upset in 1955.
To set the stage for this powder keg of a game, the No. 6-ranked Wolverines entered the matchup in Ann Arbor with a trip to the Rose Bowl on the line. The Buckeyes led by head coach Woody Hayes and future Heisman winner Howard "Hopalong" Cassady laid a beatdown on Michigan, 17-0.
As Michigan realized their Big Ten title and Rose Bowl hopes were ruined at the hands of Ohio State, the game took a turn with the Wolverines racking up penalties and directing their anger toward the referees.
From the November 21, 1955 issue of The Lantern: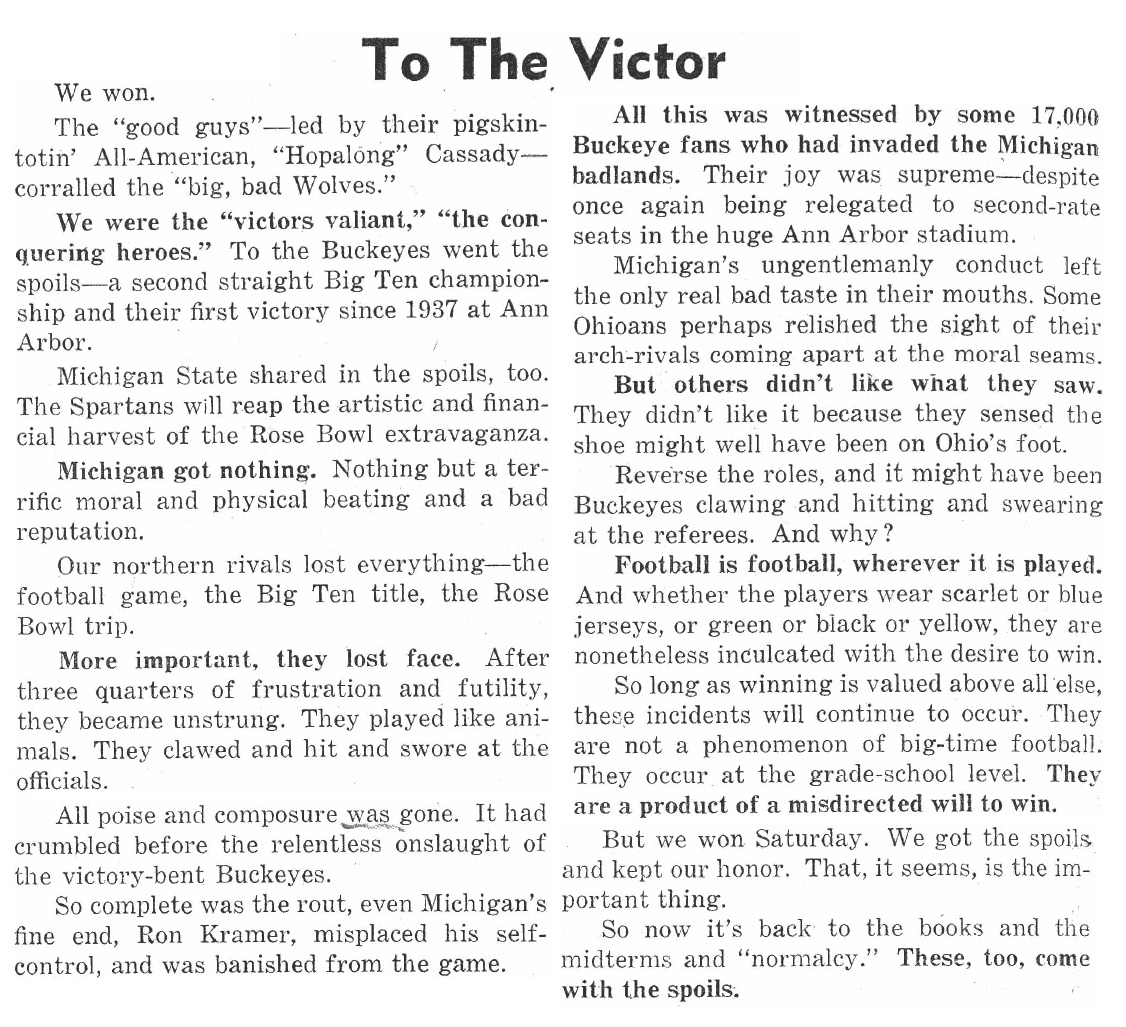 From the same issue: 

After witnessing Michigan come undone at the seams and combusting, Ohio State fans took the liberty of rushing the field and making quick work of their goal posts with 25 seconds still left in the game, bringing more chaos with them.
...followed by Ohio St. fans doing the exact same thing vs. Michigan. Also this clip ends with a guy getting straight up decked in the face. pic.twitter.com/nEG1BGZvax

— Matt Hinton (@MattRHinton) January 27, 2017
Michigan issued an apology to Ohio State two days later for the events and to put any ill feelings to bed while Michigan State thanked the Buckeyes for their effort in sending them to Pasadena instead of Michigan.
From the November 23, 1955 issue of The Lantern:

Whether it was a simple "unpack" or a reference to the scoreboard, that was all it took to send Michigan into a tailspin of sore loser mentality.