Welcome to the G.O.A.T. Game Tournament, Eleven Warriors' quest to crown the greatest Ohio State football game in history. We move on to the Final Four, featuring iconic Buckeye wins from 1942 to 2006.

Let's meet our final four teams:
Michigan #1: 2006 vs. Old School #1: 1942 Iowa Pre-Flight. "The Game of the Century" vs. the win that sealed Ohio State's first championship.
Bowls #1: 2003 Fiesta vs. Regular Season #2: 2002 Purdue. Jim Tressel's masterpiece vs. Holy Buckeye!
​There can only be two!
#1: 2006 — No. 2 Michigan at No. 1 Ohio State
Tournament Recap: In the first round, The Game of the Century demolished Earle Bruce's final game, 92 to 8 percent. It continued its dominance in the second round, rolling over fourth-seeded 2016, 75 to 25 percent. It rolled 2002 in the Elite 8, 73 to 27 percent.
THE TAPE
Score: 42-39
T. Smith: 29-41, 316 YDS, 4 TD, 1 INT
A. Pittman: 18 CAR, 139 YDS, 1 TD
T. Ginn: 8 REC, 104 YDS, 1 TD
Now known as "The Game of the Century," Lloyd Carr's and Jim Tressel's offenses both scored on their opening possessions, with the Wolverines drawing first blood on a one-yard Mike Hart touchdown run, and the Buckeyes rebutting when Troy Smith found Roy Hall for a two-yard touchdown reception.
Ohio State true freshman Beanie Wells, a five-star recruit from Akron, Ohio, gutted Michigan on a 52-yard touchdown run to start the second quarter. The subsequent extra point from Aaron Pettrey made it 14-7, and the Buckeyes would never surrender the lead again.
Troy Smith went to work shortly thereafter, using his arm to mince the Wolverines defense. He finished with 29 completed passes for 316 yards and four touchdowns to four different receivers.
#1: 1942 — Iowa Pre-flight at No. 3 Ohio State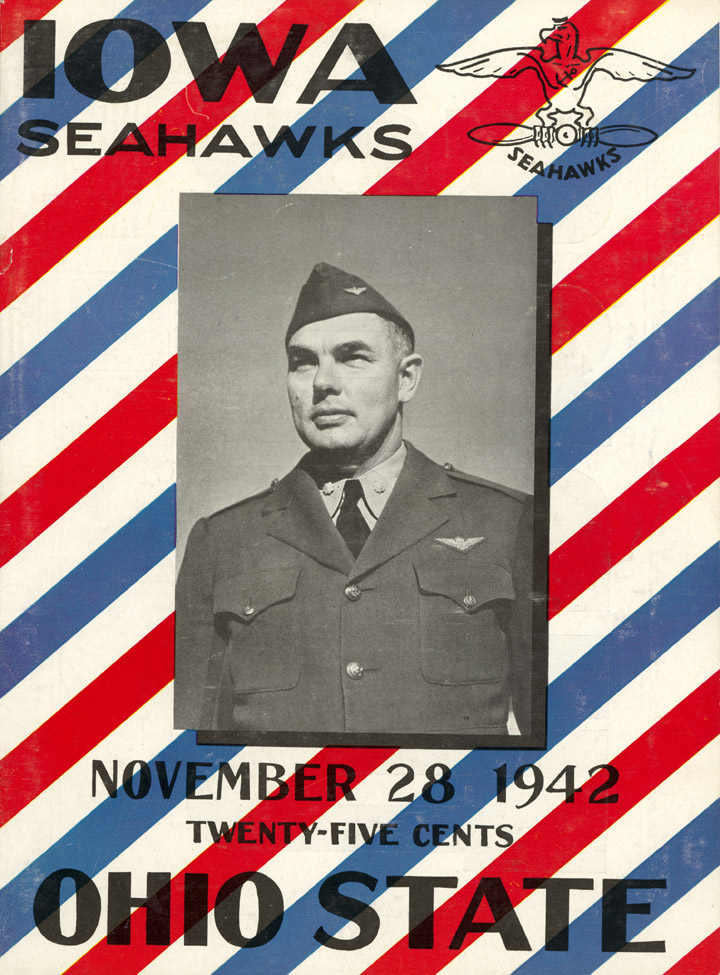 Tournament recap: 1942 Iowa Pre-Flight demolished 1945 Minnesota, 75 to 25 percent in the first round. It demolished 1930 Minnesota in Round 2, 74 to 26 percent. It survived an upset bid from Vic Janowicz's Herculean effort against Iowa in 1950 in the Elite 8, 53 to 47 percent.
The United States Navy commissioned pre-flight schools at colleges around the country in 1942 after America entered World War II.
Cadets were given "three months of rigorous physical instruction" before graduating to the Pacific Fleet. Sports were particularly stressed at these schools as the Navy thought they prepared young men for the rigors of military life.
Iowa's roster included Buckeye halfback Dick Fisher, a two-sport star and member of Ohio State Varsity "O" Hall of Fame, as well as former Buckeye Don Langhurst. 
On Nov. 28, 1942, Iowa Navy rolled into Columbus for a date with No. 3 Ohio State. The Buckeyes had trounced Michigan the week before to win the Big Nine title in front of 75,000 fans. 
Curiously, only 27,259 fans came to the Horseshoe that day to watch Ohio State's backfield stable led by Les Horvath, Paul Sarringhaus, and Gene Fekete. 
Paul Brown's men out gained Iowa Navy 277 to 200. Their overall team speed was too much for the Seahawks to handle as the Buckeyes rolled to a 41-6 win.
No. 1 Boston College and No. 2 Georgia Tech lost that same day, giving Ohio State its first national championship in school history.
#1: 2003 Fiesta Bowl — No. 2 Ohio State vs. No. 1 Miami
Tournament recap: The 2003 Fiesta Bowl mollywhopped the 1974 Rose Bowl, 98 to 2%. It made quick work of the 2015 Sugar Bowl in the second round, 62 to 38 percent. The 2015 CFP championship proved even a lesser foe in the Elite 8, as the 2003 Fiesta triumphed, 85 to 15 percent.
Jim Tressel's Ohio State team entered the 2003 Fiesta Bowl ranked No. 2 in the country over heart-pounding wins over Purdue, Illinois, and Michigan to close the regular season at 13-0 for the first time in school history.
THE TAPE
SCORE: 31-24
C. Krenzel: 7-21, 2 RUSH TD
M. Clarett: 23 CAR, 47 YDS, 2 TD
M. Doss: Defensive MVP, 1 INT
The Buckeyes faced their tallest task in the title game against defending national champion Miami, an undefeated team that had outscored opponents 503-217 and featured future NFL standbys like running back Willis McGahee, wide receiver Andre Johnson, tight end Kellen Winslow II, linebacker Jonathan Vilma, cornerback Antrel Rolle, and safety Sean Taylor.
Despite the disadvantage in future pros, the Buckeyes battled the Hurricanes to a 14-7 halftime lead behind two touchdown rushes from Craig Krenzel and Maurice Clarett. 
With the Hurricanes trailing 17-14 and McGahee sidelined by a Will Allen tackle, kicker Todd Sievers boomed a 40-yard field goal as time ran out to to send the a national championship game into overtime for the first time ever.
Dorsey found Winslow for a seven-yard touchdown pass on the ensuing drive to draw first blood. After a controversial (but ultimately correct) pass interference call extended the Buckeyes' rebuttal drive, Krenzel dove into the endzone to tie the game at 24.
Clarett's five-yard dash gave the Buckeyes a 31-24 lead on the next possession, which became the final score when linebacker Cie Grant threw Dorsey to the turf on 4th down after a goal line stand by the Silver Bullets.
#2: 2002 — No. 3 Ohio State at Purdue
Tournament recap: 2002 Purdue trounced Kenny G's Symphony from 2012, 80 to 20 percent. It ran over 1995 Notre Dame in Round 2, 65 to 35 percent. It became the only non-No. 1 seed to advance to the Final Four with a 61-39 win over 1968 Purdue in the Elite 8.
The 2002 national championship team made a calling card of thrilling victories and improbable comebacks.
THE TAPE
Score: 17-13
C. Krenzel: 13-20, 173, 1 TD, 1 INT
M. Clarett: 14 CAR, 52 YDS
M. Jenkins: 5 REC, 87 YDS, 1 TD
After three wins against Wisconsin, No. 17 Penn State, and No. 23 Minnesota, Ohio State appeared to entire softer two-week stretch of trips to unranked Purdue and unranked Illinois ahead of its annual knuckleduster with Michigan in Columbus.
But the Boilermakers didn't get the memo. The game devolved into a battle of field goals, usually a recipe of success for Jim Tressel. But things took a turn for the worst when Purdue used his own weapon against him midway through the fourth quarter to take a 6-3 lead.
With 1:52 left in the game, the anemic Buckeye offense faced 4th and 1 on Purdue's 37-yard line. Tressel threw his nature to the wind and dialed up King Right 64 Y Shallow Swap.
Craig Krenzel linked up with Michael Jenkins for the game's only touchdown with a play-by-play call from ABC announcer Brent Musberger that will live forever. 
"They're going to show the I-Back behind the Fullback on Fourth down. It could be up to the Offensive Line... no, Krenzel's going to throw for it! Gotta get it off! They go for the ballgame... touchdown! Touchdown! Michael Jenkins! On fourth and one! Would you believe it!? Craig Krenzel strikes with a minute and a half left! Holy Buckeye!"