"So when I did come to Michigan State, I had the opportunity to work with a guy who had been in the NFL and had a, obviously, a lot of success as a coordinator in the NFL. So my knowledge in the secondary grew greatly in those five years. I appreciate everything that he's done for me in that vein." - Mark Dantonio on his time as a Spartan assistant.

For those under the age of 30, Nick Saban and Mark Dantonio have been thorns in the side of the Ohio State football program for as long as you can recall. The former has been the most dominant force in college football for the past decade while the latter led the only other Big Ten program to earn a spot in the College Football Playoff thus far, keeping the Buckeyes from fulfilling their championship hopes in both 2013 and 2015. 
Fortunately, I am old lucky enough to remember the national title run in 2002 led by Jim Tressel, Craig Krenzel, Maurice Clarett and a slew of other legends, and for me, Dantonio's place in Buckeye lore is firmly cemented. With no live sporting events to draw my attention these days, I've found myself watching replays from that magical season on youtube in recent days, reliving the excitement of moments like Chris Gamble's pick-six against Penn State and Will Allen securing OSU's spot in the BCS title game.
As the architect of a legendary unit that featured two consensus All-Americans in safety Mike Doss and linebacker Matt Wilhelm along with a defensive line that featured four all-conference performers that year, Dantonio quickly became a household name in his home state after the OSU defense allowed the second-fewest points of any team in the nation.
While the conservative, ball-control style of play was branded Tresselball, Dantonio's role in the team's success was never up for debate. While much of the media's focus may have been on the star freshman tailback, it was the defense that held four top-20 offenses - Texas Tech, Washington State, Penn State, and Miami (Fl) - well below their average outputs that season.
Dantonio joined the program in 2001 upon Tressel's hiring, as the two had built a bond while working together at Youngstown State in the late 1980s. But following a half-decade in the Mahoning Valley, Dantonio had left for Kansas, which then paved the way for a much more important move four years later.
When Saban left Bill Belichick's staff with the Cleveland Browns in 1995 to take over in East Lansing, he brought Dantonio on board to coach the secondary.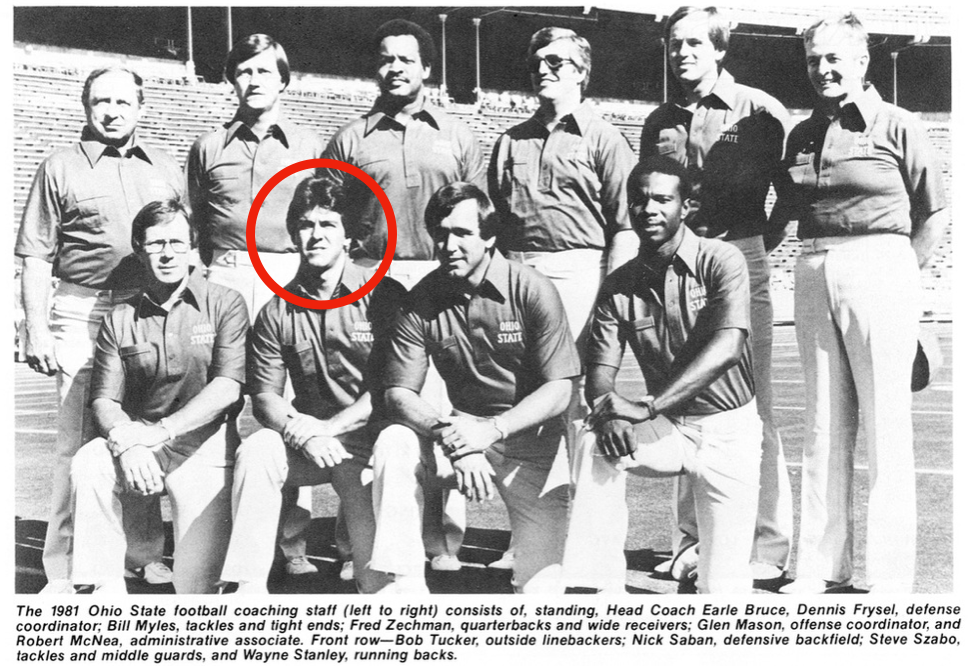 "I remember Mark when he played at Zanesville High School. I was the coach that recruited that area," Saban said of the first time he met Dantonio as a young, Kent State assistant. "So when you kind of know these people and you develop relationships with them, you never forget them. Mark coached at Kansas with Glen Mason who I coached with at Ohio State and had done a really good job. I thought we were fortunate to be able to hire him and he did a fantastic job for us in the five years that we were there."
During that time, Dantonio learned and coached in what would become one of the sport's most celebrated defensive systems, setting the standard for excellence during a period in which offenses evolved a pace never seen before. Though Saban's approach wouldn't be fully appreciated until after he began winning titles in Tuscaloosa a decade later, the foundational philosophies were set in place back when he and Dantonio wore Spartan green together.
"Had I never had that opportunity to go to Michigan State, I wouldn't be sitting here right now," Dantonio said of his time working on Saban's staff in the late 90s. "He's a defensive back guy. I'm a defensive back guy. So I learned a tremendous amount of football in that time."
Upon taking the Ohio State defensive coordinator job, Dantonio applied what he learned under his former boss. Though the Buckeyes would play a 4-3 Over with a variety of zone coverages behind it, which was common at the time, the details instilled by Dantonio can still be seen from Saban's defenders today.
First and foremost, the 2002 Buckeyes played a great deal of Cover 3 zone on early downs, as it allowed Doss to become the eighth defender against the run. Instead of simply lining up there from the start, however, Dantonio's safeties would often begin in a two-deep shell before rotating Doss down to become the alley defender, known as an Apex player in Saban's system.
This allowed Doss to go unblocked and fill off the edge on a regular basis, stuffing run plays with great effectiveness and earning him Big Ten DPOY honors that fall. This rotation is still often seen in Saban's system today, with Cover 3 calling for the safety to roll to the passing strength while Cover 6 is the exact same coverage, just with the safety rolling to the weak side.
As he rotated, the safety would make a Rita (right) or Linda (left) call to alert the rest of the defense to his alignment, mimicking the Rip/Liz calls made famous by Saban's safeties. Below we can see a Cover 3 "Linda" rotation as Doss rotates to the two-receiver side on the left:
While this is a Cover 6 "Rita" call opposite the side of a tight end and receiver:
What may have been the most important lesson Dantonio learned in his time working with Saban was the advent of Man-Match Quarters coverage, which Saban calls Cover 7. The coverage begins in a two-deep shell but effectively becomes man-to-man with four defenders corralling three receivers on one side with three defenders left to defend two receivers on the other.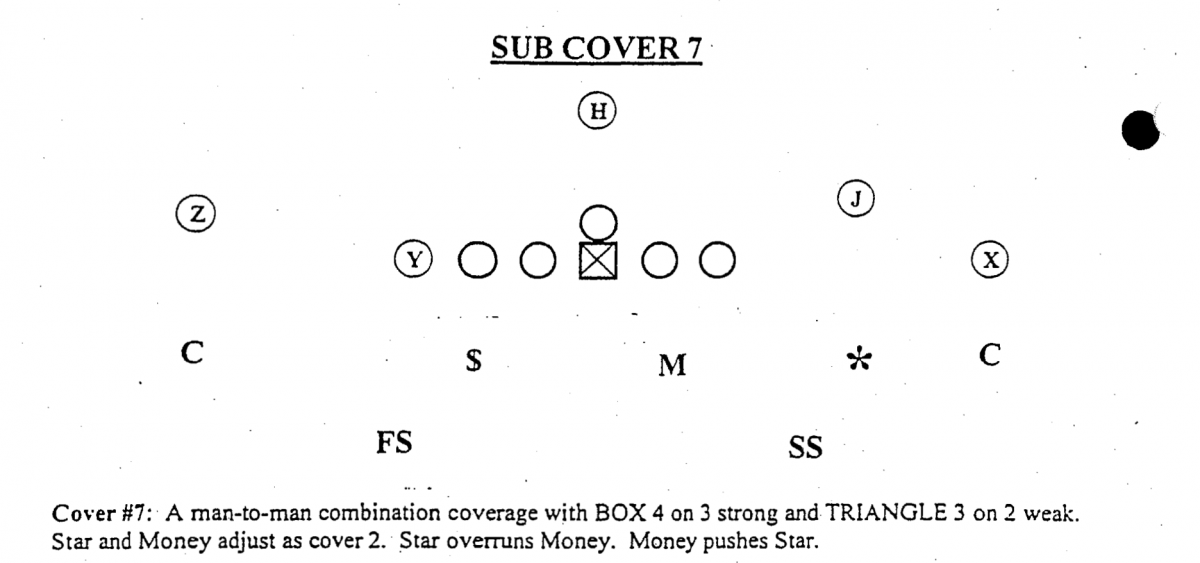 The Buckeyes primarily used it in third-down passing situations that fall, as it's most effective against 11 personnel, which was rarely seen otherwise in those days.
Author's note: Film of the secondary is difficult to find from this era, so please forgive me for using a clip of Michigan completing a Flood concept, which remains a popular counter to Quarters coverage even today. The safety, Donnie Nickey (#25) can't close on the slot receiver's deep out for which he's responsible in this modified version of man-coverage.
Following his time in Columbus, Dantonio would take the head jobs at Cincinnati and later, Michigan State. There, he'd become known for making this coverage his bread-and-butter defensive scheme thanks to the help of his protege, Pat Narduzzi. Together, the duo created a defensive identity of their own which became so strong that Urban Meyer hired Chris Ash to effectively duplicate it in Columbus before the 2014 season.
While Dantonio was working in the Woody Hayes Athletic Center a decade prior, though, he was still borrowing quite heavily from what he learned in his prior job. In a move some still find controversial, despite all the success he's found, Saban stopped teaching his defensive backs to backpedal while working for the Browns, meaning Dantonio became responsible for teaching his players the half-turn technique on a daily basis in East Lansing.
"Backpedaling is the most overrated thing about playing in the secondary," Saban said during a clinic speech in his time as the Spartans' head coach. "I used to teach them how to backpedal all the time until I got Everson Walls. The guy has 66 interceptions in the National Football League and cannot backpedal. Cannot backpedal and runs a 4.8 40 while playing corner. But he can play in a half-turn and maintain position and drive out of a half-turn just as well as any player as I've ever coached could do it out of a backpedal."
As seen below from Chris Gamble, Dantonio brought the shuffle-and-match technique with him from East Lansing, which allows the corner to stay on top of underneath throws and open up to run with vertical routes more easily. Unlike a corner who backpedals and has to complete a full, 180-degree turn while the receiver continues in a straight line, Saban's and Dantonio's corners had far less wasted movement.
It's evident that Dantonio and Saban shared a kinship due to their backgrounds as secondary coaches.
"He'd start a sentence and I'd finish it, and vice versa," Dantonio said during a roundtable interview at Big Ten media day in 2013. "I knew exactly what he knew, and there was power in that."
Both found far greater heights than what they achieved together in the late 90s. Saban has become perhaps the greatest college coach in the modern era thanks, in large part, to a defensive system that has grown by leaps and bounds since he and Dantonio worked together in East Lansing. Today, his Alabama defensive playbook is over 500 pages thick to accommodate the vast array of fronts, coverages, checks, and blitzes.
Meanwhile, Dantonio used his time as an assistant under both Saban and Tressel to define his own experience as a head coach. But although he did cause some pain for Buckeye fans earlier this decade, he played a large part in bringing them a great deal of joy throughout the fall and winter of 2002.
"Yeah, it's difficult. Let's not kid ourselves. It's difficult," Dantonio said of working for Saban before their two teams squared off in the 2015 CFP. "But there's a silver lining with that. I knew when that ball went over our guy's head, he was never going to look at me and say what were you telling them? So there were a lot of positives there. He taught me a lot about organizationally and preparation for games. A lot of the things we do and the way our program is shaped is patterned after really Jim Tressel and Nick Saban."