"We were starting from absolute ground zero" - Scott Frost on his first season as Nebraska head coach

Few Buckeye fans walked away from last November's 36-31 victory over the Cornhuskers feeling great about their team's performance that afternoon. Coming on the heels of a disastrous loss to Purdue the game prior, many in Columbus expected to see an improvement from the beleaguered defense as they faced off against a 2-6 opponent who had been smacked around 56-10 by Michigan a month prior.
The Huskers tallied 450 yards of offense in Ohio Stadium that day, continuing a trend that proved the trip to Ann Arbor was the exception, rather than the rule in Scott Frost's first campaign back in Lincoln. Though the former Husker QB himself watched his team struggle to gain 132 yards of offense in the Big House last September, his offense quietly grew into one of the nation's best by year's end, amassing 500 yards or more on five occasions last fall.
"That's a two-win team that people don't want to play right now," Urban Meyer said following his team's close win over the Huskers. "Like I said, on videotape, I wasn't expecting to see what I saw. And very good players, very good scheme and guys are going to get very good." 
Now, as Frost prepares for his second season in charge, he can build on an established foundation. As he told the local media following the conclusion of this year's spring game,
"A little less emotional this year than last. That was pretty special coming out of the tunnel. It had been a long time for me. Year two is when you get everything built, trying to get it built. Year two is just easier for a head coach. I don't lose my voice at practice near as much. There's not as many details that I have to fix, and it was fun just watching today and watching the assistant coaches operate, watching some of the guys play well. There is still a lot we need to fix. We are not a finished product by any means. We're just somewhere in the process of getting the whole thing built the way we want it to, but my job gets easier further down that road we get."
There's good reason for Frost to be excited about his team's prospects this season, one in which they welcome Ohio State on September 28th, as talented QB Adrian Martinez returns for his sophomore season after a very promising freshman effort. Though never formally offered by the Buckeyes, it's easy to see why Meyer and Ryan Day were intrigued by the 4-star prospect, as his unique blend of size, athleticism, and arm strength would've made him a logical successor to J.T. Barrett in Ohio State's spread-option system.
But like Day, Frost borrowed from his time working as an assistant for Chip Kelly in Oregon and brought the triple-option back to Lincoln. Martinez proved deadly in this shotgun option attack, in which the pitch-man in the I-formation version is replaced by a screen pass outside.
Frost's run game is unique in his use of lead blockers. Not only are tight ends often brought across the formation on split-zone concepts and through the middle on zone-insert runs that resemble an old-school iso play in which the fullback takes out the middle linebacker, but the Husker tackles pull more often than the guards. 
Such a difference may seem minor, but many linebackers use the guards as a key to determining where the ball is going on a given play. In Frost's offense, the guard often blocks out before the tackle leads the runner through an inside gap.
Frost isn't afraid to combine gap schemes like the one above with an option element. Taking a page directly from the J.T. Barrett playbook, the Huskers use Martinez as the interior runner in a Counter play in which there is also a BASH (back-away) speed sweep concept.
As an option expert, it's no surprise that Frost features a deep and dynamic selection of RPO concepts in his playbook. Such plays made life easier for the young Martinez, as it asked him to simply make one quick read and distribute the ball accordingly.
Frost applied this thinking to the screen game as well, stretching the field horizontally and simply asking Martinez to read the numbers to either side. With a different screen concept called to either side, the young QB simply looked for where the offense had equal or better numbers, allowing him to spread the ball to one of the many skill players at his disposal.
Martinez thrived in this distributor role, echoing the job done by Barrett for four seasons in Columbus. It's hard to watch this Nebraska system, which is so similar to the one Day has implemented at OSU, and not see parallels between the skill sets of Barrett and Martinez.
While many in the Buckeye state have already begun to forget just how effective Barrett was in his role in such a system, Frost would assuredly take a three-time all-conference player at the most important position. As such, he knows that his window for winning with Martinez is a small one.
"We feel like we've got a really good quarterback and we're in a hurry to surround him with the type of weapons that we need in order to have a really good offense," Frost said last April during an appearance on local radio. "You're kind of on a clock with that. We feel really good about young quarterbacks, but while we've got a guy like Adrian, we want to surround him with as many good weapons as we can and guys that can change games."
The Cornhusker offensive line really struggled in the first month of the season, giving up four sacks in their September trip to Ann Arbor. With Martinez's athleticism, however, Frost began rolling out the young QB and shrinking the field by half, simplifying his decision-making process. 
As seen in the example above, the area where Martinez appears to differ from Barrett is with arm strength. Few players are able to throw a 30-yard dart off while rolling to their left. Martinez uses almost no lower body strength to make that throw and still fires in an accurate pass downfield.
This lateral movement sewed confusion for defenses, as they often over-rotated in the direction of the rollout, allowing for Nebraska to run delayed screens to the backside. Additionally, however, they ran Leak concepts that acted as constraints to the initial constraints (the screen pass), showing the depth of Frost's scheming.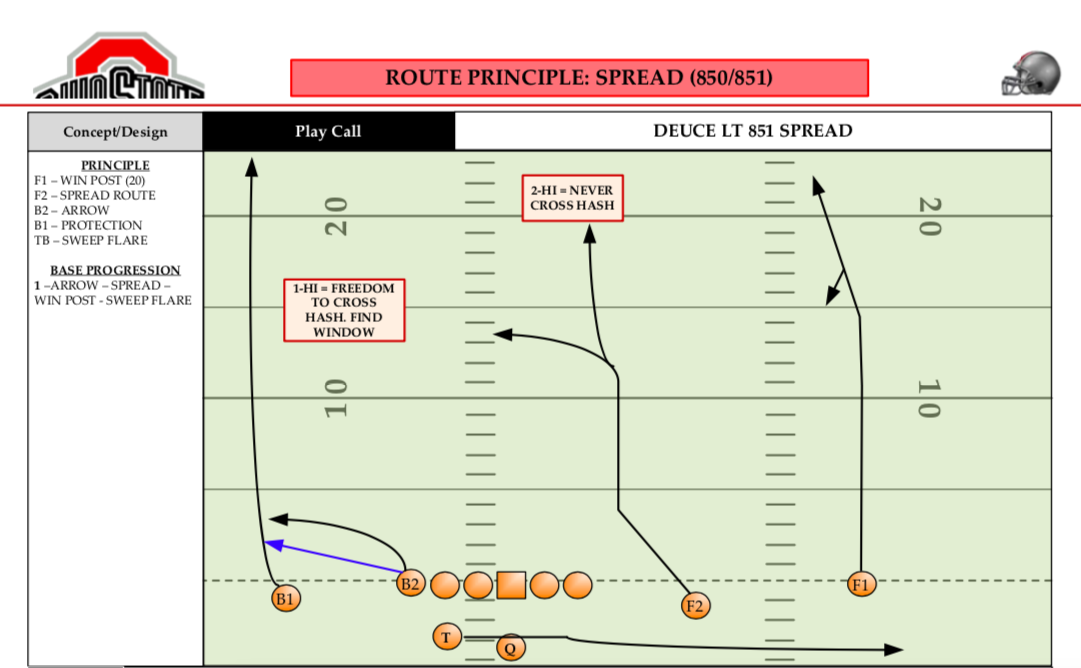 Showing yet another similarity to the Ohio State system, Frost relies heavily on the Saints concept made famous by Kelly when looking to throw downfield. While this concept has become commonplace across the sport in recent years, sending three receivers deep with a receiver in either flat (which the Buckeyes refer to as Spread), Frost does a great job of disguising the concept with different personnel, formations, and high-low route concepts, much the same way Day has done in Columbus.
Frost even goes a step further, building a constraint off the Saints/Spread concept by releasing the running back on a wheel route up the field. This wrinkle can be deadly against linebackers that struggle in pass coverage, as they're no match for the Huskers' speedy backs.
Despite all the positives, there is still work to be done in Lincoln. While Martinez proved capable of making quick decisions in the option game, he made a number of decisions he surely would like to have back. 
For instance, this triple-option screen pass in the red zone against the Buckeyes may well have changed the outcome of the entire game. With a difference of only five points in the final score, this decision may have cost Martinez's team the game.
Some of the mistakes Martinez made were less obvious. While he does a great job avoiding the corner blitz in the example below, he rushes his throw to a wide open tight end downfield. Instead of setting his feet and delivering an accurate ball, he sails the throw out of bounds and misses an easy touchdown.
But while he still needs to refine his game, Martinez is not what's holding this offense back from achieving great things. Though it sounds cliche, the success of this unit hinges on the offensive line.
The Huskers have plenty of options at the skill positions, led by rising junior J.D. Spielman. But the three returning starts up front may be important. 
Ohio State eventually outlasted Nebraska last fall not only thanks to the firepower of their own offense but because their talented defensive line eventually won enough individual battles to stymie the Big Red.
Frost has proven both at UCF and now in Lincoln that he's more than capable of out-scheming nearly any opponent through the use of varying tempos, personnel, and concepts. As the 2018 season wore on, his team's execution began to finally catch up. Though they struggled against the vaunted Michigan defense in week three, they more than held their own against Iowa's seventh-ranked defense, tallying 400 yards of offense in a last-second loss.
Given the jump UCF made in Frost's second season in Orlando, improving from a 6-7 record to 13-0 led by a talented sophomore QB of their own, one should expect the Huskers to improve mightily in 2019 themselves.