"To achieve success, you cannot come out and play base defense on first down." - TCU head coach Gary Patterson

Despite already being considered one of the sport's most respected strategists, Gary Patterson is unique among his peers. While other successful head coaches that built their reputations on the defensive side of the ball like Nick Saban, Mark Dantonio, and Bob Stoops handed over play-calling duties once they took the top job, Patterson still sends in calls to his Horned Frog defense before every single snap.
The results of his approach speak for themselves, as Patterson's defenses have routinely stymied the uptempo, pass-happy offenses of the Big 12, leading countless fellow coaches to study, and in many cases, implement, his once-unique 4-2-5 system. After joining the conference in 2012, TCU surprised many by winning the league in only their third season, earning a mantle full of coach-of-the-year awards that complemented a similar haul Patterson earned following the 2009 campaign.
Now, entering his 18th season in charge of Texas Christian University football, Patterson has firmly entrenched his program among the sport's elite despite failing to recruit at the same level as his conference rivals in Norman and Austin. Much of this success is due to the hiring of offensive coordinators Doug Meacham and Sonny Cumbie to install a version of the Air Raid offense prior to the successful 2014 season, but the secret to TCU's success has long been the man in charge of its defense.
That defense, once considered exotic, became the blueprint for many of the coverages and techniques seen all the way from high schools to the NFL today. Yes, Patterson keeps five defensive backs on the field at all times, but many defenses spend the majority of time in 'nickel' personnel in the modern, spread era. What set TCU apart long ago was the manner in which Patterson's unit operates.
Instead of making one call for all 11 players, Patterson breaks his defense into three parts. First, the four down linemen and two linebackers get a call for the front, instructing them on how to defend the six interior run gaps.
Behind them, the secondary is split in two, allowing Patterson to call different coverages to each side of the field. The free safety will receive and relay the call meant for himself, the strong safety, and field cornerback, while the weak safety receives a unique call for him and the boundary corner.
"It used to be you would see if you could beat people with seven in the box against a two-back team," Patterson said in a weekly press conference in 2015. "Now people are willing to add more in the box to stop the run, so now you have more susceptibility to getting the ball thrown over your head. That's one of the reasons I went to a five-defensive-back system. Somewhere on the field I can play man coverage and add a guy to the box, and in other places, I could play zone."
Those secondary calls often featured a strain of pattern-matching defense known as Robber or 2-Read coverage (though Patterson calls it 'Cover 2'), which looks like man-coverage to the offense but allows the free safety to read the eyes of the QB and break on underneath throws instead of playing deep like a centerfielder.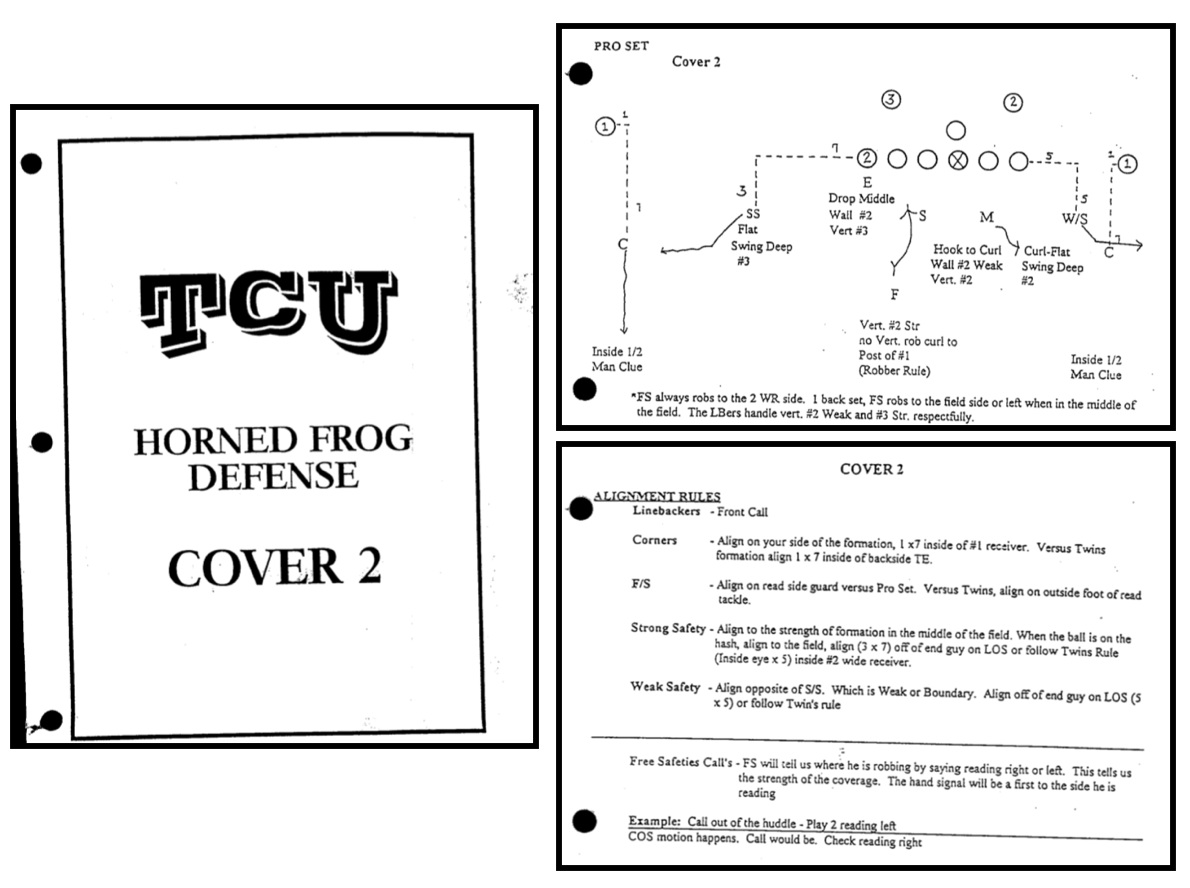 As you can see by the scanned version of a playbook that saw the Xerox machine countless times over the years, this coverage isn't exactly new. 
"They've been doing the same thing defensively for 20 years, and it doesn't look any different now than it was back when they were really good a decade ago," West Virginia head coach Dana Holgorsen told the Dallas Morning News last fall. "That's his stamp on the program and his stamp on college football."
It should also seem familiar to Ohio State fans, as this system was most recently seen under the employ of USC in the Cotton Bowl. But while the Buckeye staff and players may have gotten an early look at a system that will provide their stiffest early-season test, there's no doubt that Patterson is even more familiar with their playbook.
"We go back. That's why I've already watched our first four [2018 opponents] three times through, of all their cut-ups," Patterson said at last week's Big 12 media days. "How do you prepare for two-a-days? 'Cause you gotta put everything in that you're gonna play, you gotta play your own offense, plus you gotta start teaching what [opponents] do, and you have to have answers. You can't wait until the week of [the game]."
While many coaches preach the virtue of focusing on only the opponent in front of them, Patterson spends the offseason reviewing each team on the upcoming schedule and allocates time in spring and fall training camp to defend a unique scheme they may only see once.
"One of the biggest mistakes people make is: you don't have an answer," Patterson added last week. "And you wait until the Sunday of game week, then you want to teach your kids. We try to come up with that answer in the spring and in two-a-days, when you have extra practices, not when you get two days — a Tuesday and a Wednesday — and the other two days you're in shorts."
But the true key to Patterson's success has been his aggressive style of play-calling. Instead of mastering a small handful of coverages and allowing his defense to sit back and read the offense, Patterson instead tries to anticipate the play-call based on personnel and down-and-distance in an effort of keeping the offense behind schedule.
"We blitz on first down plays looking to put the offense in a second-and-long situation," Patterson said at a 2015 coaching clinic. "We can run a bullets B-gap blitz, which brings both linebackers into the B-gaps with the down tackle slanting the A-gap on first down. If the offense runs a zone play, they are in second and 12 yards for the first down. If that happens enough, it will slow the offense down. Instead of lining up and going fast, they will slow down to see how we align before they call their play.  Their advantage of going fast and controlling the tempo is now your advantage. You cannot do that and play a base defense. You must call a better [play] call than they do."
This approach paid off in full last season. As detailed by Bill Connelly of SBNation, the Horned Frogs led the nation in rushing success rate (keeping the offense from achieving their desired yardage on each down), and were eighth in stuff rate (running plays stopped at or behind the line of scrimmage). While they were equally prone to giving up big plays as a result of this aggressiveness, opposing offenses were often stifled and put into the situations they least desired.
To see this chess match play out in real life, let's examine the opening series from TCU's early-season matchup with Arkansas in 2017. The Razorbacks came out on first down in a 3x1 set with the tight end attached to the boundary, stretching the defense to the field.
While it's unclear whether it was called from the sideline or an assigned check on the field due to the formation, the TCU defense called for the strongside linebacker to blitz through the B-gap against the look. That blitz occupies the left guard, leaving the tackle one-on-one with star end Mat Boesen, who shakes off the attempted cut block and disrupts the quarterback's throw just enough that it ends up too far in front of the receiver.
While a good quarterback likely completes this throw even with the end in his face, the blitz did its job, forcing a 2nd & 10. Thanks to the incomplete pass, though, Patterson has plenty of time to think about the next defensive call with the clock stopped, a luxury rarely found in the Big 12 with its bevy of hurry-up/no-huddle offenses.
"The defensive coordinator on the sidelines has between 6 and 14 seconds to get his defensive call into the game and set the defense's alignment for the next play," Patterson said at the clinic. "How many people make their living in a three-hour window on Saturday making 70 decisions about what to run? You have to learn to play offense with your defense. You have to defend plays and have a better call on first down than the offense."
To ensure he's prepared for such occasions, Patterson and his fellow defensive coaches script their practice scrimmage periods to emulate the flow of a game, with headsets on and a running clock to fire off plays in rapid order. Not only are his players practicing the flow of receiving the call and lining up quickly, but Patterson and his staff practice what they're going to call in any scenario. While a typical game may feature 60-70 plays for the defense, the Horned Frogs typically accumulate over 140 such reps each week in practice, ensuring they're prepared come Saturday.
In this instance, though, Patterson had a little extra time to evaluate what the hogs were most likely to call from that down and distance with the 12 personnel (1 running back, 2 tight ends) that was sent on the field. The coverage appears to be TCU's Cover 2 to the field, as you can see the free safety, Niko Small (#2), make the tackle by playing his Robber technique.
But the key to stopping this Wham play with the off-tight end motioning across the formation and leading through the B-gap was the countless times the front had practiced against it in the months prior. Once again, the strongside linebacker gets upfield through the gap, but this time he's not on a blitz. 
Instead, the linebacker clearly recognized the tight end's short motion and anticipated the call, knowing his job was to create a collision with the blocker in the backfield instead of waiting for him two or three yards downfield. With his lead blocker on the ground behind the line of scrimmage, the back had to reroute his path, leading straight into the waiting arms of two TCU defenders.
"It's wild," Small told the Dallas Morning News in October. "Sometimes you sit back and be like, 'This man is a genius' with how he's doing it and what he's done. He calls it common sense. But we're like, 'Wow, where are you getting this from?' It's out of nowhere, where it comes from. To see him put things from paper to field, it's amazing."
Now faced with 3rd & 7, Patterson has the offense exactly where he wants them: on their heels. This is one of the few times TCU will make substitutions of their own, bringing in an extra defensive back to create a 3-2-6 Dime package. In that bolstered secondary, Patterson can unleash a myriad of coverage schemes on either side to leave the quarterback confused and standing in the pocket.
As Holgorson told the Charleston Gazette-Mail in 2012, "Sometimes I get confused if it's man or zone because there's a lot of matching routes that goes on that looks like man. It's 50 percent man and 50 percent zone pressure." 
This confusion often leads to the result seen above with star end Ben Banogu (#15), who returns this fall despite receiving a high grade from NFL scouts, able to disrupt the opposing pocket and make plays. As Patterson told Michael Weinreb of The Athletic this past spring, his recent dependence on man-coverage schemes has led to a decrease in turnovers created over the past three seasons (an average of 18.3 turnovers each year from 2015-17, as opposed to 33.3 per season between 2012-14), but have resulted in more sacks over that time (117 in 2015-17 compared to 100 in the previous three seasons).
While Patterson has had plenty to think about this offseason, with an upcoming slate that features six of the top 20 offenses in 2017 (SMU, Ohio State, Texas Tech, Oklahoma, West Virginia, and Oklahoma State), there's no doubt that he has a close eye on the Buckeyes and their plans to utilize the talents of new quarterback Dwayne Haskins. While many fans in Columbus have already chalked up the September 15th tilt in Arlington as a win for the Scarlet and Gray, offensive coordinators Ryan Day and Kevin Wilson had better keep a few tricks up their sleeve.
Though the Buckeyes should feature an overall talent advantage, TCU's front seven returns five starters and features perhaps the best set of interior tackles in the Big 12 in Ross Blacklock and Corey Bethey, both of whom are capable of disrupting the interior running game so favored by Urban Meyer. To keep their advantage, the Buckeyes must mix up their offensive play-calling tendencies, as Patterson and his defense won't be sitting back and waiting, they already think they know what's coming.
"People think that defensive players are nothing more than reaction players," Patterson said at the coaching clinic. "We have to catch up with the offense and learn to make adjustments so they know what to do instead of having to react to what happens."