Going into Jim Knowles' first season as Ohio State's defensive coordinator, he expected the Jack position to be a significant part of his defense. By the end of the season, it was eliminated from the defense almost entirely.
Jack Sawyer and Javontae Jean-Baptiste both saw semi-regular playing time in the hybrid linebacker/defensive end role during the regular season, but neither of them made many noteworthy plays from that alignment. In the final game of the year against Georgia, Sawyer played just one snap at Jack while Jean-Baptiste didn't line up in that spot at all.
While the hybrid edge defender was a major element of his defensive scheme at Oklahoma State, Knowles said the position never developed the way he hoped it would in his first year with the Buckeyes. After originally anticipating the Jack would be on the field for at least a third of Ohio State's defensive snaps in 2022, he said the Buckeyes only used it about 15% of the time.
"By the time I left Oklahoma State, it was almost exclusive. And I knew we wouldn't have that here, we're built more as a four-down and our front's pretty darn good. So you don't want to mess with that too much. But I thought they could get up to be a third," Knowles said Tuesday. "And it just didn't, you know, we weren't as productive out of it. You have to go with what works."
Given that, Knowles plans to keep the Jack position on the shelf this spring and focus on playing out of a traditional four-man front.
"I don't know how much we'll be delving into the Jack this spring," Knowles said. "We did not quite use the position as much as I had hoped last year. It just didn't seem to develop with our personnel. And so this spring, I want to focus on the fundamentals of our four-down and really getting better at the fundamentals."
For Sawyer, that means he'll be playing exclusively as a defensive end – where he's in line to start opposite JT Tuimoloau – after moving back and forth between defensive end and Jack in 2022.
"He'll work on all those fundamentals of being an end. I think that's important for Jack," Knowles said. "I feel like he didn't have the improvement or the big jump that he could have last year because he got involved in the Jack stuff and maybe he wasn't as focused as he could have been to make those improvements at D-end. So I want to make sure I keep him at D-end opposite JT."
While Knowles doesn't plan to play Sawyer at Jack and Jean-Baptiste is now at Notre Dame, the hybrid position could still return to the defense this fall. That may ultimately depend on the health and development of Mitchell Melton, who was a candidate to play Jack last year before tearing his ACL in the spring game. Knowles is still bullish on Melton's potential to be an impact player in that role, but Melton will be limited to individual drills this spring while working his way back from the knee injury.
"One of the reasons I'm not going to get into it this spring as much is because Mitch, who I thought had a real chance, like he's still coming off that injury," Knowles said. "I want to see him back to where he was, right? So we moved him from a linebacker to the front when I got here, and then started experimenting with him in the Jack position. And he jumped out. He jumped out. He really did. To (defensive line coach Larry) Johnson and to me, the things that he did. So I just want to see him back there. I want to see, 'OK, has he recovered completely? Is he healthy?'"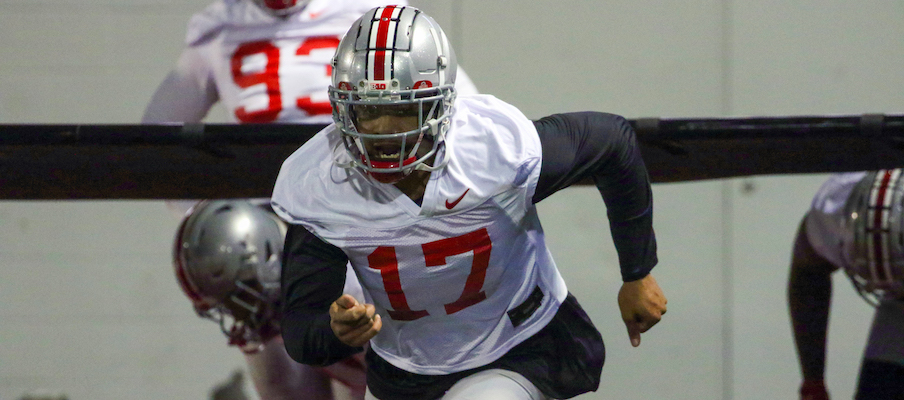 Another potential candidate to play Jack could be sophomore linebacker C.J. Hicks. While Knowles suggested Tuesday that he still wants to see more improvement from Hicks before he'll feel comfortable playing Hicks regularly at linebacker, he believes the hybrid role could present an opportunity for Hicks to put his five-star talent on display.
"I have thought about that for C.J., because when directed, he's skilled. And he can get from point A to point B quickly," Knowles said. "I think it is something good to look at C.J. for the fall."
The Jack position remains part of Knowles' future plans for Ohio State's defense, but he learned from last season that he needs the right personnel for that position to be effective to the standard expected at Ohio State. Whether the Buckeyes will have that in 2023 is uncertain, but Knowles believes they will going forward as they recruit players specifically to play that position.
"Still part of my long-term, absolutely. Because I think we could get the best combo player in the country when we target one," Knowles said. "We're Ohio State. That's a position that people don't have. We can target the best one and build towards that and work towards it."