When Ohio State offered Tristan Gebbia the opportunity to join the Buckeyes for his final year of collegiate eligibility, it didn't take long for the transfer quarterback to say yes.
In fact, the former Oregon State QB never even visited Ohio State before giving the Buckeyes his commitment.
"It was an extremely, extremely quick process," Ohio State quarterbacks coach Corey Dennis said. "I know he was packing up a U-haul, headed somewhere and then kind of got on the phone and then he believed in Ohio State, he liked what we had here and he made a right turn, I guess. Came out this way."
Dennis isn't sure where Gebbia was headed before he rerouted to Columbus, but Ohio State's coaches are happy to have Gebbia in town. While there probably weren't many quarterbacks in the transfer portal who would have been eager to transfer to the Buckeyes knowing they would be a backup, Ryan Day said Gebbia jumped at the opportunity because he aspires to become a coach.
"He shared with us that he wants to be a GA and a coach, and felt like coming here was an opportunity to build his network, but also provide some depth and be able to possibly help in that room," Day said. "He's coming in with the mindset that if he gets on the field, he's ready to go. But thought he was really a great addition to the room and can help mentor some of those young guys in there."
Jeremiah 29:11 pic.twitter.com/bShDdOsS8J

— Tristan Gebbia (@tgeb_) January 18, 2023
Just weeks after Gebbia arrived in Columbus, he's already providing valuable mentorship to the Buckeyes' other quarterbacks.
"With him coming in, that kind of gives you almost another coach in the room, to be honest," Ohio State quarterback Kyle McCord told Eleven Warriors last week. "Just with the amount of football that he's seen and everything that he knows about the game. I mean, you can just look over and ask him a quick question, he's gonna give you an insightful response. So definitely a great addition."
Gebbia wasn't brought to Ohio State to compete for the starting quarterback job. That competition remains between McCord and Devin Brown. Gebbia provides valuable insurance behind them, though, while bringing Ohio State back to its desired total of four scholarship quarterbacks, also including incoming freshman Lincoln Kienholz.
Given that Ohio State won its most recent national championship with a quarterback who entered preseason camp as the third-stringer (Cardale Jones), the Buckeyes are well aware of the importance of quarterback depth. And Day is glad they were able to add depth in the form of a veteran player who is actually now the most experienced quarterback on the roster, as Gebbia played in 12 games with four starts – including a rivalry game win over Oregon in 2020 – over the course of his five years at Oregon State.
"Tristan really made it clear that he wants to be a coach, and this is an opportunity to almost be like a graduate assistant this year and help mentor that room. But that being said, he's played football, and he's been in rivalry games. He's played more football than anybody in that room," Day said. "And who knows. You just never know how things shake out."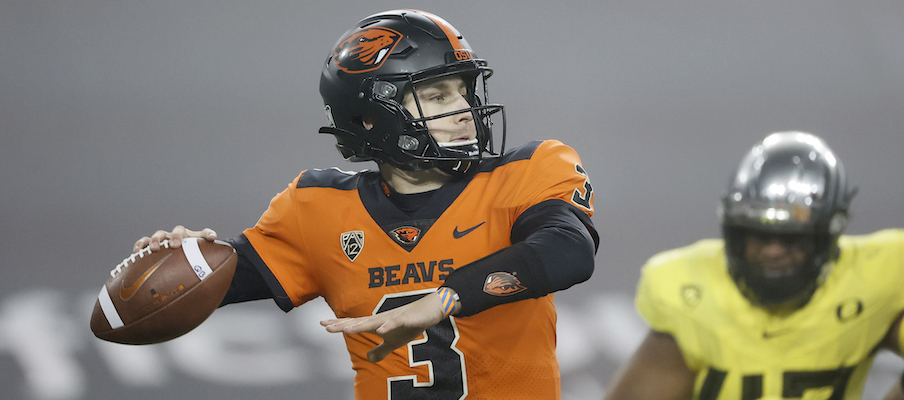 This isn't the first time Ohio State has brought in a transfer quarterback to be a backup rather than compete for the starting job. The Buckeyes added Chris Chugunov in 2018 and Gunnar Hoak in 2019 under similar pretenses, and it's likely they'll look to add similar transfers in the future to maintain a fully stocked quarterback depth chart. But it's not always easy to find a transfer quarterback with scholarship talent who's willing to be a backup just for the opportunity to be a Buckeye.
"We want to make sure we have four guys. We haven't always had that, because it's hard to find people in this role," Day said. "I think it's a unique role that Tristan is willing to take on. And so we're very grateful and certainly embrace him."
"you can just look over and ask him a quick question, he's gonna give you an insightful response."– Kyle McCord on Tristan Gebbia
While Gebbia, a 24-year-old seventh-year senior who spent a year at Nebraska before transferring to Oregon State, is several years older than all of the other quarterbacks on Ohio State's roster, McCord says Gebbia has fit seamlessly into the quarterback room since he arrived in Columbus.
"Man, he's fit in great," McCord said. "One of the smartest guys I've met so far. He's seen a lot of college football. He's very knowledgeable in a lot of the areas. And just from a personality perspective, he's funny, fits right in. So I think that was a great addition to the room."
Dennis – who, at just 30 years old, acknowledged that the age gap between him and Gebbia is about the same as it is between Gebbia and Ohio State's younger quarterbacks – said he thinks Gebbia's veteran presence provides substantial value to his unit.
"He's played in big games. He's won big games. But just to see and just listen to him talk, the way he carries himself, that'll be a vital piece to have in the room, for sure," Dennis said. "Just the way that he commands himself, the way that he presents himself on the field is unbelievable, with what he sees, and then also watching film. … his veteranness in a room full of young guys, that's a great piece to have."