Last week, Ohio State officially wrapped up its 2023 high school recruiting class, ranking fifth nationally.

The class was headlined by a trio of talented receivers in Brandon Innis, Noah Rogers, and Carnell Tate, who will fill Brian Hartline's receiver room with an even greater bounty of talent. On the other side of the ball, cornerback Jermaine Matthews of Cincinnati appears to be the player most likely to contribute in his first year out of high school, having already enrolled after being named the top recruit in the state and 51st nationally.
But although Matthews will have his chance to earn playing time opposite Denzel Burke this fall, he's not the most impactful addition to the Buckeye secondary this offseason.
Just a few days following the Buckeyes' last-second loss to Georgia in the CFP semifinal, Ja'Had Carter committed to the program as a transfer after playing three seasons at Syracuse. While the Orange were not known to be one of the nation's elite defenses, they quietly improved from the 112th-ranked unit in 2020 to 18th in 2021 before finishing 21st this past season, earning coordinator Tony White the same job on new Nebraska head coach Matt Rhule's staff. 
Throughout that time, the safety played a major role in White's 3-3-5 system, lining up all over the field in a unique scheme that shared quite a bit in common with the one Jim Knowles installed in Columbus one year ago. Much like Knowles has emphasized the importance of the three safeties in his system, the Orange put quite a bit on Carter's plate in their own three-safety lineup, and the Virginia native responded by making 138 tackles (3.5 for loss) along with five interceptions and 12 passes broken up while in upstate New York.
Those stats not only earned him Freshman All-America honors in 2020 but honorable mention All-ACC this past fall. While such accolades may not be that exciting for Ohio State fans who expect all 22 starters to go in the first round of the NFL draft, there is no doubt that Knowles and his staff see Carter as a plug-and-play contributor in their system.
Under White, the Orange also aligned in a three-safety structure behind a front-six that showed a variety of pre-snap alignments.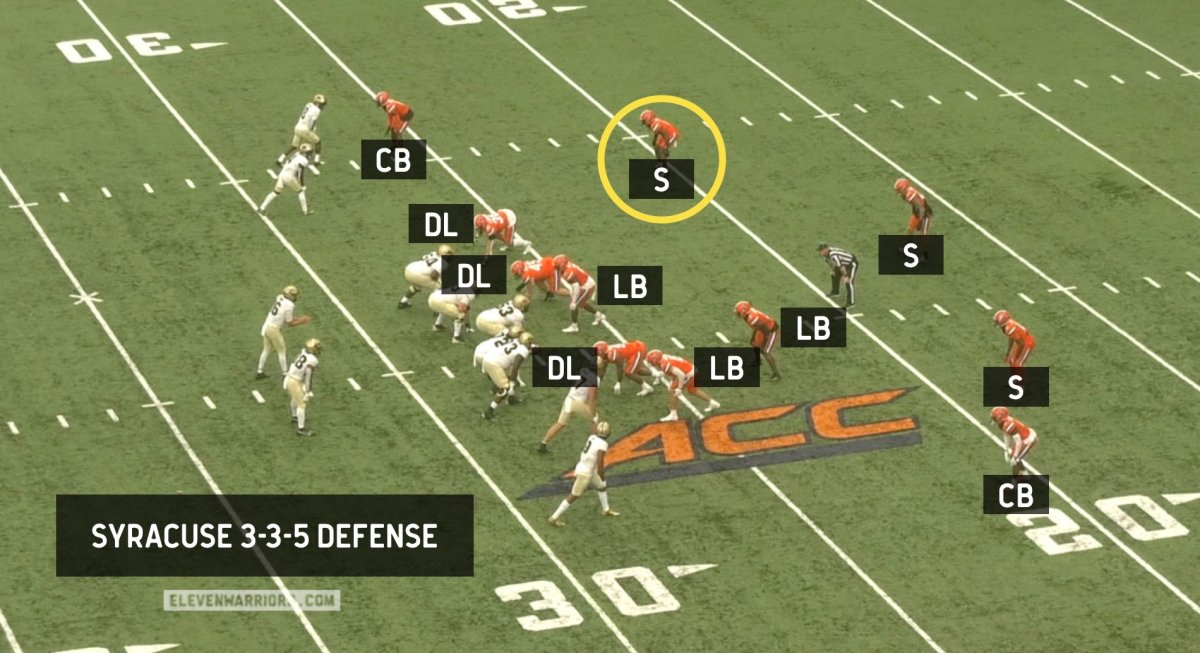 While Knowles likes to align his safeties based on field/boundary or occasionally by the strength of the formation, the Syracuse defense appeared to simply play the safeties as left/right, meaning they could be forced to line up in a variety of locations and thus, were forced to master numerous skills. 
Despite being listed just shy of 200 lbs, the veteran proved equally capable of making plays against the run, whether lining up deep in the middle of the field...
...or down in the box as an extra linebacker ready to fill an interior gap.
Ja'Had Carter Alignment by Position at Syracuse

| Season | DL | Box | FS | Slot | Corner |
| --- | --- | --- | --- | --- | --- |
| 2022 | 16 | 152 | 106 | 264 | 5 |
| 2021 | 31 | 188 | 178 | 81 | 3 |
| 2020 | 42 | 309 | 187 | 181 | 18 |
| TOTAL | 89 | 649 | 471 | 526 | 26 |
While his scouting report will never include the words "thundering hitter," he is a sound tackler with a proven track record of wrapping up bigger runners with regularity. Pro Football Focus credits him with a missed tackle rate of just 11.9% last season, better than the trio of Tanner McCalister (18.2%), Ronnie Hickman (16.9%), and Lathan Ransom (16.9%) who played the vast majority of snaps at safety for Ohio State.
As Buckeye fans are all too aware, consistently bringing ball carriers to the ground in the open field was a major issue for defenders in scarlet and gray last season, as the defense surrendered an unacceptable amount of big plays at the worst times. Luckily, Carter should provide an instant upgrade in this department. 
Many expect Carter to take over for McCalister at the Nickelback spot, lining up to the wide side of the field and often matching up with slot receivers in coverage. Once again, he should fit right in as the 'Cuse defense played a great deal of man-coverage (just as the Buckeyes did in Knowles' first season in charge). 
The film shows that Carter has a great deal of experience tracking receivers one-on-one and seems comfortable navigating the common concepts used to beat it.
Likewise, the Orange also relied heavily on the Tampa-2 zone as a change-up to man-coverage, meaning Carter has plenty of experience executing a core Knowles scheme from a variety of positions on the field.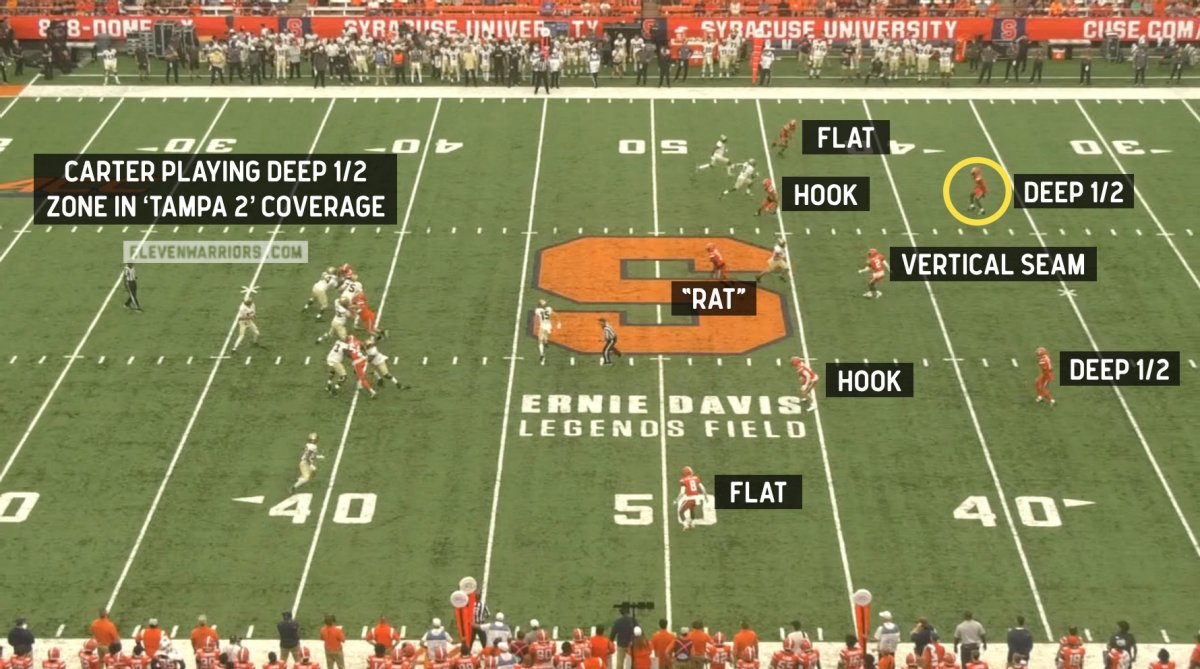 But Carter doesn't just bring experience to the Ohio State safety room, he also brings an added dimension as a player with excellent ball skills. Though not a freak athlete, he is rarely caught out of position when defending the pass, meaning he is able to go and get the football rather than simply hope to break up a reception, something rarely seen from anyone other than McCalister in the OSU secondary last fall.
There are, of course, reasons to be skeptical of Carter's ability to make an impact for Ohio State. The safety room has no shortage of bodies even with the departures of McCalister and Hickman, as Josh Proctor, Sonny Styles, Kourt Williams, and Kye Stokes all look to see the field alongside Ransom.
Given Carter's relatively thin frame, he can struggle to shed blocks. And while Knowles did a good job of keeping the similarly lithe McCalister from having to take on larger tight ends or the occasional pulling guard, the Big Ten features a far more physical style than that of the ACC and Buckeye safeties are forced to navigate such blocks from time to time.
Additionally, Knowles may be looking for a different skill set from his safeties as he enters his second year working in the WHAC. It's quite possible that he may want a pair of big-hitting safeties to man the alleys while Ransom plays more as a deep safety in the middle.
But whatever Knowles ultimately decides to do with his scheme, there is no doubt that adding a player with the experience and versatility Carter brings to the table can only be seen as a net positive for a Buckeye secondary in need of reinforcements.