Playing in Happy Valley against No. 13 Penn State is not the ideal environment for true freshmen to see significant playing time.
With the Buckeyes clinging to a perilous two-point lead heading into the fourth quarter, it was apparent offensive and defensive snaps were not in the future for the youngsters.
Although Ohio State pulled away late, only four true freshmen saw action – all on special teams – in the 44-31 victory. 
The members of the 2022 class to cross the sidelines of Beaver Stadium and play in front of the stripe-out crowd were Caden Curry, Jayden Fielding, C.J. Hicks and Sonny Styles.  
Six scholarship freshmen were not on the travel roster: Omari Abor, Caleb Burton, Avery Henry, Kenyatta Jackson, Hero Kanu and Gabe Powers. Walk-on freshman running back TC Caffey, who had played in two games this season and traveled to Michigan State for Ohio State's first road game of the year, also did not travel to Penn State after suffering a season-ending injury.
Breakdown of special teams play
Caden Curry helped on five of the six special teams units. The defensive end was a wing on Noah Ruggles' five extra point and four field goal attempts. He helped on coverage for all of Fielding's kickoffs and was on the field for every Penn State punt. Curry was also on the field for the Nittany Lions' last field goal attempt. In all, he had 25 plays with the four special team units.
Jayden Fielding was responsible for Ohio State's nine kickoffs. 
C.J. Hicks covered on the nine kickoffs and was on every punt return and kickoff return team except for one each.
Sonny Styles joined Curry and Hicks on the kickoff and kickoff return teams and also played on the punt return and FG/PAT block units. 
Next up, Northwestern
Yesterday, the Wildcats traveled to Kinnick Stadium and gave up 33 points to Iowa's horrendous offense. If Spencer Petras completed 21 passes for 220 yards, C.J. Stroud and Ohio State's aerial attack should leave the defenders in purple feeling mighty blue.
This is good news for the Ohio State freshmen that make the trip to Evanston as they will likely get their first offensive and defensive road snaps since the 49-20 win at Michigan State on Oct. 8.
Under the NCAA's redshirt rules, a player can appear in up to four games at any point throughout the season and still count it as his redshirt year. Through the eighth game of the 2022 season, 17 of Ohio State's 21 scholarship true freshmen have seen the field, with seven – Jyaire Brown, Kaleb Brown, Curry, Dallan Hayden, Hicks, Kye Stokes and Styles – now ineligible for a redshirt as they have appeared in five or more games. Fielding, who is not on scholarship, has also burned his redshirt by playing in all eight games.
Class of 2022 Tracker

| NAME | POS | DEBUT | PSU STATS | GP | SEASON STATS |
| --- | --- | --- | --- | --- | --- |
| CADEN CURRY | DE | Notre Dame | Special Teams | 8 | 11 tackles, 1.5 TFL (6 yards), 0.5 sack |
| JAYDEN FIELDING | K | Notre Dame | 9 kickoffs, 3 touchbacks | 8 | 69 kickoffs, 29 touchbacks |
| C.J. HICKS | LB | Arkansas State | Special Teams | 7 | 4 tackles |
| SONNY STYLES | S | Arkansas State | Special Teams | 7 | 7 tackles, 1 TFL (2 yards) |
| JYAIRE BROWN | CB | Arkansas State |   | 6 | 6 tackles, 1 FF, 1 PBU |
| DALLAN HAYDEN | RB | Arkansas State |   | 6 | 54 rushes, 255 yards, 1 TD; 2 catches, 13 yards |
| KYE STOKES | S | Arkansas State |   | 6 | 9 tackles, 1 TFL (4 yards), 1 FF |
| KALEB BROWN | WR | Toledo |   | 5 | 1 catch, 5 yards |
| KOJO ANTWI | WR | Toledo |   | 4 | 13 offensive snaps |
| TEGRA TSHABOLA | OL | Arkansas State |   | 4 | 52 offensive snaps |
| RYAN TURNER | CB | Toledo |   | 4 | 1 tackle, 1 sack (6 yards), 1 TFL (6 yards) |
| KENYATTA JACKSON | DE | Arkansas State |   | 3 | 2 tackles, 1 TFL (1 yard) |
| HERO KANU | DT | Arkansas State |   | 3 | 19 defensive snaps |
| DEVIN BROWN | QB | Toledo |   | 2 | 1 rush, 1 yard |
| TC CAFFEY | RB | Toledo |   | 2 | 10 rushes, 66 yards, 1 TD |
| BENNETT CHRISTIAN | TE | Toledo |   | 2 | 11 offensive snaps |
| KYION GRAYES | WR | Toledo |   | 2 | 1 catch, 2 yards |
| GABE POWERS | LB | Toledo |   | 2 | Special team snaps |
| OMARI ABOR | DE | Arkansas State | Unavailable (knee injury) | 1 |   |
| CALEB BURTON | WR |   |   |   |   |
| GEORGE FITZPATRICK | OT |   |   |   |   |
| AVERY HENRY | OL |   |   |   |   |
| CARSON HINZMAN | OL |   |   |   |   |
(Note: The table does not include freshman walk-ons who have not yet played.)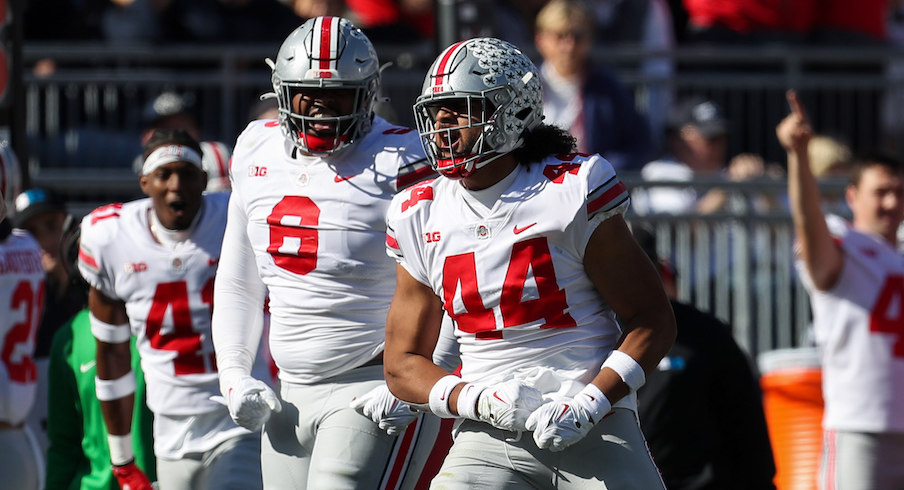 #2 Ohio State 44, # 13 Penn State 31
Oct. 29, 2022 • Beaver Stadium • State College, PA