F. Scott Fitzgerald is known to have written that "there are no second acts in American lives."
It's a line that makes people scoff, but it's also a misnomer; Fitzgerald wasn't naïve about the ability of people to change (and in fact, the line continues and notes that he was wrong about New York City specifically), and the point that he was making is that Americans exist in a society that's trying to simultaneously look backwards and forwards at the same time. That push and pull of history can make life difficult for anyone, whether you're driving a taxi or laying asphalt or notarizing a car title or throwing a football for the enjoyment of millions of fans.
On the other hand, you've really got to drop the ball on a lot of car titles over the years to become widely known as the Notary Public Who Will Screw Up Your Car Title Or The Occasional Will And Testament. Notaries don't tend to lead three and a half hour weekly seminars watched by ten million people who make memes afterward about how badly they affixed their notary seal to the power of attorney document. When I tried to sell all my notary public memorabilia it went way under my asking price, and it's easy to get a notary jersey on sale at Dick's after the holidays.
And the thing is, when you really need a notary, and they do their job at least competently, you're ecstatic. I once had an awesome notary public get on the phone and yell at the BMV in my stead over a ridiculous procedural issue that was preventing me from donating a car. He had fun, I had fun, the BMV was angry but relented, and at least two of us had a good time. Afterwards we went our separate ways and I didn't think about it again until I started to write this article.
So, in not so many words, that push and pull of history that Fitzgerald was talking about tends to make life harder the more visible you are, and being an Ohio State quarterback is just about the most visible profession in Columbus.
C.J. Stroud and a few of his also highly visible teammates are back from Indianapolis after a few days of schmoozing with the media, and while it's genuinely pretty cool to see a more confident C.J. Stroud say things like:
"I would probably counteract me having success last year. I feel like I maybe did but honestly, I don't think I really did a lot," Stroud said. "I feel like I barely touched my potential. I feel I can do a lot more."
It's also probably worthwhile to put those comments in context, both for him and for Ohio State quarterbacking as a whole.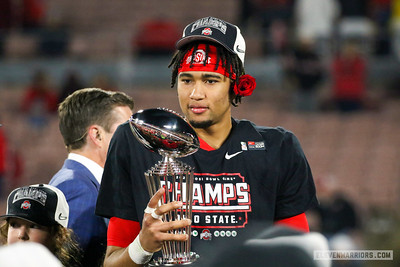 Firstly, Stroud had an insane amount of success last season by any possible metric, and one of the greatest seasons in the history of throwing footballs at Ohio State, period. In his first year as a starter at the collegiate level, C.J. Stroud completed almost 72% of his passes for nearly 4500 yards and 44 touchdowns, passing for over 300 yards nine times and setting the Ohio State single game passing record (in the Rose Bowl, no less). Big Ten Offensive Player of the Year, Heisman finalist, and beating the Buckeye's greatest rival, Purdue, all adds up to something that might not be replicated.
Which is the secondary point here, in that Ohio State quarterbacks in the last 20 years or so have had widely varying experiences in their second years as starters.
Troy Smith is the gold standard. After reviving Ohio State's offense in 2004, Smith had a bonkers 2005 (finishing with 342 yards passing in a win against Notre Dame), setting up a Heisman campaign in 2006.
Todd Boeckman had a pretty dope 2007. He threw for 25 touchdowns and almost 2500 yards in a Jim Tressel offense, and was the starting quarterback in a national championship game. Not bad, until a guy named Terrelle Pryor showed up and (with his insane athleticism) was able to paper over all the holes in Ohio State's backwards offensive scheme in a way that Boeckman couldn't. Todd Boeckman's second act never even really got started.
For his part, Pryor only got better the longer he played. He never evolved into a fully complete quarterback, but he won some significant games and continued being an unstoppable force on third down. This feels similar to how Braxton Miller progressed in the position as well; both players were never going to be elite passers (Pryor's 2772 yards as a junior was the most between the both of them throughout their careers), but as offensive weapons they both lived up to expectations.
Then Dwayne Haskins and Justin Fields changed everything.
All of a sudden Ohio State quarterbacks went from dreaming about 3000 passing yards to expecting 4000. 35 touchdowns in a season? Hell, why not 50? Once upon a time Todd Boeckman was considered a dead-eye for hitting on 64% of his passes. 75% now seems possible.
What's left is winning. Beating Michigan, winning the Big Ten, and ultimately winning a championship is really the only metric left for Stroud to measure himself with, and this Ohio State team and coaching staff absolutely has the talent to accomplish all of those things. So Stroud's expectations for himself in Act Two are sky-high, which is great for a team that should rightfully be worried about the dangers of complacency.
But C.J. Stroud doesn't have to be a boat fighting against the current, because the truth is that he's already so good that being borne back ceaselessly into the past actually sounds pretty kickass.